Orientation Leader Information
Orientation Leader Information
New Student Orientation is an exciting opportunity held Aug. 24-27, 2023.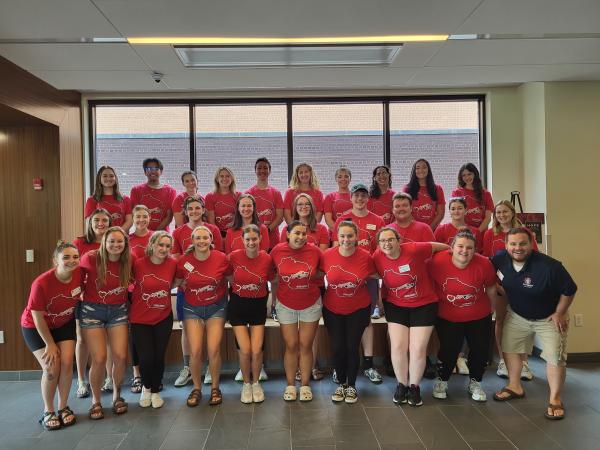 Orientation Leader
The Orientation Leader position is essential to welcome all new students to Viterbo University each August.  Our goals as an Orientation Team are:
to create opportunities for learning about/connecting with campus,

to explore La Crosse and our community,

to meet other students/employees; and

to ease the transition to their new home.
Orientation Leaders work directly with new Viterbo students in their Orientation Groups (traditional, transfer, re-entry, international) to help them accomplish these goals throughout the weekend before classes start.  Orientation Leaders work collaboratively with the 30+ person team and are supported by Orientation Officers (3) and professional staff (2).  When possible, we pair Orientation Leaders together to collaboratively lead an orientation group (~25+).
*Application live = mid-March

*
 
Orientation Leader Job Description
Primary Responsibilities
Each Orientation Leader will be responsible for an Orientation Group of new students during V-Hawk Orientation Days.  Orientation leaders serve as guides for these students by aiding them in their arrival on campus.  Students selected for this crucial leadership position are expected to:
Welcome new students and families/guests

Serve as a positive role model for other Orientation Leaders and new students

Help new students become familiar with campus resources, facilities, and processes

Lead "Team Time" sessions with your Orientation Group: building relationships, showing technology/software, etc

Help foster connections among new students and to the Viterbo community

Facilitate small and large group activities as needed, assisting with Orientation-wide programming and events

Provide ideas, leadership, and enthusiasm for V-Hawk Orientation Days

Guide students as they navigate difficult transitions: decision-making, homesickness, unknowns, etc

Participate in critical evaluations and provide feedback for future Orientation improvements
Time Commitment
Students selected as orientation leaders are expected to:
Attend the Orientation Leader Welcome: Sunday, April 30th, 12p-1:30p, Nursing Center 195
Return to La Crosse no later than Tuesday, Aug. 22

If you will be living on campus in fall 2023, you will be able to move into your residence hall on the afternoon of Monday, Aug. 22 between 1p-3p

Attend mandatory training on*:

Tuesday, Aug. 22 

Wednesday, Aug. 23 

Participate in and help with all orientation activities starting Thursday, Aug. 24 through Sunday, Aug. 27, 2023. ~ 8a-10p

Attend and invite your group of new students to attend the Welcome Back Bash: Thu 8/31, 1p-4p*
*tentative – will confirm specific times as we get closer
Orientation Leaders must stay active with email communication, especially in July and August. There will be items requested to complete over the summer to prepare for Orientation and to help build relationships with students through summer newsletters before their arrival. Students who are Orientation Leaders make a commitment to orientation-related activities at the beginning of the fall semester.  Orientation Leaders may also be able to assist with New Student Orientation in January, if interested.  Being able to uphold the time commitment is a requirement to be an Orientation Leader, no exceptions. Please make sure, before you interview, that this will not conflict with any of your other extracurricular activities, including employment and vacation.
Tentative Summer Timeline
Check emails by Jul 15

 - Access Microsoft Teams!

 And many other updates

Dirt Sheets/Draft Emails – by Aug 1:

 O Officer Support assignments

 

Welcome Emails – by Aug 22

 (example/resources in Teams) 

 
Qualifications and Skills
Must have earned at least 12 credits at Viterbo University

Must be a full-time undergraduate student in good standing through the fall semester
Ability to initiate and guide conversations in 1-on-1, small group, and large group settings

Ability to problem solve and adapt in a fast-paced environment

Strong administrative and organizational skills

Knowledge of Viterbo campus and resources

Ability to connect and empathize with new students navigating their transition to Viterbo
Benefits
Build experiences and develop leadership skills such as serving as a role model, group facilitation, and working as a team member

Meet new people, foster relationships, guide new students with Viterbo values

Earn at least 30 hours of community service

Free food and activities during all of your contracted time commitment

Move in early, if living on-campus

Receive two free Orientation t-shirts

$100 stipend
Questions? 
Email Colin at cgburnsgilbert@viterbo.edu, Paul at pjbutrymowicz@viterbo.edu, or our Orientation Officers for support. 
2023 Orientation Officers:
Chloe Gardner - cgardn73568@viterbo.edu
Ella Sans Crainte - esansc75846@viterbo.edu
Hiring 2 more Orientation Officers! - Must have previous Orientation Leader experience.