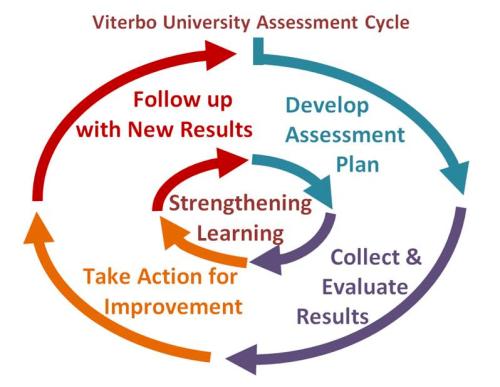 About Viterbo University Assessment
To promote continuous improvement, Viterbo's assessment structure is built on the foundation of faculty-driven program assessment that is supported by the Office of Assessment and Institutional Research (AIR).
The central goal of the Viterbo University Academic Program Assessment Framework is to provide a structure for continuous improvement of academic program quality. The framework is designed to accomplish two results for academic programs: 1) to gather information about the knowledge, abilities, and values of program graduates; 2) to use that information to improve teaching and learning in the program.
Academic assessment at Viterbo was substantially strengthened through the Title III, Strengthening Institutions Program. Becoming Learner Centered, 2003-2008, was a successful effort to implement academic program assessment with an emphasis on learner-centered active learning. 
Mission and Goals
The two-fold mission of AIR is: 1) to support the continuous improvement of student learning through planning, support, and training for assessment processes; and 2) to provide relevant, unbiased information for strategic planning and external reporting. 
The mission of AIR is met through the following goals:
Sustain and strengthen Viterbo University's commitment to assessing, confirming, and improving student learning.
Coordinate external reporting of institutional statistics to state and federal agencies (IPEDS, WAICU, HLC), accrediting agencies, non-profit associations, and other organizations.
Maintain a website to communicate commonly requested information and highlight materials that may be broadly useful for planning, assessment, evaluation, and decision making.
Prepare descriptive and analytical reports for use by campus policy-makers and policy-making bodies (e.g., Information for Decision-Making and the Annual Assessment Analysis).
Manage data by creating and maintaining a data warehouse containing longitudinal information on applicants, enrolled students, alumni, academic programs, instruction, and personnel.
Academic Program Assessment Summary
October 15, 2021, is this year's deadline for updating the annual assessment report. After that time, the Academic Program Assessment Committee (APAC) will review progress and provide feedback to assessment coordinators. The review forms the basis for the Annual Academic Program Assessment Report (APAR). 
Click Here to submit your 2021 Summary of Assessment Updates via MS Forms.