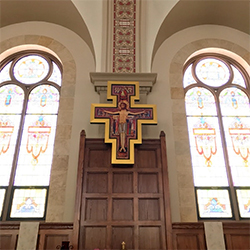 Dear Viterbo Friends:

On Oct. 3, we commemorated the death of Saint Francis. The service has been traditionally called "transitus" or his "transit" or passageway to heaven.

As an active duty Navy Chaplain, I found myself in various parts of the world and whenever Oct. 3 came around, I managed to find Franciscans who invited me to their celebration of "transitus." And so, from Rhode Island to California, in Hawaii and in far off Okinawa, I was always able to commemorate this most important holy day.
I feel St Francis saw death as a natural part of life through which we transition to our life with God. Even though we all believe this to be true for ourselves and loved ones, we still want to continue that connection to their memory because of our great love and wonderful memories of their lives with us.

The San Damiano Chapel has developed a beautiful tradition wherein we set up an Altar of Remembrance with pictures, prayers, and/or notes of our deceased family members and friends and at the Sunday Masses, right after the reception of the Eucharist, we ritualize our remembrance with song and prayer.

Again, as we do each November, we invite you to send us your requests for remembrance, which all of Viterbo University will reverently honor during this entire month. Let us recall the words of St. Francis himself:

"All Praise be yours my LORD, for Sister Death… happy are those she finds doing your holy will; Praise and thank my LORD, and serve Him with great humility." —Saint Francis' Canticle of the Sun

Peace and all good!

Fr Conrad Targonski, O.F.M
Viterbo University Chaplain