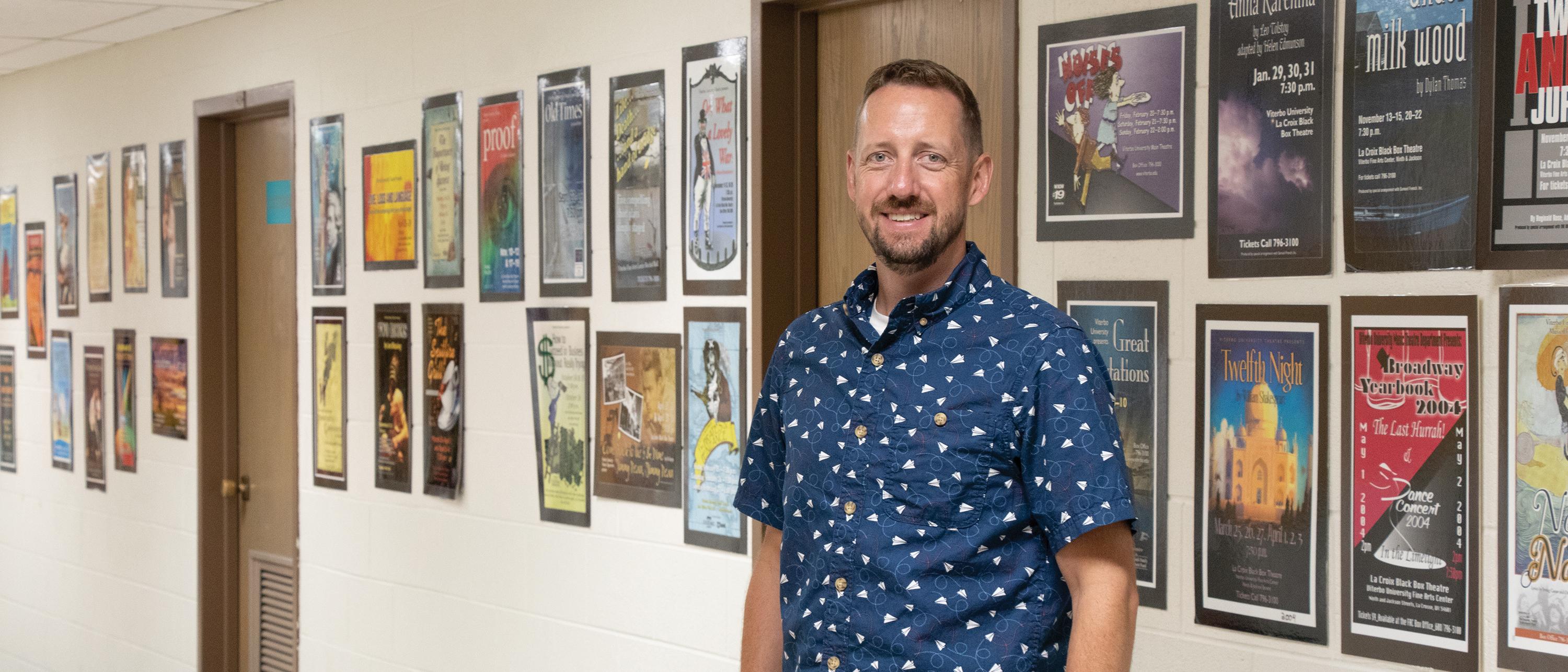 If not for a friend's encouragement and a summer work study job, Dillon McArdle '06, the new director of Viterbo's Fine Arts Center, might have taken a very different path in life.
McArdle began life as a Midwesterner, the middle child of three sons living his early years in Anoka, Minn., the Halloween Capital of the World. When he was in third grade, he moved with his mother and stepfather to Las Vegas.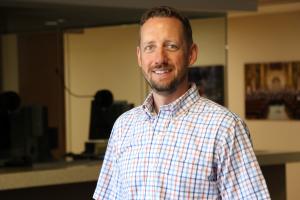 The summer he graduated from high school in Las Vegas, he came back to Minnesota for a lengthy visit, hanging out with his longtime friend Paul McGuire Grimes '05. McArdle was planning to go to the University of Nevada in Las Vegas, but he visited Viterbo with his friend, who had already enrolled to study music theatre. "Everything about the place charmed me," McArdle said.
A few weeks before the start of the 2001 fall semester, McArdle picked Viterbo. He's lived in La Crosse ever since.
With a strong background in choral singing, McArdle decided to pursue a degree in music education. Everything went well the first year, but things got tough as a sophomore.
"I very much had the passion for music education, but not necessarily the extensive background in music theory, pedagogy, all the core stuff," he said.
During a summer work study assignment at the Fine Arts Center (FAC), he stepped behind the scenes at the theatre. After this backstage experience, he realized he had found his calling, and it wasn't music education. He was drawn to the theatre life, not to be on stage but to have a hand in all the other aspects of a production that bring the actors' work to life.
"It was like somebody flipped a switch. It was like this is where you need to be," McArdle said.
McArdle had all his "gen eds" out of the way, so his remaining time at Viterbo was devoted to theatre production and design. "I thoroughly immersed myself into all technical and design aspects that I could," he said. "And I made myself available for every show I could," he said.
The Fine Arts Center basement hallway is lined with theatre production posters, and McArdle can walk a solid 50 feet of that hallway and every poster he passes represents a show he worked on. He did everything from building and designing sets to serving as technical director, lighting designer, sound designer, master electrician, and "fly man," running a crew of six responsible for getting more than a dozen backdrops in place at the right time.
In his role as director, he probably won't get to do any of that, but he's delighted to be back in the FAC in this anniversary year. Thinking back 50 years ago to when the FAC opened, McArdle marvels at the vision and ambition it took for the Franciscan Sisters of Perpetual Adoration to build a facility that immediately elevated La Crosse's cultural life and will for years to come.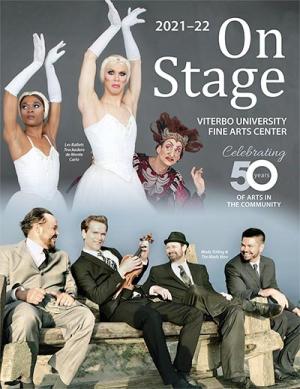 "What is absolutely spectacular is even now this facility is, in terms of its capabilities, design, function, all of that, still ahead of its time compared with other facilities, and it's 50 years old!" McArdle said.
"The idea of building something like that is so incredible to me. It's just amazing."
When McArdle came to Viterbo, the Fine Arts Center was 30 years old and one of the driving forces behind the FAC was still on campus. McArdle remembers Marie Leon LaCroix, FSPA '45, for whom the FAC's Black Box Theatre is named, showing him how to thread a needle and tie a knot in a costuming class.
"I tried it her way, but I couldn't figure it out," he recalled. An avid angler, McArdle fell back on his fishing skills and used the same kind of knot he'd use to tie on a lure. When Sr. LaCroix came back to inspect his work, she took one look and said, "What is this?"
"It wasn't her way, but it got the job done anyway," McArdle said with a laugh.
After a post-graduation season of summer stock in Williamsburg, Va., he landed a job as full-time technical director at the La Crosse Community Theatre (LCT), a position he held for almost 11 years. McArdle recalled he had gone through a couple tough months when he started at LCT when he got a letter out of the blue from Sr. LaCroix.
"It was basically Sr. Marie Leon saying, 'You're doing a good job. I can see your hard work and passion,'" McArdle said. "I still have that note."
McArdle can use all the encouraging notes he can get these days as he brings the FAC back to life after the extended pandemic shutdown. On the other hand, he said, "I really enjoy a challenge."
His experience has prepared him well for the challenge. From August 2017 until he was hired as FAC director, McArdle was executive director of the Weber Center for the Performing Arts. He was deeply involved in the design and construction of the Weber Center, a facility in which the LCT and Viterbo are partners.
In addition to getting Viterbo student productions back in the FAC's Main Theatre, it also will have a scaled-back season of touring entertainment offerings. Most of the touring shows for the 2021–22 season are acts that had to be postponed because of the pandemic, so the year won't necessarily have the full McArdle imprint on it.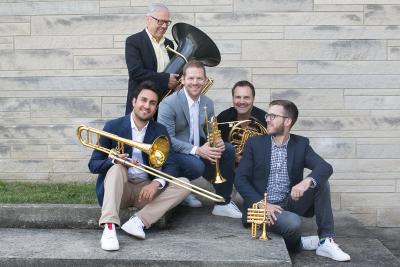 Future FAC entertainment seasons will move toward more cultural diversity and more acts that expand audience access and engagement and that might also appeal to a younger crowd (25- to 40-year-olds), but don't expect radical departures. Both are key initiatives in the recently completed Fine Arts Center Strategic Plan 2025: Shaping Our Future.
"I think it's important that we look to the future of the arts. We need to look at incorporating and getting some of those younger people back in and getting involved in the arts," McArdle said. "On the other hand, we still want to have strong offerings for our traditional audience base. The key is being well-rounded in our offerings. It's a balancing act."
McArdle has high hopes the FAC can take advantage of its location near an interstate highway between major metropolitan areas to attract some big star talents on tour looking for a distinctive 1,200-seat auditorium in a lovely college town to fill a date between stops in, say, Milwaukee and Minneapolis.
"We hope to have some fun surprises," he said.