Professional Achievement, College of Engineering, Letters, and Sciences
Three decades after Debra Murray '90 graduated from Viterbo with a bachelor's degree in psychology, she is being recognized with a Distinguished Alumni Award for professional achievement. Her status as a distinguished alumna, however, was recognized almost immediately.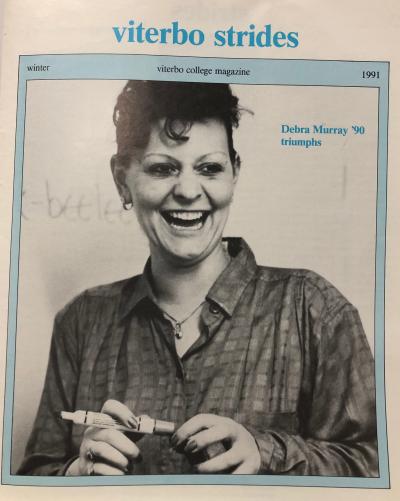 Only a year after graduating summa cum laude, Murray was featured on the cover of the Strides alumni magazine, along with the headline, "Debra Murray '90 triumphs." She really was an outstanding student, but what distinguished her most was the way she bounced back from setbacks and overcame obstacles.
Murray, director of counselor education programs at Viterbo, had come to La Crosse with her two young children, both to get away from an abusive marriage and to seek help for her addiction to prescription drugs. When she arrived in La Crosse, where she and her children would live in a halfway house for six months, she had completed treatment for cervical cancer and was ready to seek treatment for her drug dependency.
"Essentially, it was me and my two kids arriving in the middle of the night in a station wagon packed with everything I could bring," Murray said in the 1991 Strides story. "I don't know why, but I managed to pack all the towels and bedding. That's what I brought."
As part of her drug rehabilitation program, she took an aptitude test, which told her that she should go to college. That was an idea way outside her comfort zone, but if she was going to make that leap, Viterbo was the place she was going to do it.
"I walked on the campus and knew this is where I belonged," Murray said, noting that her "nontraditional" status meant the college social scene was not a distraction. "I didn't know anybody here at Viterbo then, so I sat at home and did schoolwork after the kids went to bed."
She capped her undergraduate experience at Viterbo with a research fellowship at Gundersen Health System, studying attention deficit disorder.
At the end of the 1991 Strides story, Murray said she definitely planned to go to graduate school, something that seemed within reach because of her Viterbo experience. "Viterbo really gave me hope. It was a real boost to my self-esteem," she said. "Somebody was interested in my ideas, and that was something new for me. I guess with hope and stubbornness, people can achieve all kinds of things and even surprise themselves."
In the 30 years since that story was published, Murray did indeed "achieve all kinds of things."
In 1994, the year she earned her master's degree in counseling and psychological services from Saint Mary's University, she began teaching at Viterbo as an adjunct faculty member, becoming a full-time faculty member the next year.
Murray was Wisconsin's first certified trainer in motivational interviewing, a breakthrough counseling method that has proven effective in chemical dependency treatment. Murray was trained by William Miller (a pioneer of motivational interviewing), and she focused on the topic for her doctoral degree in counseling psychology at the University of St. Thomas in St. Paul, Minn., which she completed in 2002.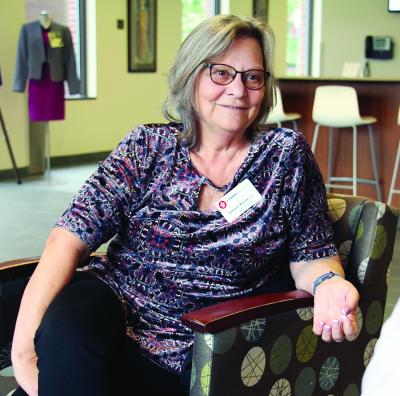 Thanks to Murray, Viterbo has become a leader in counselor education. She initiated state certification for coursework required for an alcohol and other drug abuse minor, and Viterbo's addiction studies major was developed during Murray's tenure as chair of the university's psychology department.
Murray developed and directs Viterbo's Master of Science in Clinical Mental Health Counseling and Doctor of Education in Counselor Education Supervision degree programs, the latter being the first of its kind in the state. In recent years she has been director of two major U.S. Health Resources and Services Administration (HRSA) grants to enhance mental health counselor training and rural access to counseling services.
She also has been active for years (going back to her undergraduate days) in numerous boards and groups dedicated to helping people with mental health and chemical dependency issues, assisting victims of domestic violence and other crimes, and elevating counselor education in Wisconsin and beyond.
Her list of honors and accolades is extensive. Between 1996 and 2004 she was named six times to Who's Who Among America's Teachers. Viterbo has honored her for her work at the university at least four times, starting with a Leadership Award in 1996 and including recognition with the Exemplar of Mission Award, Graduate Advisor of the Year Award, and the Alec Chiu Memorial Award for "development of creative opportunities and efforts to engage students in scholarship."
Murray also has been honored as Wisconsin Mentor of the Year (2013) and Counselor Educator of the Year (2018) by state associations and was recognized in the La Crosse YWCA's 2014 Tribute to Outstanding Women in the education category.