Professional Achievement, School of Education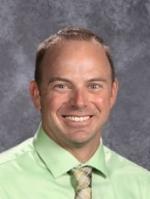 It's hard to think of a more challenging time to take over the leadership of a school system than a pandemic, but Ryan Rieber '01, '06 approached his new role as superintendent of the West Salem School District with determination and positivity.
When the pandemic started, Rieber was completing his fourth year as principal of West Salem Elementary, after working four years as Viroqua Elementary principal and teaching for 11 years in the La Crosse School District.
When Wisconsin schools closed March 17, 2020, Rieber told his staff to take the rest of the week to be with their families and try to absorb the situation before diving into figuring out how to keep teaching students when they couldn't be in the same room.
That's indicative of the way Rieber approaches his work and his life, making people a top priority. Academics is important, but his first concern is the welfare of his students and their families.
"Everyone deserves to have someone that is there for them and supports them in their lives," Rieber said. "By becoming an educator, it provided me the opportunity to carry out the foundational skills taught to me by my family. Viterbo helped to solidify that foundation."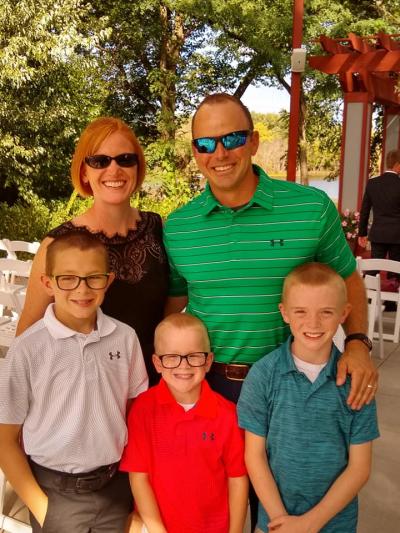 As a school administrator, it's challenging to carve out family time for himself, but Rieber credits his wife, Kim, with helping him stay focused and striving for excellence.
"If not for her pushing me and challenging me to always be at my best and the sacrifices she made for me, I wouldn't be here," Rieber said. "She's been there by my side the whole time, and she's been great at reminding me to keep my priorities in line."
When Rieber met his wife, she was Kim Trulson, an education major a year behind him at Viterbo. She's now a Title I reading teacher in the Onalaska School District, and together the Riebers have three sons.
Rieber was the first one in his family to graduate from college, and he gives a lot of credit to his father's encouragement and work ethic for his education and career taking the path it has.
"There was never an option for me to not go to college," he said, adding that the education program was behind his choice of Viterbo.
A longtime coach of youth sports all the way up to high school baseball and basketball at La Crosse Logan High School, Rieber started working with kids in high school in the Boys & Girls Clubs of Greater La Crosse youth development programs. These days, he serves on the Boys & Girls Clubs board of directors.
When it comes to creating a good team in a school district, Rieber's approach will be informed by lessons learned at Viterbo.
"Viterbo just really built a solid foundation in my educational philosophy," Rieber said. "Part of that philosophy is you can never err with somebody who cares about others. That's been the cornerstone I've hung my hat on. You look for those unteachable skills. You look for how they deal with people."
Rieber's work leading the West Salem schools have earned him community recognition. He was the West Salem Business Association's Citizen of the Year for 2020, and this year he was named the June Dairy Days parade marshal.
This year's alumni award recognition from Viterbo took Rieber by surprise.
"This is a humbling award as I do not feel that I am deserving of such an honor. By helping to serve and be there for others, it just seems like something that we should all do for one another," he said. "This award is a reflection on how I was raised, what I have learned, and those who have continued to be by my side throughout my life. I would not be where I am without the help and support of my family. I see this as not an individual award, but a family accomplishment, because if it would not be for them, this would not have been possible."