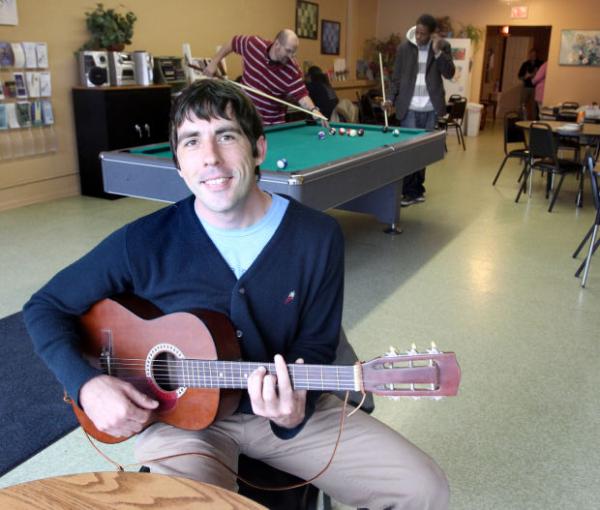 Spirit of Francis
Ten years ago, when Aaron Rasch '15 began taking graduate courses at Viterbo University, he would not have considered himself a pious person. But as he continued taking classes on his way to earning a Master of Arts in Servant Leadership degree, he found himself increasingly pulled to follow the example of St. Francis.
Rasch has a history of community service and has long been a strong and tireless advocate for people living with mental illness, people struggling with addiction, and people who are homeless. In 2018, though, he took a great stride on the Franciscan path. He took on the role of house coordinator at The Place of Grace, purging himself of most of his furnishings and moving into the house that has served so many in need over the past quarter century.
"I decided to surrender, thinking of the experience as getting a 'PhD in poverty,'" Rasch said. "Through struggle, I found an awakening of spirit. Through suffering, I found peace … I sometimes feel a sense of peace that is unshakable, an awareness I'm still learning to embrace. This path is deepening my spirit, it's palpable, and I don't feel alone."
His good work has been honored over the years. He was awarded the Shining Star Award from the Mental Health Coalition and the Relentless Badger Award from the Wisconsin Coalition of Independent Living Centers. Being named this year's winner of the Spirit of Francis Award as part of Viterbo's Distinguished Alumni Awards was great, he said, not for his own recognition but for the awareness it brings to the work to which he has devoted his life.
"Aaron lives what St. Francis modeled in simplicity, joy, and unconditional acceptance of everyone. I have never met anyone like Aaron, so nonjudgmental and kind, especially to our brothers and sisters who need it most," said the person who nominated Rasch for the Spirit of Francis Award. "Aaron is the real deal. He lives faithful service and ethical leadership in the spirit of St. Francis every day."
After graduating from Yorkville High School in Illinois, Rasch studied hospitality management and psychology at the University of Wisconsin-Stout, graduating in 2003.
Rasch said he decided to pursue graduate studies servant leadership at Viterbo because he was seeking inspiration and mentoring. "I decided to dedicate my career toward love, not power," he said. "My experiences at Viterbo continue to guide me. Viterbo led me to friendships, purpose, and authentic connections."
Since 2011, Rasch has facilitated more than 60 Mental Health First Aid and Youth Mental Health First Aid courses, and he's been involved with many local initiatives over the years, including the development of La Crosse's Warming Center, the Care Center, and the Lighthouse Project (a peer-run respite for people recovering from addiction to open this year).
During two years with Western Technical College's Project Proven, Rasch helped 200 people released from jail find jobs. Since 2017, he has chaired the Mental Health Coalition, and he's been involved in the Coalition to End Homelessness since its formation.
The pandemic has meant The Place of Grace couldn't function in its usual way as a community gathering place, so Rasch shifted his efforts to offering food and support to people staying unsheltered in Cameron and Houska parks in La Crosse.
In addition to his work at The Place of Grace, his main job these days is at Family and Children's Center, where he works as a Community Support Program case manager, helping adults with serious and persistent mental illness live as independently as possible.
His work on issues of mental health, substance use, poverty, and homelessness has had many challenges, with an overwhelming and unrelenting workload, but he knew when he completed his MASL degree that being involved with the most important needs in the community would mean hard work. What he didn't expect was how much his work would nourish his own soul.
"It's turned into a spiritual path," Rasch said. "That's been the most surprising thing."