Rising Professional, College of Nursing and Health
Originally from rural southeastern Minnesota (Rose Creek), Emily Schmidt graduated from Viterbo University in May 2013 with a Bachelor of Science in Nutrition and Dietetics degree and a minor in psychology.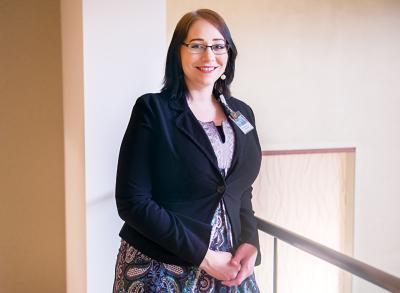 She has spent the past eight years at Mayo Clinic Health System in Albert Lea, Minn., working as a registered dietitian nutritionist. Schmidt said Viterbo prepared her well for this position, which includes working in a variety of settings from ambulatory and inpatient care to long-term-care consulting and community education. Her minor in psychology has proven very helpful in her work with outpatient nutrition counseling, the inpatient psychiatric services unit, and the Fountain Center Addiction Recovery program.
Schmidt also holds the Certified Diabetes Care and Education Specialist credential, which she obtained in 2017, the year she also began serving as a member of the Mayo Clinic Enterprise Clinical Nutrition Diabetes Subcommittee.
Not able to sit still for long in the education and professional growth department, Schmidt began graduate school in fall 2017 at Central Michigan University, where she obtained her Master of Science in Nutrition degree in December 2019. From 2017 through 2019 Emily balanced full-time work, her young son Henry and family life, and part-time virtual graduate school.
During her last semester at CMU, Schmidt also was an adjunct instructor for Viterbo University for a hybrid (in-person and online instruction) nutrition course for the dietetics program. "That was a very intense yet rewarding semester," she said.
In early 2019 Emily was promoted to a newly created lead dietitian position for Mayo Clinic Health System I-90 and I-35 corridors including Albert Lea, Austin, and Owatonna, Minn. In March 2019, Schmidt had the privilege of being a guest speaker at the Mayo Clinic Diabetes Nursing Conference in Rochester.
Over the past few years, Mayo Clinic Health System Albert Lea and Austin have also partnered with Viterbo University's dietetics program by taking dietetic interns. Schmidt has been a preceptor for these interns, which helps to not only satisfy her enjoyment for teaching but also keeps her on her toes as a dietitian, by constantly challenging her and encouraging her to stay up to date on skills.
Schmidt lives with her partner, Bradley, in Albert Lea. Their son, Henry, was born June 13, 2014, and their second child, Thomas, was born April 15, 2021. Their sister, Madeline, lives in Holmen.
In her free time, Schmidt enjoys spending time with family and friends, being outdoors, reading, cooking, travelling, and playing Nintendo games. She hopes to spend more time in the future pursuing her other passions of writing fiction and playing the piano, and, she hopes, a lot more traveling.
Schmidt attributes much of her success in life to her family, especially her parents David and Cathi. "They instilled a strong work ethic and many other positive traits in me, raising me to be creative, empathic, curious, and determined," she said. "I am immeasurably grateful for their sacrifices and unwavering foundation and support."