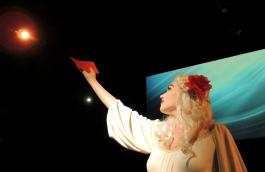 Are you interested in a career in theatre or music theatre? Are you an actor, a stage manager, designer, craftsperson, or someone who dreams of managing your own theatre?  
If your answer is "yes" we want to meet you! 
Auditioning in the age of COVID-19  
With your health, safety and well-being, and that of our faculty, our community and the world being our highest priority, Viterbo University continues to closely monitor the risks of the COVID-19 pandemic. In our normal audition process, we would look forward to meeting you in-person at your audition. This year however, we are moving our campus auditions online using our Acceptd platform. We will review your digital auditions and send you an invitation to interview with our faculty on Zoom. We are committed to this process through Fall semester of 2020 and will reassess the potential for live auditions and campus visits after January 1 of 2021.  
To apply, follow this sequence of steps: 
 APPLY to Viterbo University. 
Submit your digital portfolio and indicate your preferred audition/interview date and location at Acceptd. Instructions are in the "Start an Audition Registration Form"on the left side of our Acceptd welcome page. Submit your portfolio promptly to insure you get the time that works best for you. 
(See COVID statement above) Upon submission of your completed portfolio, we will review your materials within Acceptd and message you to confirm the date and time of your interview. Our audition schedule is posted below. If you have any questions or concerns, contact Toni Groshek at 608-796-3760, or email her at tlgroshek@viterbo.edu. 
Complete your callback interview with our faculty via Zoom (date/time to be confirmed via email) 
Eligibility 
Only students who have applied and been accepted to the university by our admissions office are eligible for admission to the Theatre and Music Theatre Department. If you are unsure of your application status, contact admissions at 608-796-3010 or admission@viterbo.edu. 
Scheduling your audition 
Auditions are scheduled within our online audition portal at Acceptd. This is where you submit your digital portfolio, your audition registration form, and choose your audition date and location. Audition slots fill quickly. Your Acceptd portfolio must be submitted before your audition date and time can be confirmed. 
Note: If you are attending Moonifieds, CAP, or other third party auditions your schedule will be determined through the company's registration and not through Viterbo's Acceptd account.  
Common Prescreen / Acceptd Portfolio Criteria 
"Viterbo University is a participant in the Musical Theatre Common Prescreen for the 2020-2021 cycle. This means we use the following criteria for digital audition submissions." https://papermill.org/musical-theater-common-prescreen/ 
We do not use the Common Prescreen/Acceptd portfolio to screen you out of a callback interview. We require it as the first step in our audition process. This portfolio helps us get to know you before your call back interview, and it allows us to share your work with faculty who may not be present. 
A $30 PAYMENT TO ACCEPTD IS THE ONLY FEE IN OUR APPLICATION PROCESS. This fee is required by Acceptd, not Viterbo University.  If you'd like information about this fee, please contact the Acceptd Support Team at support@getacceptd.com or by calling 1-888-725-2122. 
Audition and Interview Schedule 2020-2021
Nov. 12-15
College Audition Project - Atlanta, Georgia
Format:  Virtual TBD (Apply via CAP)
Nov. 17-24
Moonifieds - Dallas, Texas
Format:  Live Stream (Apply via Moonifieds)
Viterbo submission deadline for Dec. 5 callbacks
Format:  Get Acceptd Portfolio
Viterbo Callbacks (by invitation only)
Format:  Zoom
 
 
New York * (National Unified Auditions) 
Pearl Studios 
500 8th Ave. between 35th and 36th Street on the 4th floor 
Use this link to see a map of the studio spaces at Pearl: 

http://pearlstudiosnyc.com/

 
Format:  TBD
Chicago * (National Unified Auditions) 
Palmer House Hilton 
17 East Monroe Street, Room Clark 5 on the 7th floor 
Use this link to connect to the hotel website: 

www.palmerhousehiltonhotel.com

 
Format:  TBD
Los Angeles * (National Unified Auditions) 
The Westin Los Angeles Airport 
5400 W. Century Boulevard 
Use this link to connect to the hotel website: 

http://www.westinlosangelesairport.com/

Format:  TBD
Viterbo submission deadline for Feb. 27 callbacks
Format:  Get Acceptd Portfolio
Viterbo Callbacks (by invitation only)
Format:  Zoom
On-campus Auditions:  Fall semester 2020 auditions will be virtual using your Acceptd submission followed by a Zoom interview with faculty on the date indicated in the schedule. Spring 2021 auditions are TBD. In normal times, this face-to-face option offers the most comprehensive experience. You'll meet faculty and students, visit classes, see a show or rehearsal, and tour the campus. What to bring:
A headshot and resume
An accompanist is provided for all music theatre auditions
National Unified Auditions:  The format for these is currently TBD by December 2020. In normal times, this option provides an opportunity to audition in a major theatre city that's most convenient for you—New York, Chicago, or Los Angeles.  What to bring:
A headshot and resume
Music theatre auditions need to bring recorded accompaniment and a bluetooth speaker
How to prepare your audition and portfolio
Acting Auditions: Prepare two contrasting, memorized one-minute monologues from modern plays. If you are comfortable with Shakespeare, we would appreciate seeing 20–30 lines of a verse monologue or soliloquy. This can substitute for one of your contemporary monologues. The audition may also include improvisation and movement.
Music Theatre Auditions: Prepare a one-minute monologue from a modern play, and sing 16-32 bars of two contrasting songs from a Broadway musical (memorized). You will need to provide your own recorded musical accompaniment at the National Unified Auditions. For on-campus auditions, please bring sheet music; an accompanist will be provided. A dance call will be held at all on-campus auditions and at the Chicago Unified audition site.
Stage managers should present examples of work in the form of photographs, prompt-scripts, slides, and/or drawings of productions on which you have worked. Examples of related skills (painting, drawing, sewing, handwork, woodworking, etc.) are also helpful.
B.A. majors will interview with faculty, and may choose to do an acting audition or present a portfolio, or both.
What to expect in the interview
The interview is an informal conversation with members of the Theatre & Music Theatre faculty. The goal is to get to know you--your interests, ambitions and dreams for college and beyond. It's also an opportunity for you to learn more about us. Ultimately, it's a chance for you and our faculty to discover what we have to offer each other. So bring your questions.
Notification
We'll let you know your admissions status within two–three weeks after your audition/interview.
Financial Aid
We work directly with you, your family, and the Office of Financial Aid to create the most comprehensive financial aid package available. Scholarships are based on talent, academic record, and leadership potential. Need-based grants and loans are available to qualifying students. Financial aid packages will not be awarded until the student has been formally admitted to Viterbo University and has completed the audition/interview process. To ensure eligibility for a talent scholarship, you must be accepted by the Office of Admission, and have completed your audition and interview by our last published audition date.
Questions
Email Rick Walters, Director of Recruitment, or call 608-796-3793.