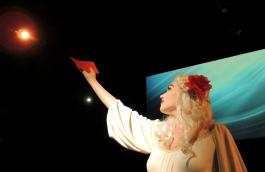 Are you interested in a career in theatre or music theatre? Are you an actor, a stage manager, designer, craftsperson, or someone who dreams of managing your own theatre?  
If your answer is "yes" we want to meet you! 
ALL AUDITIONS ARE NOW VIRTUAL ON AuditionRoom.
For your health and safety – and that of our faculty – we have decided to pivot all of our upcoming auditions to a virtual format using the Acceptd AuditionRoom platform. This includes the National Unified Audition dates in New York and Chicago. This decision is made in response to the increasing infection rates of Covid brought on by the Omicron variant that is sweeping the country, and the unpredictability this is causing for air travel nationwide.
If you already scheduled an in-person audition in NYC or Chicago:
If you are currently scheduled for an in-person audition in NYC or Chicago, your audition will now be virtual. The date and time remain the same. Our scheduling manager, Toni Groshek, will email you with details and to confirm your availability.

If you have not yet scheduled your audition:
Schedule your audition within your Acceptd application by selecting your preferred audition date (see our schedule listed below). Audition times are assigned in chronological order on a first come/first serve basis and are confirmed with a message through the Acceptd message board. There is a $30 fee charged by Acceptd to use their AuditionRoom application. Viterbo University is not able to waive this fee.

To apply, follow this sequence of steps: 
 APPLY to Viterbo University. Please note: Only students who have applied and been accepted to the university by our admissions office are eligible for admission to the Theatre and Music Theatre Department. If you are unsure of your application status, contact admissions at 608-796-3010 or admission@viterbo.edu.
Submit your digital portfolio and indicate your preferred audition date and location. Instructions are in the "Start an Audition Registration Form" on the left side of our Acceptd welcome page. Upon submission of your completed portfolio, we will use the Acceptd message board to confirm the date and time of your audition. Note: If you are attending Moonifieds, CAP, or other third party auditions your schedule will be determined by those organizations. 
Questions or concerns, contact Toni Groshek at 608-796-3760.
Common Prescreen / Acceptd Portfolio Criteria 
Viterbo University is a participant in the Musical Theatre Common Prescreen. This means we use the following criteria for digital audition submissions. https://papermill.org/musical-theater-common-prescreen/  Though it's called a "prescreen" we do not use this process to screen you out of an audition. We intend to  meet every student who applies. Your Acceptd portfolio helps us get to know you before your audition, and it allows us to share your work with faculty who may not be present for your live or virtual audition. 
Fees Charged by Acceptd (If you'd like information about these fees, please submit a ticket at the Acceptd Help Desk.) 
A $30 payment is required to make your portfolio available to us. An additional $30 is required IF you choose the virtual audition option through AuditionRoom.
Note: The Viterbo University admissions office does not charge an application fee. 
Audition and Interview Schedule 2021–2022
Oct 8            Pittsburgh Unified Musical Theater Auditions – [Format: Virtual TBD)
Nov 12-14     College Audition Project - Atlanta, Georgia [Format: Virtual TBD]  
Nov 19          Moonifieds - Dallas, Texas [Format: Live]
Nov 30          Acceptd submission deadline for Dec. 4 Viterbo Virtual Audition
Dec 4            Viterbo Virtual Auditions [Format: Acceptd AuditionRoom]
Jan 29-30      National Unified Auditions - New York [Format: Live]
Feb 7-10        National Unified Auditions - Chicago [Format:  Live]
Feb 12           National Unified Auditions - Los Angeles [Format: Acceptd AuditionRoom]
Feb 19           Acceptd submission deadline for Feb. 26 Viterbo Virtual Audition
Feb 26           Viterbo Virtual Auditions [Format: Acceptd AuditionRoom]
Feb 26           Acceptd submission deadline for Mar. 5 Viterbo Virtual Audition
Mar 5             Viterbo Virtual Auditions [Format: Acceptd AuditionRoom]
How to prepare your audition and portfolio
Acting Auditions: Prepare two contrasting, memorized one-minute monologues from modern plays. If you are comfortable with Shakespeare, we would appreciate seeing 20–30 lines of a verse monologue or soliloquy. This can substitute for one of your contemporary monologues. The audition may also include improvisation and movement.
Music Theatre Auditions: Prepare a one-minute monologue from a modern play, and sing 16-32 bars of two contrasting songs from a Broadway musical (memorized). You will need to provide your own recorded musical accompaniment at the National Unified Auditions. For on-campus auditions, please bring sheet music; an accompanist will be provided. A dance call will be held at all on-campus auditions and at the Chicago Unified audition site.
Stage managers should present examples of work in the form of photographs, prompt-scripts, slides, and/or drawings of productions on which you have worked. Examples of related skills (painting, drawing, sewing, handwork, woodworking, etc.) are also helpful.
B.A. majors will interview with faculty, and may choose to do an acting audition or present a portfolio, or both.
What to expect in the interview portion of the audition
The interview is an informal conversation with members of the Theatre & Music Theatre faculty. The goal is to get to know you--your interests, ambitions and dreams for college and beyond. It's also an opportunity for you to learn more about us. Ultimately, it's a chance for you and our faculty to discover what we have to offer each other. So bring your questions!
Notification of audition results
After December 11, 2021 (for all fall auditions)

After February 19, 2022 (for National Unified Auditions)

After March 12, 2022 (for the Feb 26 and Mar 5 auditions)
Financial Aid
We work directly with you, your family, and the Office of Financial Aid to create the most comprehensive financial aid package available. Scholarships are based on talent, academic record, and leadership potential. Need-based grants and loans are available to qualifying students. Financial aid packages will not be awarded until the student has been formally admitted to Viterbo University and has completed the audition/interview process. To ensure eligibility for a talent scholarship, you must be accepted by the Office of Admission, and have completed your audition and interview by our last published audition date.
Questions
Email Rick Walters, Director of Recruitment, or call 608-796-3793.