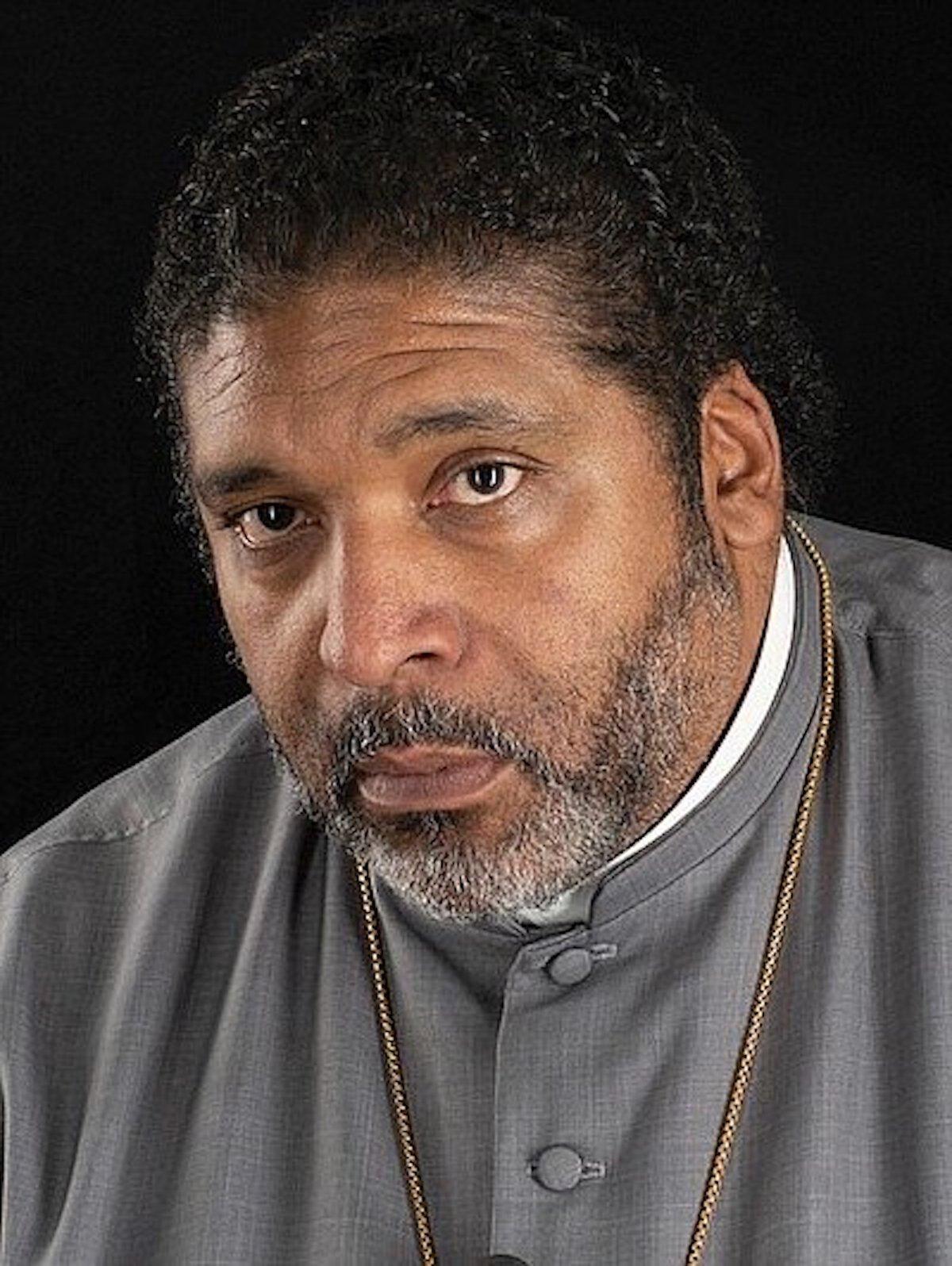 Jan. 6, 2021
Contacts: Keith Knutson at 608-796-3496 or kaknutson@viterbo.edu
Thomas Harris at 608-780-7153 or tharris@uwlax.edu
Shaundel Spivey at 414-759-4017 or sspivey@lacrossesd.org
Eric Weinberg at 608-796-3045 or egweinberg@viterbo.edu
SOCIAL JUSTICE LEADER REV. DR. WILLIAM JOSEPH BARBER II TO PRESENT KEYNOTE ADDRESS AT THE LA CROSSE COMMUNITY ANNUAL DR. MARTIN LUTHER KING JR. CELEBRATION HOSTED BY VITERBO UNIVERSITY JAN. 18
LA CROSSE, Wis. – Social justice leader Rev. Dr. William Joseph Barber II will present the keynote address at the La Crosse Community Annual Dr. Martin Luther King Jr. Celebration at 7 p.m. Monday, Jan. 18 hosted by Viterbo University on Facebook Live.
Barber is co-chair of the Poor People's Campaign: A National Call for Moral Revival, a movement launched by Martin Luther King Jr. in 1968 that strives to gain economic justice for all Americans. He is also the president and senior lecturer of Repairers of the Breach, architect of the Moral Monday Movement, and pastor of Greenleaf Christian Church (Disciples of Christ).
A highly sought-after speaker, Barber has presented at hundreds of national and state conferences, including the 2016 Democratic National Convention. He is a visiting professor of public theology and activism at Union Theological Seminary and is a senior fellow at Auburn Seminary. Barber is regularly featured in media outlets including MSNBC, CNN, New York Times, Washington Post, and The Nation. He is the 2015 recipient of the Puffin Award and the Franklin D. Roosevelt Four Freedoms Award, a 2018 MacArthur Foundation Fellowship award recipient, and he is one of the 2019 recipients of the North Carolina Award, the state's highest civilian honor.
The MLK Leadership Award, which honors extraordinary contributions to the La Crosse community that demonstrate Dr. King's legacy of positive change from generation to generation, will also be presented. This year's award recipient is Amanda Goodenough, assistant director for University of Wisconsin-La Crosse's Research and Resource Center for Campus Climate.
The Lynda Lowry Student Leadership Award will be presented to Logan High School student Chaya Davis. The award is named in honor of the youngest marcher in the historic 1965 voting rights march from Selma to Montgomery, Ala. Also to be included is a special recognition award to Rev. Calvin Morris, a civil rights advocate who worked with Rev. Martin Luther King Jr. and Rev. Jesse Jackson. Jazzma Holland, assistant director of Upward Bound at UW-La Crosse, will serve as emcee.
New to this year's event is the MLK Day of Service, Learning, and Celebration. Viterbo University will honor Martin Luther King Jr. with a day dedicated to a variety of engagement opportunities that provide spaces of learning, service, and advocacy with the underrepresented and marginalized communities in the Coulee Region and beyond. The day will feature the Viterbo Race Card Project, a panel discussion with Mariel Boatlift refugees, and guided walking tours following the Voice of La Crosse: Racial (In)Justice–A Tour of Black Experiences in Downtown La Crosse map. For a full schedule of events and volunteer opportunities, visit https://www.viterbo.edu/social-justice-and-equity/mlk-day-service-learning-and-celebration.
The Dr. Martin Luther King Jr. Celebration is organized by the La Crosse Community Annual Dr. Martin Luther King Jr. Celebration Committee, co-sponsored by a wide variety of community organizations, and hosted by Viterbo University. Barber's appearance is co-sponsored by the D.B. Reinhart Institute for Ethics in Leadership at Viterbo University. The event is held each year to honor the legacy of America's civil rights hero and icon.
 View the event on Facebook Live by visiting the Viterbo Facebook page at https://www.facebook.com/ViterboUniversity. No Facebook account is required.
-30-