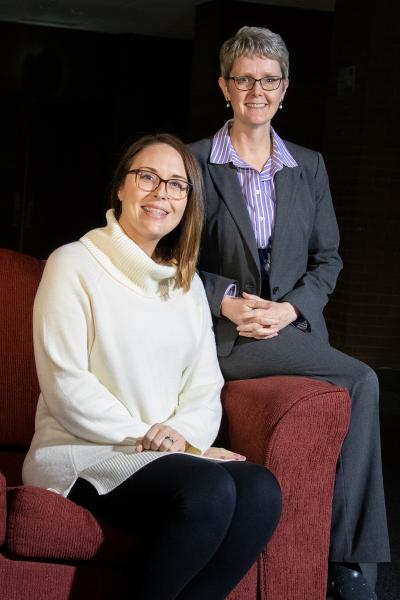 There was more than a little poetry involved when Amanda Marnholtz decided to continue her education through Viterbo University's Doctor of Nursing Practice (DNP) graduate program. Her coming to Viterbo put a third generation of her family on campus.
An Onalaska native, Marnholtz followed in her mother's footsteps when she decided to go into nursing. Marnholtz graduated from the University of Wisconsin-Oshkosh in 2010 and has been working as a nurse in the respiratory care unit at Mayo Clinic in Rochester, Minn., for nine years. That was long enough for Marnholtz to feel the need to level up.
"I was to the point where I was an expert at work," Marnholtz said. "I think it's just been instilled in me to keep learning."
That learning tradition started at Viterbo. Her mother, Stacey Boehm, earned her undergraduate degree at Viterbo, where her own mother worked as a housekeeper in the dorms. Boehm, who earned a doctoral degree at the University of Wisconsin, taught psychology classes in the nursing school for a time.
Going to graduate school is a challenge under any circumstances, but Marnholtz has some hurdles most grad students don't have to jump. She has a 6-year-old son and a 4-year-old daughter with her husband, Will, also a nurse at Mayo Clinic, and they live in Rochester, so she spends a lot of time on the road. That travel time is compounded because of her clinical assignment in Red Wing, Minn.
She also does volunteer work, helping out with her son's Cub Scouts pack and serving on the board for his preschool.
Marnholtz, who is in her third year of the DNP program, is on leave from her job at Mayo while she does her clinical work, so that means finances are tight. This year, though, she was awarded a Sister Grace Clare Beznouz Nursing Scholarship, named in honor of the first dean of Viterbo's nursing school.
"This scholarship is super helpful. And it's kind of humbling to be honored for working so hard and being slightly insane," Marnholtz said with a laugh.