Debra (Kempf) Shumaker '93 began her journey to becoming a children's picture book author with an offhand remark.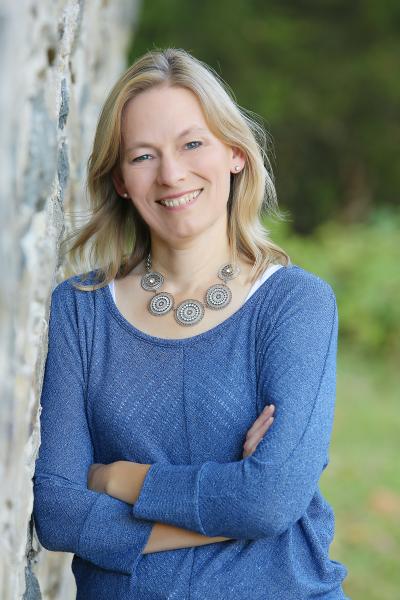 A farm girl from Kiel who grew up with eight sisters, Shumaker studied dietetics at Viterbo, transferring from Mount Mary College in Milwaukee. After earning her degree, she worked in the dietetics field for a time before deciding to devote all her time to raising three sons in northern Virginia, near Washington, D.C. As her boys grew up, she shared her lifelong love of books with them.
"I've always been a reader, and that's how I would spend a lot of time with my boys," she said, noting that Dr. Seuss books were always a big hit when they were young.
One of her sons as a 2-year-old had a habit of pointing out fences, bridges, and stoplights he'd see when they were out driving. One day, Shumaker told her son she'd write him a book about those things.
Not long after, Shumaker's husband, Tom, an executive with a major construction firm, saw an ad for the Institute for Children's Literature and urged her to enroll.
"He basically called my bluff," she said.
She achieved her quest to become an author, which began more than 10 years ago, in May with the publication of Freaky, Funky Fish: Odd Facts About Fascinating Fish, a rhyming children's picture book illustrated by Claire Powell that features a collection of the world's most exotic aquatics.
"It's surreal to see your name on a book cover," Shumaker said. "It's been a long journey, but it's been fun. A lot of it's hard work, but a lot of it is just luck."
Shumaker had come agonizingly close to getting published before Freaky, Funky Fish, her 15th completed manuscript. Without perseverance, an unrelenting drive to create, and a thick skin to deal with rejection, Shumaker would not have hooked her first book contract.
It's also very helpful to have an agent, she said, noting that that can be a long arduous journey itself. It took Shumaker more than five years to connect with the right agent.
It can take a long time from manuscript completion to publication. In the case of Freaky, Funky Fish, it took more than two years. Shumaker has learned that successful authors, like sharks, must keep moving to survive, starting new projects as soon as others are done, and often before they are done.
Shumaker already has completed a book titled Peculiar Primates, a follow-up to Freaky, Funky Fish that is scheduled to be published in October 2022 by the same company that did the fish book, Running Press Kids. With both books, Shumaker said, one of the major goals is to get kids thinking about science and ensuring that the world's myriad special creatures can survive and thrive.
"We want kids to fall in love with science," Shumaker said. "Our natural world is the most amazing thing. I really hope Freaky, Funky Fish generates the feeling that we really do need to protect our oceans and seas."
Meanwhile, Shumaker has another picture book in the pipeline, this one due out in a few months. Tell Someone, which is categorized as a social-emotional learning book, aims to affirm the power of talking about feelings with others, even when it's scary to do so.
With Tell Someone, the publisher (Albert Whitman) came to her (through her agent) in January 2020 with the idea for a book encouraging open communication. "Of course you take the chance," she said, and by July 2020, her manuscript had been accepted.
Shumaker has specialized in nonfiction children's books largely because she enjoys researching, a trait strengthened by her time at Viterbo.
"If you're a curious person, which I am, there's so much joy in learning," she said. "Viterbo did a great job in fostering a learning environment."