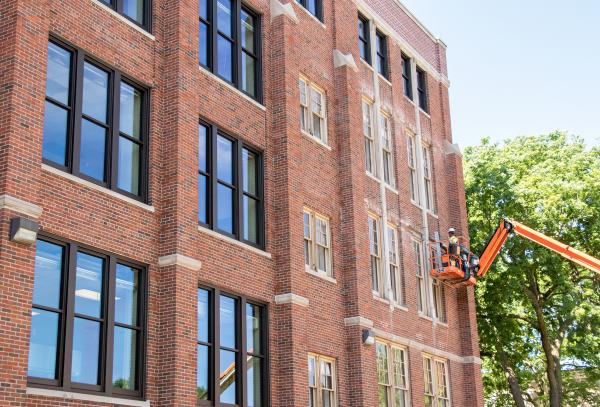 The 2020 summer break was going to be a busy one for Gene McCurdy, director of physical plant, and his staff. The COVID-19 pandemic made it even busier, with adapting classrooms, residences, and common spaces becoming a priority.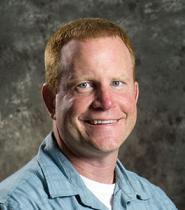 "Summers are usually pretty busy," said McCurdy, who leads one of the largest departments on campus. "This summer has been more challenging for sure because every day something pops up that you didn't think of or something new comes along. It's been quite an effort for the staff."
Starting in May, McCurdy's crew sized up each classroom, assessing what the capacity of each would be setting aside 36 square feet for each occupant of the room. That space allotment is based on the goal of keeping at least six feet apart from other people to prevent viral spread.
Once room capacity was determined, physical plant staff worked on clearing out classrooms, spacing out chairs and desks, and installing more than 100 desktop acrylic shields and more than 30 ceiling hung shields for classrooms.
Other safety measures on campus have included installing roughly 100 hand sanitizer dispensers, about 15 of them free standing and the rest mounted on walls. The staff also has set up a lot of signage to ensure students and staff follow best practices, including putting arrows on floors to remind students to stay to the right when passing in the hallways and on stairs.
Since drinking fountain buttons present a high touch surface that can be a source of viral spread, the physical plant staff took all drinking fountains and some sinks off line. Staff members will need to regularly run the water on those dormant fixtures and pour water down unused drains.
"Stagnant water can create problems," McCurdy said.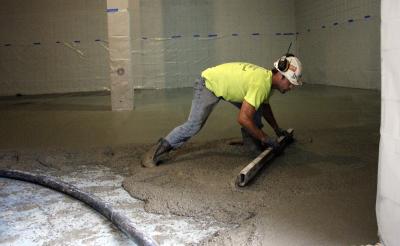 Making more space for student housing also was a priority for the summer. McCurdy said storage space on the lower level of Bonaventure Hall was remodeled for use as student rooms, with a restroom added on that level as well. In addition, a "theme house" behind Canticle House was fixed up to make room for seven more units of student housing.
The crown jewel on the Viterbo campus, Murphy Center, got some special attention this summer. Most noticeable was completion of the first phase of replacement of Murphy's 648 exterior windows, which are original equipment on the nearly 80-year-old building.
This summer, windows on the north and south sides of the building were replaced with new energy efficient windows. Putting in the dark framed windows in place of the light framed ones gives the building a distinctive look.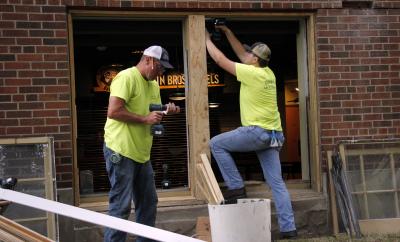 The new windows cannot be opened, and while there might have been some pushback on that idea in the beginning, McCurdy said he's heard nothing but good reviews of the new windows.
With the campus largely shut down since mid-March, McCurdy noted that the window project could get started a month early and encountered few conflicts with building occupants since Murphy was largely vacant.
"It certainly made life easier as far as coordinating," McCurdy said. "It's gone very smoothly. They're going to be done a month early."
The summer has seen completion of projects inside Murphy, too. Bathrooms on the fourth and fifth floors were renovated, and work related to a space swap between campus ministry and the counseling, health, and other offices in the Student Development Center was completed.
Campus ministry had outgrown its space in Murphy, so it made sense to move it to the Student Development Center, which is in a house next door to San Damiano Chapel. Work on the house included interior painting, carpeting, and installation of a key card entry system. Some of the remodeling in the house was delayed, but campus ministry will be ready for fall semester in its new home, complete with an interfaith prayer room.
Another major project is nearing completion at the Varsity Athletic Center involving expansion of the strength training room. Two racquetball courts adjacent to the existing weight room will now be a connected part of the strength training facilities at the VAC. The courts had been used in recent years to house some fitness equipment, but with the installation of rubber flooring in the courts and creation of a 10-foot entry, the space for training is doubled.
"The number of student athletes has quadrupled since the building was built in the mid-'80s. There just wasn't sufficient room for all the student athletes," said McCurdy, noting that purchase of new equipment to fill the facility has been delayed.
Only a few finishing touches remain on the Franciscan Sisters of Perpetual Adoration Prayer Garden, just west of the new campus ministry headquarters. A relief sculpture installation that is part of the project will be delayed. Other than that, all that remains to be done is installation of signage recognizing the donors who paid for the garden, which honors the sisters who founded Viterbo.