Growing up in Ettrick, Lynnae (Salzwedel) Schatz '84 nursed her father, Louis, through his third bout with rheumatic fever. That early experience made her gravitate toward a career in nursing, and Viterbo was the logical choice for her training, Schatz said.
"I had been to Viterbo many times on field trips to shows at the Fine Arts Center, so it was comfortably familiar," she said in an interview from her home in Houston, Texas. "And I knew it was just an excellent nursing school."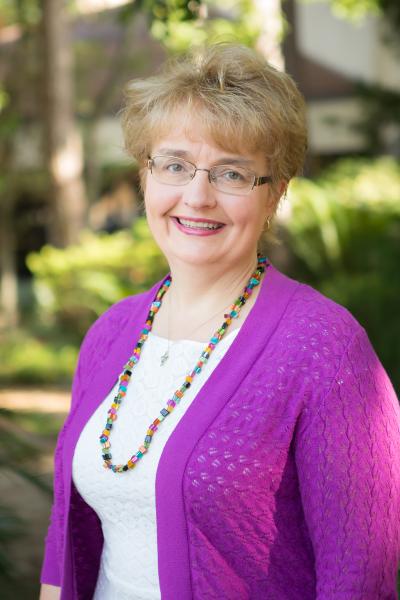 Schatz also was drawn from an early age to the ministry. She recalls wanting to be a minister when she was in fourth grade. That idea faded, but she and her family were active in the Lutheran Church they attended when she was growing up. Schatz was the church organist, her mother, Judy, was the church secretary, and her father was on the church and synod councils.
These days, Schatz combines her caregiving instincts and nursing skills in a vocation that incorporates her faith, love of music, and desire to make the world better through ministry. She is Director of Congregational Life at Kinsmen Lutheran Church in Houston.
Schatz earned her certification in parish nursing in 2009, and moved from her work overseeing regulation of hospices and home health care for the Texas Department of Health into parish nursing at Kinsmen.
As Kinsmen's congregational life director, her work has expanded well beyond parish nursing. She oversees worship at the church, directs the children's choir and handbell choir, and trains lay chaplains since completing training in 2014 through Community of Hope International, a Benedictine program.
Schatz also has been instrumental in outreach efforts at Kinsmen to serve the community. She started a Thanksgiving community dinner at the church back in 2010, modeled on the community dinner in La Crosse. Last year, the church shared 829 meals, served to-go because of the pandemic.
She also oversees weekly Wednesday night suppers for the community, which have gone on through the pandemic, providing as many as 200 hot meals a week. After the area around the church was identified as a food desert during the pandemic, she launched a program in which Kinsmen hosts a mobile food shelf twice a month, with 40 volunteers involved in the distribution effort.
"The most rewarding part has been getting to know the people who are coming for the meals and building relationships and getting to know the community," Schatz said.
Her instinct to help others was strong growing up, but it was strengthened as a student at Viterbo. "That's just really what we are to do with our lives," said Schatz, who recently completed an online servant leadership certificate course offered by Viterbo. "I have really enjoyed the class. I love the spiritual fulfillment and the affirmation of what I have been doing with my ministry."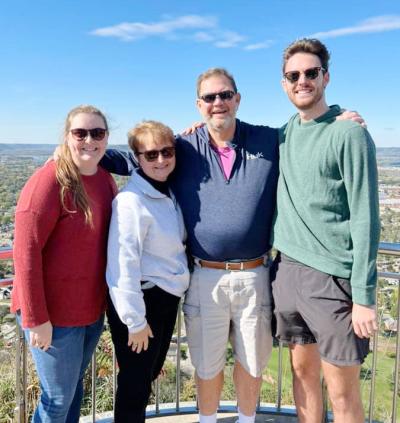 Schatz recalls her time at Viterbo fondly and vividly (her room her first year in Marion Hall was 143). It made an especially big impression on her that after she graduated and was facing some obstacles in getting her nursing career started, the head of the nursing program, Grace Clare Beznouz, FSPA, wrote a letter of encouragement to her.
The message from Sr. Beznouz stuck with her: "Keep your eyes focused on what you want, and you will achieve it."
When Schatz started nursing school, there was an acute shortage of nurses. By the time she graduated, though, things had changed. After a job in Rochester, Minn., fell through, she and a friend hit the road, finally finding jobs in Champaign-Urbana, Ill. That's where she met her husband, Steve, with whom she has raised two children, Hannah and Nathaniel.
Her husband's work in the oil industry took them briefly to Ohio, where she worked as an ICU trauma nurse. They moved in 1993 to Houston, where she at first was director of a home health agency. In 1995 she began doing regulatory work in hospices for the Texas Department of Health. "Integrity is important to me," she said. "The rules are there to protect you and the patient."
Schatz went on to become supervisor of all home health agencies and hospices in Houston and nine surrounding counties.
Throughout the years since she graduated from Viterbo, Schatz has made a habit of turning challenges into opportunities, and all her experiences have added up to prepare her for her work for her church and the community.
"I have decided that you are supposed to make the most of any situation, wherever you are," she said.