Earning a Master of Business Administration degree at Viterbo was a turning point for Libby Weber '10 in terms of personal development. It was the start of her journey to becoming chief executive officer of The Weber Group, which happened this spring in the middle of the pandemic.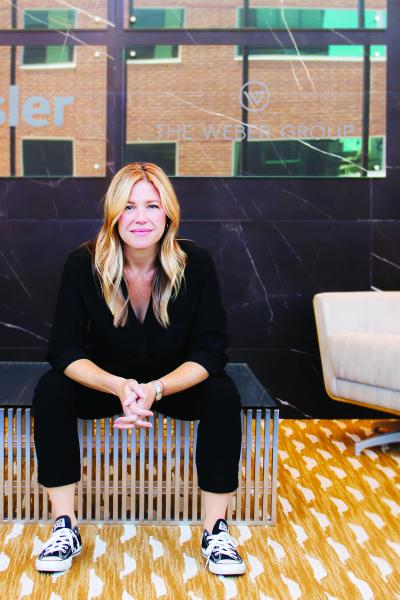 "It made me a lot more confident in my abilities in management," Weber said of Viterbo's MBA program. "It got me on a path to being able to power through difficulties, to be quick to react, to know how to best delegate, and rely on the strengths of your team."
As the COVID-19 pandemic became a global crisis, Weber needed all those skills as she helped guide The Weber Group, a La Crosse-based company with 400 employees and businesses that include Belle Square, The Charmant Hotel, Home2 Suites by Hilton, The Waterfront Restaurant and Tavern, Riverside Corporate Wellness, and River Rocks Coffee.
Most of The Weber Group businesses are involved in the hospitality industry, which has been especially hard hit in the pandemic. After things shut down, it was a mad scramble to deal with myriad issues, with helping the company's wide array of employees at the forefront.
"Our foremost concern has always been their well-being, not just their health but being able to sustainably live," ­Weber said. "Things happened so quickly. I'm really proud of our team for how we've managed this."
Growing up, Weber didn't necessarily dream of becoming a CEO. After graduating from Aquinas High School in La Crosse, she really didn't have a clear picture of where she was going.
Weber had graduated in 2004 from the University of Wisconsin-La Crosse with a degree in marketing, not deciding on a major until she was a junior. When she decided to pursue an MBA, she was keeping plenty busy working as floor manager at The Waterfront Restaurant and Tavern. She said a thirst for learning prompted her to renew her studies at Viterbo.
"I'm really very nerdy," Weber said with a laugh. "I like continually having something to learn."
The attraction of Viterbo's MBA program was the compact schedule (meeting Tuesdays from 6–10 p.m.) and the cohort structure that had her go through the whole process with the same people. Her cohort got to be very close and even came up with its own nickname.
At one class session, Dr. Julio Bird talked about the vital role Sherpa guides play in climbing Mount Everest and how the guides are all named for the day of the week on which they were born. After that, Weber's MBA cohort became the Tuesday Sherpas, like intrepid guides in the business world instead of the Himalayas.
After earning an MBA from Viterbo, Weber earned another graduate degree, this one in communications and leadership from Gonzaga University. Moving back to the La Crosse area in 2015, Weber got involved in the family business, including presiding over the Idea Fund of La Crosse, as well as serving on the board of directors for the Family and Children's Center.
While taking on leadership of The Weber Group during a crisis wasn't ideal, Weber actually sees the positive in the situation and relishes the chance to solve challenging problems. One of the big problems Weber and her company took on during the pandemic was working with the La Crosse County Health Department to develop a "Check the Spread" publicity campaign and website aimed at preventing the spread of COVID-19.
"Part of my personality is being a fixer and problem solver," Weber said. "I feel like I am actually thriving in this scenario. Don't get me wrong, I don't wish this on anyone. Our businesses are really suffering, but to me it's an opportunity. Challenge should really lead to change. Once the hard work is all done, the reward will present itself."