Viterbo University finance major Cullin Neeck secured a job as a manufacturing data analyst well before graduation.
Neeck had been completing a paid internship at Fastenal in Winona, Minn., and before starting the first semester of his senior year, the company offered him the full-time position, starting after he earns his degree.
"It was honestly the greatest feeling ever because that's what you've been working for," Neeck said of the job offer.
Neeck came to Viterbo to play basketball, but was forced to give up the sport in his sophomore year when he tore his ACL. It was a tough blow, but Neeck was happy to continue his studies at Viterbo's Dahl School of Business, where he'd built a strong relationship with his professors.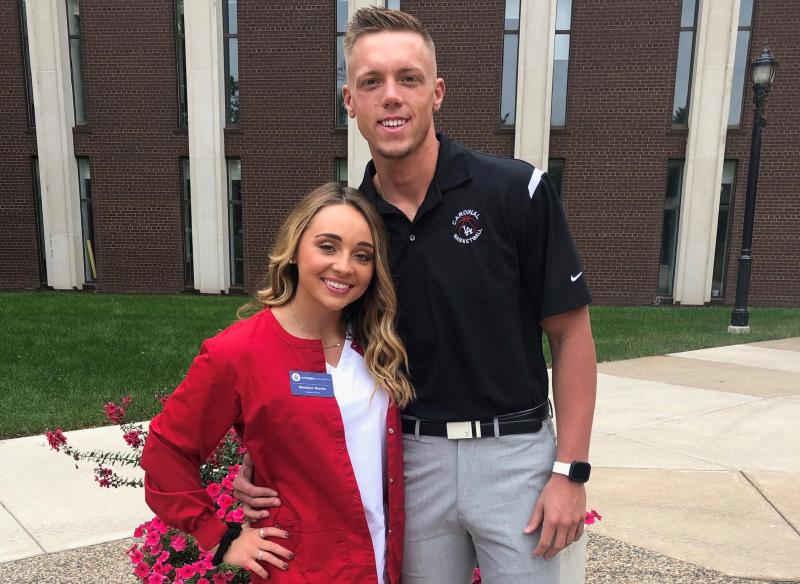 "They really take the time to think about you as an individual, they get to know your story and they really push you to be successful," he said.
Neeck, who is from Lewiston, Minn., described the classroom experience at the Dahl School of Business as "very high-tech." Students use dual-screen computer terminals in the finance simulation lab, Neeck noted, and watch the fluctuations of the markets live on two 22-foot stock tickers.
He said his studies have given him a broad understanding of the business world, in addition to technical expertise, like the Excel-related data analysis skills that he sharpened through his internship, helping him land the full-time position at Fastenal.
Viterbo's campus is a "tight-knit" environment and his relationship with his professors means he can talk to them about more than just his studies, Neeck said.
"It's definitely not good if you want to skip classes because they know you, they notice when you're not there," he joked. "But there's nothing like getting that one-on-one time with your professors. That's one of my favorite things. They're all very knowledgeable and willing to take extra time to help you on course content, but you can also ask them about life, personal investments, and they're always there for you."
Neeck said he was initially attracted to studying finance at Viterbo by the school's high placement rate. Currently, Viterbo graduates have a 100% placement rate within six months of graduation. Viterbo has lived up to his expectations, and he said he'd recommend it to any student looking to "master their passion" through their studies, while being part of a university where human connections are valued.
"Viterbo is so much like a family and so welcoming and people aren't just glued to their phones walking across campus like you'll see at other universities," he said. "You wave, say hi, whether it's a faculty member, someone who works at Einstein Bros. Bagels on campus, or other students."
Neeck continued, "I just feel like there are more verbal interactions at Viterbo, human-to-human, which is really cool. It's really inclusive, too, whereas if you go to a school with 10,000 students, people aren't going to know you."