Gundersen Partners has a long history of doing myriad good things for the La Crosse area community, but nothing tops the impact of providing college scholarships, according to Linda Gillette, the organization's president. It's an investment that pays dividends far into the future.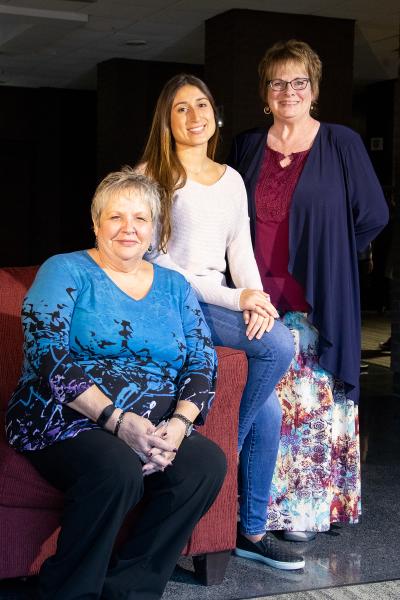 The organization grew out of a Gundersen Clinic auxiliary group formed in 1950, and the list of causes supported by Gundersen Partners is as long as it is varied. The group, for example, supports everything from the St. Clare Health Mission, Children's Miracle Network, and pet-sitting programs for hospital patients to Freedom Honor Flights for aging veterans, blanket collection drives, and programs that support foster children and caregivers.
Back in 1995, Gundersen Partners established an endowment fund for scholarships at Viterbo University as well as the other two La Crosse institutions of higher education. "That was a great thing they decided to do," Gillette said. "Scholarships are our main priority. We think it's great that we can help college students reach their goals and make it a lot easier for them, financially."
Under a new Gundersen Partners strategic plan created a few years ago, the organization reassessed its mission and boiled it down to a pithy statement: "Enhancing care through service and giving." Scholarships are a key part of that because many of the students Gundersen Partners supports will graduate and become part of the local healthcare community.
In addition to the endowed scholarships at the three La Crosse institutions, Gundersen Partners also provides scholarships for employees of Gundersen Health System who are going into the medical field. The group also funds merit-based scholarships for area high school students going into the healthcare field.
Getting the chance to meet and talk with Viterbo scholarship recipients has been among the  highlights of Gillette's tenure as Gundersen Partners president as it gives her a chance to hear firsthand about the difference made by her organization as well as the impact made by many other community supporters of scholarships.
Not only do the scholarships offer relief from some of the financial burden, they provide an acknowledgement of recipients' hard work and motivation to keep doing their best.  
"It's just a nice way to help students and give back to the community," Gillette said. "The ripple effect spreads far and wide."