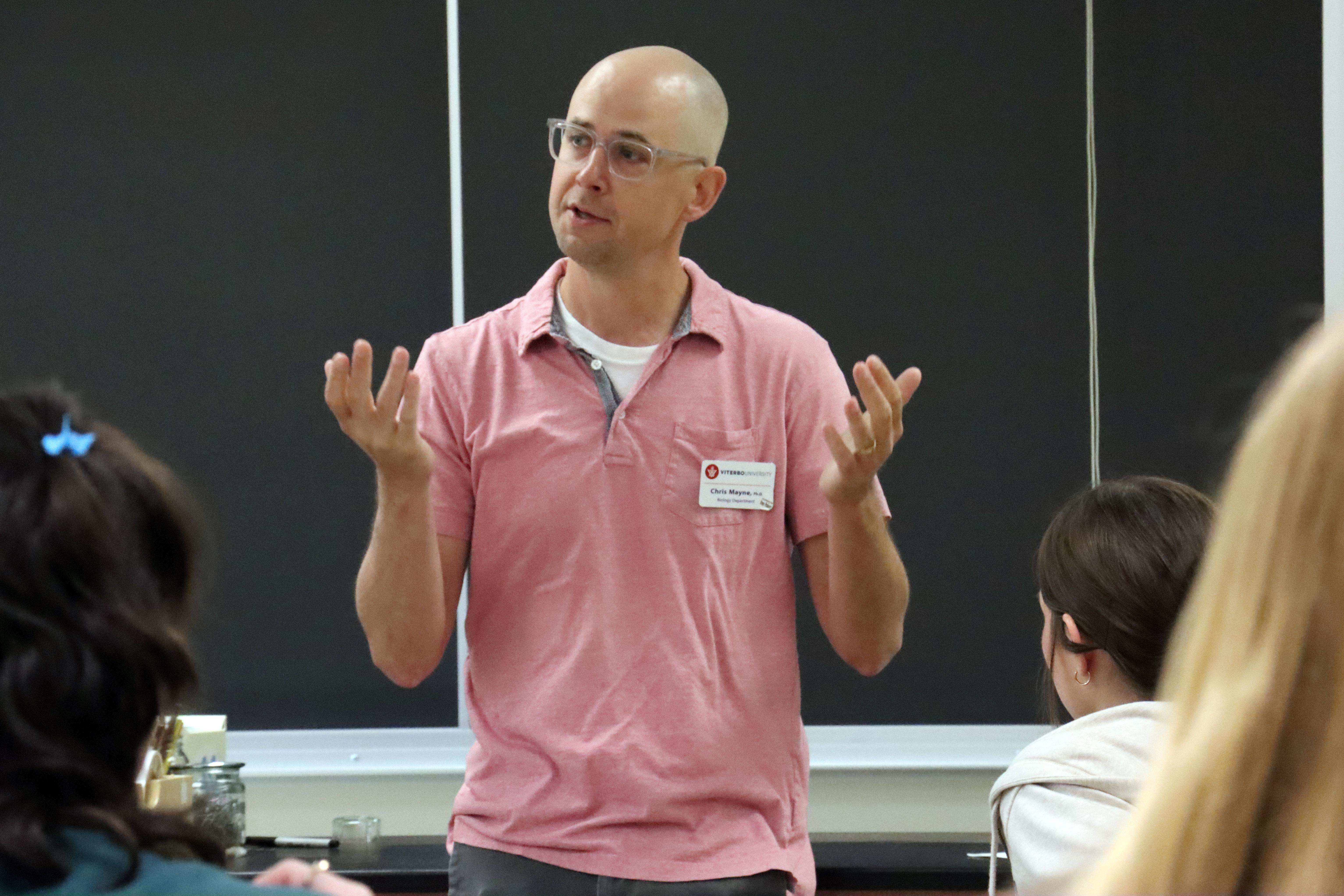 Chris Mayne, an associate professor of biology at Viterbo known for his "super science-dorky sense of humor" and use of science memes and cartoons in class, grew up in Lancaster. He earned bachelor's degrees in biology and chemistry from the University of Wisconsin-Platteville before earning a graduate degree in genetics from the University of Wisconsin.
As a post-doctoral fellow at the Medical College of Wisconsin in Milwaukee, he researched the genetic regulation of the immune system, specifically examining how abnormal immune responses can lead to autoimmune disease. While at MCW, he served as instructor for several classes. He also taught classes as an adjunct professor at Waukesha's Carroll University.
Viterbo's core value of hospitality resonates strongly with Mayne. "As a teacher, I feel that a learning environment is most effective when a teacher creates a hospitable classroom by showing an interest in students, demonstrating an appreciation for the value their diverse experiences add to class, and investing in their individual development," he said.
One of Mayne's core traits is enthusiasm. "I am definitely not afraid to 'nerd out' about some super cool detail about science or the human body," said Mayne, who also serves as Viterbo's pre-health advising coordinator.
A big sports fan and lover of the outdoors, he and his wife have two daughters, ages 11 and 14.
How many years have you taught at Viterbo?
I joined the Viterbo faculty in fall 2014. While visiting Viterbo during the interview process, the faculty and students were so incredibly friendly and welcoming that I knew this was the place for me.
What are your areas of expertise?
Genetics, molecular biology, and immunology. I study the genetics of the immune system and autoimmune diseases like MS, IBD, and lupus. My current research centers on immune regulation of microbe-immune interactions, and how this relationship relates to autoimmune disease.
What are you best known for teaching?
Anatomy and physiology for nursing and dietetics students, and immunology, human physiology, and genetics for science and pre-health students. I love teaching and working with students and encouraging them to think for themselves and approach problems as scientists.
What do you love most about teaching at Viterbo?
I love having colleagues who are dedicated, friendly, and caring. I am also fortunate to have students who are hard-working and are generally interested in the topics I am teaching. I feel grateful that my students are engaged and energized and enjoy actively working together to learn about complex scientific concepts. I also enjoy training young scientists in the lab and love seeing their curiosity and hard work flourish.
What inspires you?
Seeing other people work hard and sacrifice not for economic gain, but to benefit others.
What advice would you give to students regarding heading out into "the real world?"
Stay curious, stay empathic, and keep your love of learning.
What do others say about you? 
I hope they would say I have high objectives for our learning, but that I also truly care about them and work hard to help them succeed.
***
The following are examples of glowing reviews students have left about Professor Mayne in an online portal:
"Chris is by far the most amazing teacher I have ever had. Material is difficult so get ready to put in the time to learn it. He is so easy to talk to and wants to see you succeed. His lectures are so interesting."

"Chris is a great professor who truly is passionate about his career, which shows in his lectures. He always has memes and cheesy jokes for his lectures, but they helped me remember many concepts."

"Amazing professor that has a true passion for the sciences and student learning. If you are looking for an energetic and multimodal teacher take anatomy with Chris."