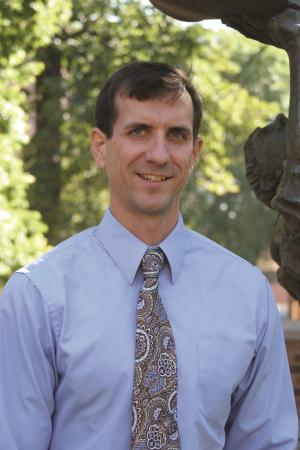 An associate professor in the Ethics, Culture, and Society program at Viterbo University, Matthew Bersagel Braley also is director of the university's Honors Program. He teaches both undergraduate and graduate seminars that dig deep into pressing social issues. From 2010-2017, he served as a faculty member and administrator for Viterbo's Master of Arts in Servant Leadership program. He earned a doctoral degree in religion (ethics and society) from Emory University in Atlanta. For more details, see his online staff biography.
Let's find out more about Professor Bersagel Braley.
How many years have you taught at Viterbo?
Fall 2019 was the start of my (gulp) 10th year at Viterbo.
Best known for teaching …
I teach both undergraduate and graduate seminars that invite students to reflect on what is theirs to do in responding to the pressing social issues of our time—from global health and inter-religious conflict to economic inequality and political polarization. I am best known for teaching (and badgering students to enroll in) the study abroad course in South Africa every other year. I also teach one of the first-year mission seminars, bringing in my passion for understanding how in an increasingly displaced, digital world we shape and are shaped by our sense of place.
What do you love most about teaching at Viterbo?
The daily possibilities for transformational, relation-based learning inside and outside the classroom. It is a place where I learn, daily, from our students, how to connect what they are learning across our classes to how we might serve our neighbors—both near and far—better.
What inspires you?
I am inspired when students recover their own curiosity about who the storytellers are in a society, why history and its interpretations matter, how religion animates daily rhythms. When they pay attention to these dimensions of human experience, they find their own experience of being human broadens and deepens. That is what makes teaching college students both a joy and a privilege and, ultimately, anchors my hope that a more just and compassionate world is possible.
What others say about you?
"Matthew is a professor that goes above and beyond for his students and allows his students to engage and culturally connect to difficult concepts and how they affect everyday life. He is very passionate, and I am so glad that I got the opportunity to be in his class." -- anonymous student