As a recent addition to Viterbo's full-time faculty, John Neumann is no stranger to Viterbo's beautiful campus. Coming from Fond du Lac, John first called Viterbo home as a freshman student in 2012. The warm welcome, strong friendships, and excellent internship experiences offered kept John engaged during his time as an undergrad student through the master's program.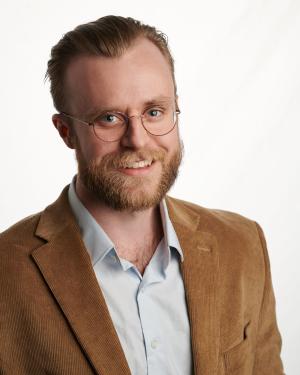 Neumann planted roots in the Coulee Region after graduation and accepted a position at Organic Valley, a farmer-owned cooperative and industry leader in organic food. During his time with the company, he worked in the marketing department on the company's digital team specializing in social media content and strategy (his work was featured in a New York Times best seller: Likeable Social Media). While with the co-op he spent time on farms across the country, which helped inform the stories he told through their digital channels.
To keep this toolkit refined and support his love of marketing, Neumann created Core Strategy, a marketing agency that specializes in small business solutions. The company also serves a second function by providing multiple internship opportunities and real-world experience to his students.
When he's not working on a project at home or digging in the garden, he probably working out or enjoying the outdoors in some way or another.
How many years have you worked at Viterbo?
I have been full-time as an assistant professor for just over a year and a half, and I taught as an adjunct for a semester before that.
Best known for teaching …
Some of my more iconic courses that all business majors will take are Personal and Professional Branding and Principles of Marketing. In fall semesters, I teach Market Research, which is proving to be a program favorite. This past semester the students had the opportunity to conduct research for Dale's Clothing, an upscale boutique in downtown La Crosse working on various projects, ranging from promotional strategy to in-store layout design.
What do you love most about teaching at Viterbo?
Working at Viterbo intrinsically motivates me. I am able to continue learning by working alongside my students, with whom I have built great relationships. I am also able to be in the supportive role and act as a resource like my favorite professors, which was so crucial to my own success as a Viterbo undergrad.
What inspires you?
Quite a few things. My mother and father, the about one-in-400 trillion chance that I wound up alive on this planet, the goodness of my neighbors and my community, and the ideas and perspectives of my students, friends, and family. I try my best to see the cup half full and the beauty that exists in everything.
What others say about you?
I asked a few of my students and here is what they had to say:
"John is a personable yet professional professor, with a relatable personality. John is able to maintain authority in the classroom as well as build relationships with those around him. John effectively runs a classroom, educating students yet making it enjoyable as well."
"John's enthusiasm and real-world examples made his classes very relevant and interesting. He always encourages his students to perform well academically, but he's concerned with more than just grades. He cares about each of his students as people. He wants us to develop into well-rounded individuals"
"You stretch and challenge your students to go further and help develop their capabilities as business professionals and humans in general. You provide great professional and personal advice and deeply care about creating a healthy and comfortable atmosphere for your students."