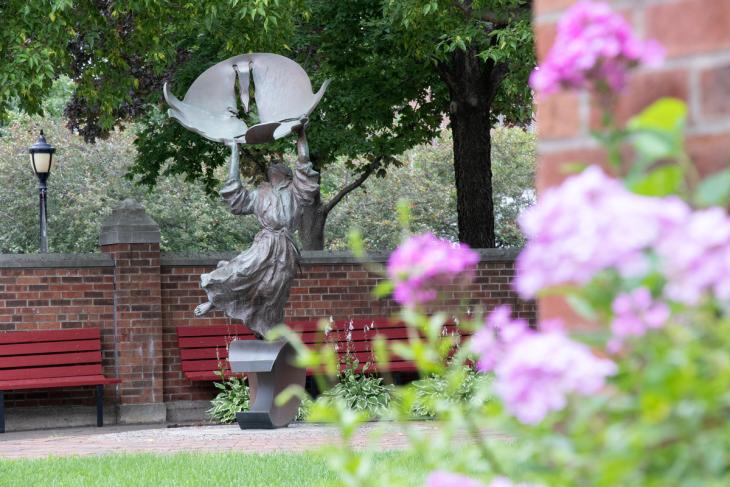 The visual signs of Viterbo University's Franciscan heritage are hard to miss. On Assisi Courtyard, there are statues of St. Francis and one of his earliest followers, St. Clare. Numerous depictions of them adorn campus hallways and offices, along with representations of the San Damiano cross, before which St. Francis was praying when he heard the voice of God command him to "rebuild my church."
Less obvious are the many people who walk the campus who have made pilgrimages to Assisi that deepened their appreciation for and connection to St. Francis and St. Clare and distilled their understanding of what it means to be Franciscan.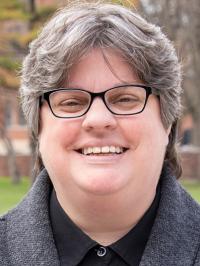 "How do you learn about what it means to be Franciscan other than walking where Francis and Clare walked?" said Laura Nettles, FSPA, Viterbo's executive director of mission and social justice and an assistant professor of religious studies. "You can learn about Francis and Clare from reading, but a pilgrimage gives you such a deep sense of who they were."
Viterbo, founded by the Franciscan Sisters of Perpetual Adoration, has always been a Franciscan institution. For most of its history, FSPA members dominated faculty and staff positions, and until the 1940s all the students were FSPA members, too.
The St. Rose Convent, home to the FSPA, still feels like it's part of the Viterbo campus, but today Sr. Laura is the only FSPA member on the university's staff. Viterbo is committed to keeping its Franciscan identity strong, and that includes offering Assisi pilgrimages for faculty, administration, staff, students, and alumni.
There's a distinction between a pilgrimage and a "tour," said Sr. Laura, who leads student pilgrimages every two years. "When you go on a tour, you're collecting sites. A pilgrimage is about entering into the experience and the depth of the experience."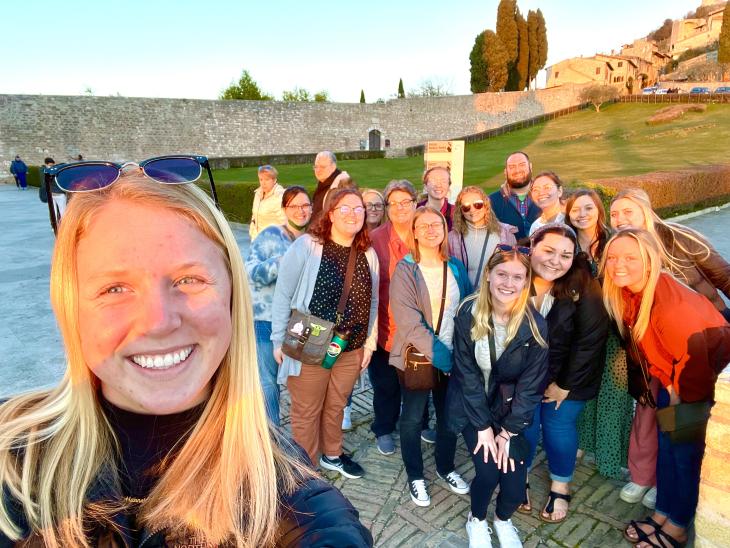 From Classroom to Italy
Student pilgrimages start in Rome, including a visit to the Vatican. All around St. Peter Square are people struggling with destitution and homelessness. When St. Francis visited the Vatican back in the 12th century, he attended to the needs of those people, Sr. Laura said, and participants on a Franciscan pilgrimage should be as interested in those people on the margins as they are in seeing the treasures the Vatican holds.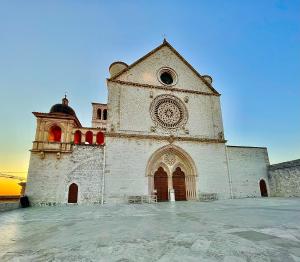 "A tourist won't pay any attention to them. A pilgrim will ask, 'Who is here, who's invited, who's not," Sr. Laura said. "I do a lot of work with students looking at who do we exclude. Franciscans are really concerned with those who are on the margins. It's about seeing people."
Viterbo students going on Assisi pilgrimages enroll in a semester-long class in which they delve into the history of St. Francis and Clare, both of whom gave up lives of privilege to live simply and serve those on the margins, including the lepers cast out of Assisi's city walls.
It's relatively easy to picture what that must have been like because Assisi still has the look of a medieval mountainside city. "You can't help but get into it. It's magical to be there," Sr. Laura said.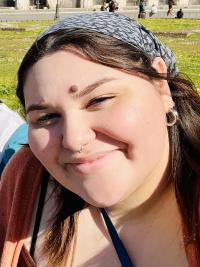 It certainly was magical for Patricia Rivera Torres, a senior theatre major (with a religious studies minor) who was one of 16 students who went on the pilgrimage last spring.
"My jaw just dropped. It's amazing," said Rivera Torres, a Sun Prairie native who graduated from Edgewood High School of the Sacred Heart. "I found it really inspirational. My faith was really reignited. I'd never been able to go somewhere related to someone so important in my life. It was a really profound experience to be where Francis was and better see through his eyes."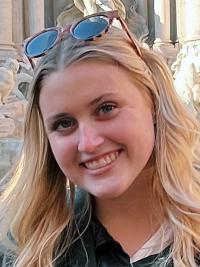 Ellen Graham, a sophomore education major from Burlington, doesn't come from the same kind of faith tradition as Rivera Torres, but she also found walking in the footsteps of St. Francis and St. Clare inspiring. "I definitely came back with a firm understanding of what being Franciscan means," Graham said. "I came back feeling like I can do better, like I can do more for the community, like I can serve my future students better."
In the classes before the pilgrimage, Graham said, the students soaked up the shared knowledge but didn't often volunteer their own perspectives. After the pilgrimage, though, the new bonds that had formed emboldened students to speak up in class.
"Coming back to class was amazing," Graham said. "Everybody was just so much more talkative."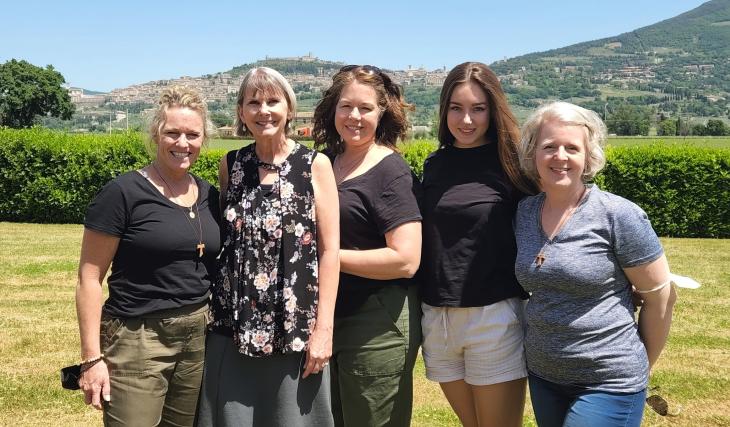 Working on the Mission
Viterbo employee pilgrimages, which go back at least 20 years, occur every year in May after commencement (the pandemic caused two pilgrimages to be cancelled). Viterbo covers most of the cost of employee participation in the pilgrimages, which are conducted by Wisconsin-based Franciscan Pilgrimage Programs.
Viterbo's employees go as part of a group of 30 pilgrims from institutions belonging to the Association of Franciscan Colleges and Universities. In 2022, four Viterbo employees made the pilgrimage. This May, after a record number of applicants stepped forward, six Viterbo employees will make the journey to Assisi.
Naomi Stennes-Spidahl, who came to Viterbo in 1998 as an adjunct English instructor and now is director of assessment and institutional research, said she's always had an affinity for Franciscan values and appreciated how her 2022 pilgrimage experience included people of all faiths and "no faiths."
"The pilgrimage experience exceeded my expectations, and I had pretty high expectations from talking to others," she said. "I came back with this lightheartedness and joy, walking with a lighter step. I keep reminding myself of that joy, and I stay centered in doing my work with lightheartedness."
Like the student trip, last year's employee pilgrimage started at the Vatican, where pilgrims had some inspiring experiences, including a rare chapel service in St. Peter's crypt and an audience with Pope Francis on St. Peter Square. That audience proved especially impactful for Jenny Hedrick-Erickson, interim assistant dean of Viterbo's College of Nursing and Health.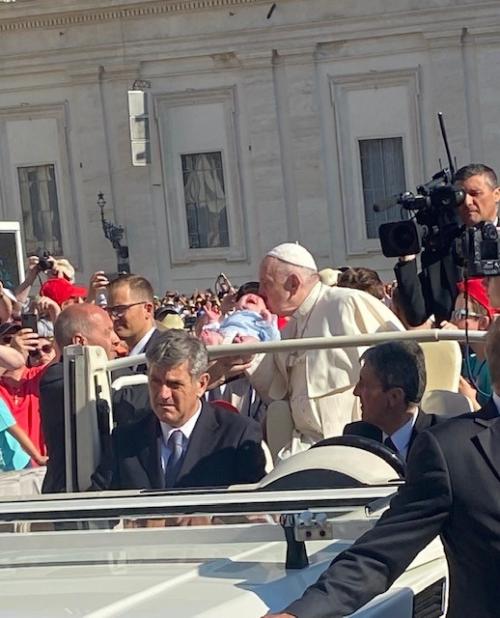 A 1995 graduate of Viterbo's nursing school, Hedrick-Erickson left for Italy with her second grandchild's birth imminent. The first morning in Rome, the pilgrimage group was to go to the Vatican for the papal audience, but Hedrick-Erickson stayed behind awaiting word on the birth.
The news of a healthy delivery of a baby girl came just in time for her to catch up to her fellow pilgrims at St. Peter Square, clutching two rosaries to be blessed by the Pope, one for each of her grandchildren.
After that momentous start to her pilgrimage, she found the rest of her journey inspiring, even lifechanging. "Assisi is this beautiful village that takes you in and embraces you," said Hedrick-Erickson, who joined the Viterbo faculty in 2001. "I'd heard from so many peers what an incredible experience it was, and it really is. It's hard to even find the words to describe it."
Melissa Growt, assistant director of Viterbo's Academic Resource Center, said she came back from the 2022 pilgrimage with "a much deeper understanding of Francis and Clare and their commitment to their vision," especially the emphasis on community that is central to Franciscan ideals.
"One of the big takeaways for me came when our guides talked about 'fraternitas,' that cooperation followers of Francis had," said Growt, who has worked for Viterbo for 30 years. "Francis certainly seemed to be the leader and the one who was propelling things, but he had a group of people around him who supported him."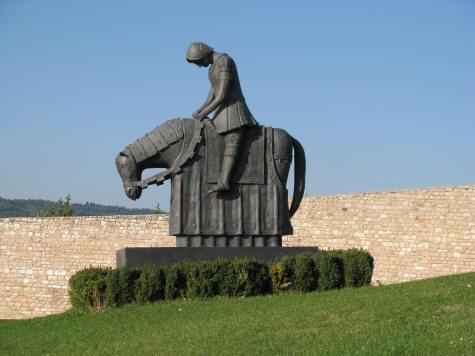 Healing for Veterans
That early Franciscan brotherhood included many who, like Francis, had seen combat. Growing up, St. Francis had dreams of warrior glory, but after he became a soldier at age 20 he was taken prisoner of war and held captive until his family paid a ransom for his release. His less wealthy brothers-in-arms were executed instead of being held for ransom, often buried alive.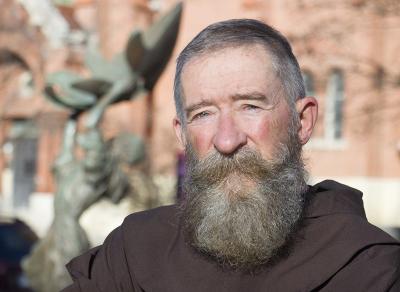 A few years later after he set out to join a Papal army, but changed his mind after hearing a voice in a dream. After this turning point, St. Francis returned to Assisi unable to resume his privileged life. Rather, he was drawn to live simply and serve God by caring for people on the margins, explained Viterbo chaplain Father Conrad Targonski, a member of the Order of Friars Minor (OFM), which was founded by St. Francis in 1209.
There's ample evidence St. Francis suffered from post-traumatic stress disorder and survivor's guilt, said Fr. Conrad, who wrestles with PTSD himself because of his Iraq War combat experiences in Fallujah as a military chaplain.
Father Conrad first visited Assisi early in his OFM journey. "For a friar, it was like coming home," he said. "That's the place where it all began. For Francis, it was all mountains and music. He found a lot of comfort in nature."
Since completing his military service, Fr. Conrad has found a lot of comfort in Assisi, helping other veterans, including many military-aligned students sponsored by Viterbo, find comfort by leading them on pilgrimages to Assisi. Father Conrad has been accompanied on the pilgrimages by co-leader Bill Reese, a Vietnam veteran who was a Viterbo religious studies professor from 1995 to 2018, and a psychologist.
"When we visit the battlefield where Francis was taken prisoner, the veterans fall to their knees," Fr. Conrad said. "They get a reverence for Francis in a few short days. And everybody comes back with a sense of peacefulness."
On the veteran pilgrimages, Fr. Conrad talks about how Francis's first followers were combat veterans, and in Assisi the veterans build their own sense of brotherhood, of community, by all staying together in a pensione (boarding house).
The pensione closes at 10 p.m., but many of the veterans don't want to turn in that early, so Fr. Conrad entrusts a key to one of them, someone he's sure will take care of his comrades and bring them all "home." On one pilgrimage, Fr. Conrad gave the key to a fellow veteran who saw combat in Afghanistan and was then employed at a Franciscan college in western New York. The pilgrim Fr. Conrad picked was Rick Trietley, now entrusted with leading Viterbo University as its 10th president.
Allowing after-hours activities illustrates Fr. Conrad's approach to pilgrimages, a philosophy informed by a book by Phil Cousineau titled "The Art of Pilgrimage: The Seekers Guide to Making Travel Sacred."
A visit to anyplace can be a pilgrimage, Fr. Conrad explained, as long as the traveler is fully present and intent on understanding and embracing the people and the culture. And, he emphasized, "pilgrimages are supposed to be fun."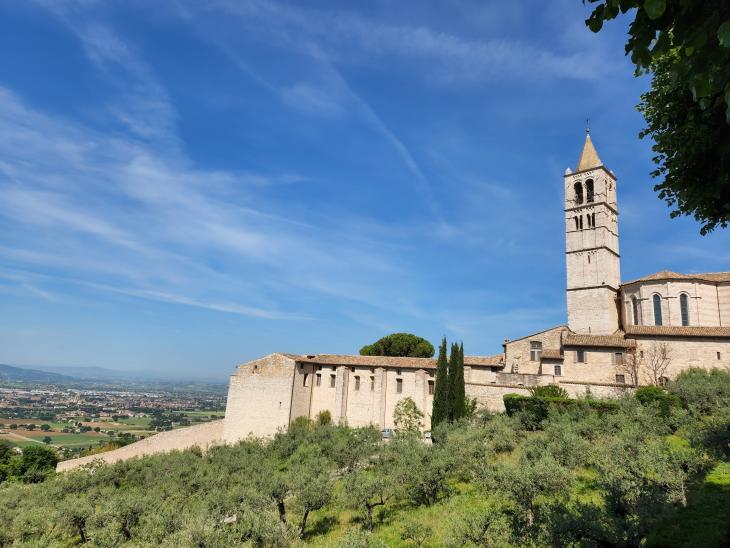 Tourism as Pilgrimage
The Viterbo University Alumni Association has sponsored Italian heritage tours that included visits to Assisi—with another one planned for October 2023 to be led by Fr. Conrad—a pilgrimage in the broad sense in which Fr. Conrad views sacred travel.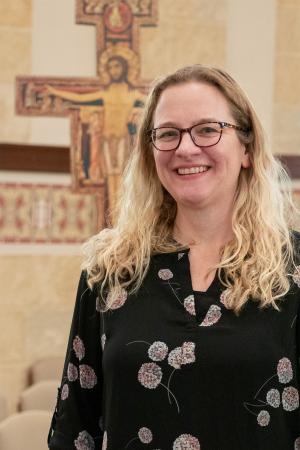 Emily Dykman, a 1998 Viterbo graduate who now is an associate professor of religious studies, led the 2022 tour sponsored by the alumni association and found there was a depth to it that transcended sightseeing.
"I was pleasantly surprised that they didn't have us at the typical tourist places," Dykman said. "The focus was experiencing the culture of the places we visit. Instead of going to a restaurant where everybody goes, we'd go to a villa and be welcomed as guests, dining with three generations of the family."
Dykman first visited Assisi in 2005 when she chaperoned her congregations World Youth Day visit to Europe. She was only in Assisi for two hours, and part of that time she was lost, but she was thoroughly enchanted. "I decided then and there I needed to go back."
A member of the FSPA Affiliation Community since 2001, Dykman returned to Assisi in 2016 as part of an FSPA leadership pilgrimage, and she immediately felt at home. "It's hard to even describe the feeling of being there," she said. "There's just this energy. It's hard to deny that it's a place that has some spiritual power. It's an amazing place."
A Viterbo alumni and friends trip to Italy—called "The Valleys of St. Francis: Discovering Our Viterbo Heritage—is planned for Oct. 23–Nov. 1, led by Fr. Conrad. After starting in Rome, the group will visit Assisi, Viterbo, Greccio, and Gubbio.