Service to the University
In late summer of 1990, Brian Soller was headed to the University of Wisconsin-Whitewater to follow in his brother's academic footsteps and participate in the school's baseball program. Just a few weeks before classes began, he received a call from Kevin Johnston—newly hired Viterbo baseball coach and someone Brian knew and respected growing up on the northside of La Crosse—who convinced him to attend Viterbo.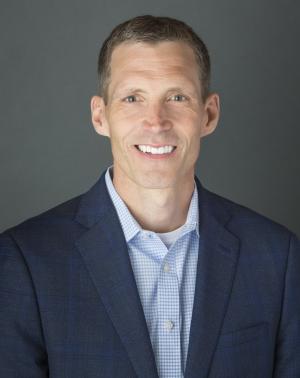 "Making the decision to attend Viterbo instead of Whitewater proved to be one of the most important decisions I've ever made," Soller said. "The relationships that are the most important to me today, the values I practice, and my career journey I have made can all be traced back to Viterbo. Most importantly, it allowed me to remain living in the same city as my then girlfriend, and now wife, Paula, who I've been happily married to for 27 years."
As a business administration major and member of the Viterbo baseball and basketball teams, Soller was an active member of the Viterbo community, serving as a student tutor and earning Academic All-Conference honors in both sports. He was an NAIA All-American Scholar-athlete, captain of the baseball team, and the Viterbo Student-Athlete of the Year in 1994.
Soller, who has run more than 40 marathons and ultramarathons, also has been honored with induction into the Viterbo University Athletics Wall of Fame.
"I would not have been able to attend Viterbo if not for the scholarships I received," Soller said. "I grew up in a single-parent household after my father passed away when I was 7 years old. I'm so grateful for the sacrifices my mom made to provide every opportunity for her three children to be successful, and she instilled in us a sense of hard work and gratitude that I applied during my time at Viterbo. Any achievement I earned at Viterbo was because someone invested in me. I felt a tremendous responsibility to work hard to earn the faith they had placed in me."
Soller carried that sense of hard work and achievement to his post-graduation role as a consultant with one of the world's largest consulting firms, Andersen Consulting (now Accenture).
"It was intimidating at first because I was hired along with graduates from every major university," Soller said. "But Viterbo's focus on leadership, hard work, and being part of a team prepared me well to be successful in a highly competitive environment."
Soller has spent the past 20 years working in various technology leadership roles at UnitedHealth Group in Minneapolis where he is currently a senior vice president responsible for all corporate technology leading a team of almost 2,000 technology professionals worldwide.
"While I was at Viterbo, my goal was to work in the investment world and someday run my own mutual fund," Soller said. "Instead, I've spent the last 28 years working in technology, a completely different field. The strong business acumen I gained at Viterbo has been key as my work in technology is rooted in meeting business goals."
Throughout his life and professional journey, Soller has never forgotten the generosity and life-changing impact of those scholarships. And that's why he continues to pay it forward today.
He has supported scholarships for student athletes at Viterbo for a number of years, and he and his wife continue to honor their roots in the La Crosse area by sponsoring a scholarship through the Boys & Girls Clubs of Greater La Crosse, where he has been inducted into the club's Alumni Wall of Fame.
Soller also gives back to Viterbo by serving as a member of the university's Board of Trustees since 2014.
---
2022 Viterbo University Distinguished Alumni Award Recipients main page