Professional Achievement, School of Education
Three years after earning his education bachelor's degree from the University of Wisconsin-La Crosse, Mark Gruen earned his Master of Arts in Education degree from Viterbo University. His time at Viterbo set him on a path into educational leadership that would see him honored twice with statewide awards for excellence in school district administration.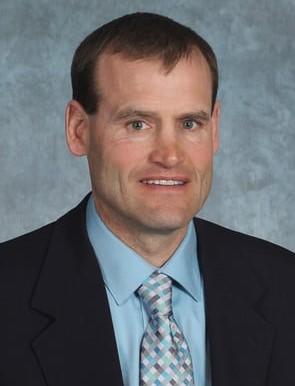 A graduate of Royall High School, Gruen knew early on he wanted to make a career out of education. He got right into the classroom after earning his bachelor's degree, teaching in Verona from 1992–96.
Meanwhile, Gruen was working on his master's degree at Viterbo, and he started to see education career possibilities beyond the classroom. "Viterbo prepared me to take the next step in my career," Gruen said. "It opened my eyes to other opportunities."
Gruen got his first administrative job as activities director at Logan High School in La Crosse a year after earning his master's degree. Five years later, he was hired as principal at Northern Hills Elementary in Onalaska.
After earning a specialist degree in educational leadership from Winona State University, Gruen served the Eleva-Strum School District from 2005–10, first as middle/high school principal and curriculum director and then as district administrator and business manager.
Gruen's career then took him full circle, returning him to his old stomping grounds when he was hired in 2010 as district administrator in the Royall School District, which serves the communities of Elroy and Kendall. He led the Royall district until 2021, when he took on leadership of the Johnson Creek School District.
During Gruen's tenure as administrator, the Royall School District expanded academic offerings including advanced placement classes, transcripted classes, and dual credit classes, increased scholarships tenfold, and increased the graduation rate from 78 percent to 100 percent for seven years in a row.
The district's financial picture became much rosier after Gruen took on the district administrator role. The district brought in more than $10 million in grants and donations, increased the fund balance from $200,000 to $2 million, and completed more than $8 million in projects without having to go to referendum to exceed state-imposed spending restrictions.
Gruen's efforts were recognized in 2020 when he was named Wisconsin Superintendent of the Year by the Wisconsin Association of School District Administrators (WASDA). The next year, he was named Rural Administrator of the Year by the Wisconsin Rural Schools Alliance (WiRSA).
In accepting his honors, Gruen emphasized that the district's success was a team effort involving teachers, support staff, administrative and supervisory teams, parents, and community members. "Together, we have led the district from a low point to a spot where we all feel very good about the quality of the Royall experience," Gruen said after being honored by WASDA.
Team effort that it was, the district's turnaround would not have happened without Gruen's leadership, according to longtime Royall School Board member Ryan McKittrick. "He has led Royall on a total transformation academically, fiscally, and structurally over the past 10 years. We would not be where we are today without his relentless work ethic and deep commitment to our students' success," McKittrick said when Gruen received the WASDA award.
Gruen's record of community service is every bit as impressive as his work in the education arena. He's volunteered countless hours for community organizations and events, often as a leader or organizer but just as often doing boots-on-the-ground duties. He volunteered more than 150 hours just in the Elroy flood relief efforts of 2018.
He also has coached and coordinated youth sports programs (basketball, baseball, softball, wrestling, and flag football) and since 1990 has officiated high school athletic events, including baseball, softball, basketball, volleyball, soccer, wrestling, and swimming.
Gruen also has shared his time with professional organizations, including the Wisconsin Rural School Task Force, the WASDA Bert Grover Child Advocacy Committee, and the Wisconsin Interscholastic Athletic Association (WIAA) Advisory Council, on which he has served two terms as president (the first to ever do so).
For Gruen, being recognized with a Viterbo Distinguished Alumni Award is an honor. "This award is very humbling, knowing there are a lot of servant leaders coming from Viterbo," he said. "I'm proud to have dedicated my life to community service and education."
He's just as proud of being part of a great family, which includes his wife, Sarah, and their five children, Darren, Emma, Bryce, Marah, and Bria.
---
2022 Viterbo University Distinguished Alumni Award Recipients main page