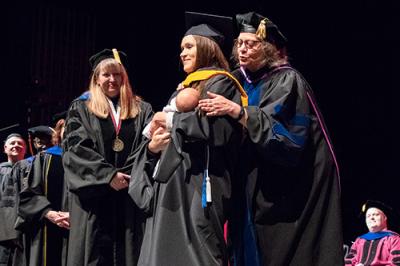 The curriculum for the MSMHC is sixty credits (60) comprised of core and elective courses. Clinical experiences are integrated into the program in the following areas: individual and group counseling; career and employment counseling; addictions and court-related issues; and consultation with universities, community agencies, and schools. Students can graduate with a concentration in a specialty area (i.e., addiction counseling, integrative health, or child and adolescent counseling).
Clinical Mental Health Counseling Program Learning Outcomes
The objective of the Clinical Mental Health Counseling program is to provide students with both the knowledge and skills for the practice of mental health counseling. The curriculum is designed to meet the disciplinary standards across 10 student learning domains to ensure that our graduates are competent mental health professionals and meet the necessary licensure requirements of the profession. These domains are:
Professional Orientation and Ethics: Students will construct a philosophy of counseling based on the history and future trends of the profession, professional roles and responsibilities, with an emphasis on ethical practice within the framework of American Counseling Association Ethical Guidelines.
Diversity & Advocacy: Students will prioritize and respond to all aspects of social and cultural diversity, optimizing human development with clients.
Human Growth & Development: Students will compare and contrast theories of human development across the life-span and the full continuum of mental health issues to facilitate effective life transitions.
Career and Life Planning: Students will utilize theories and skills to facilitate career and life decisions with clients.
Helping Relationship: Students will demonstrate the foundational framework for establishing a therapeutic alliance with clients.
Counseling Continuum: Students will be able to work effectively in a variety of modalities (individual, group, family) and to use crisis intervention, brief counseling, and long term mental health approaches with clients.
Group Work: Students will articulate group theory and assess their ability to deliver effective group therapy with clients.
Research and Evaluation: Students will utilize relevant research strategies within an evidence-based counseling perspective. 
Assessment: Students will accurately select assessment instruments for client needs and program evaluations. 
Diagnosis: Students will conceptualize and apply relevant diagnostic procedures for clients.
Required Courses
COUNSELING CORE COURSES (18 semester credits)

MENTAL HEALTH COUNSELING COURSES (18 semester credits)
CLINICAL AND RESEARCH COURSES (18 semester credits)
Concentration Courses (additional 6 semester credits required)
Concentration Area 1: Wellness and Integrative Healthcare  
Concentration Area 2: Child and Adolescent Counseling
Concentration 3: Substance Abuse Counseling (AODA Specialty)

To fulfill requirements for Substance Abuse Counselor in Wisconsin an additional course is required:
COUN 650 – Psychopharmacology for Counselors