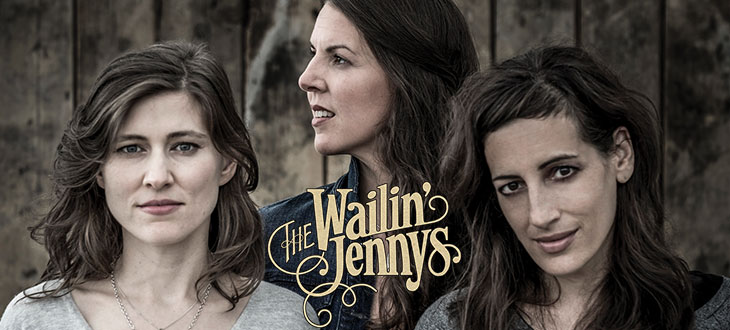 BRIGHT STAR SEASON

THE WAILIN' JENNYS
Thursday, Nov. 2, 2023 at 7:30 p.m.
Viterbo University Fine Arts Center Main Theatre
Main Floor/Lower Balcony: $64
Upper Balcony: $54
(Plus taxes and fees)
Group Sales Available
The Wailin' Jennys are Nicky Mehta, Ruth Moody and Heather Masse—three distinct voices that together make an achingly perfect vocal sound, making them one of today's most beloved international folk acts. 
Starting as a happy accident of solo singer/songwriters getting together for a one-time-only performance at a tiny guitar shop in Winnipeg, Manitoba, The Wailin' Jennys have grown over the years into one of today's most beloved international folk acts. Founding members Moody and Mehta along with New York-based Masse continue to create some of the most exciting music on the folk-roots scene, stepping up their musical game with each critically lauded recording and thrilling audiences with their renowned live performances. 
In 2004, The Wailin' Jennys released their first full-length album 40 Days to great critical acclaim, netting a 2005 Juno Award (Canadian Grammy) for Roots & Traditional Album of the Year. The Jennys' sophomore album, 2006's  Firecracker, served as a powerful follow-up to their career-making debut. The trio's 2009 release,  Live at Mauch Chunk Opera House, also spent over a year on the Billboard bluegrass charts. For 2011's Juno-winning Bright Morning Stars, The Wailin' Jennys joined the ranks of Lucinda Williams and Emmylou Harris and recorded with award-winning producer Mark Howard. In 2017, The Jennys turned 15-years-old. To mark the occasion, the band took time away from the demands of motherhood to record and release a celebratory album for their fans: Fifteen, which was nominated for a Juno award in 2018 for Traditional Roots album of the year.
Sponsored By: Wisconsin Public Radio, WKBT News 8 Now
This performance is also supported in part by a grant from the Wisconsin Arts Board with funds from the State of Wisconsin and the National Endowment for the Arts.