Program Information
Students in this program have opportunities to learn through a variety of teaching methodologies including class discussions, role-playing, small group work, case-study analyses, and classroom simulations. Students then apply this knowledge in supervised clinical settings. Our curriculum exceeds national and state standards by requiring core coursework in addiction counseling, psychopharmacology, family counseling, and wellness counseling, with emphasis on ethical professional practice. This program also provides training emphasis on psycho-diagnostics, psychometrics, and psycho-pharmaceutical knowledge and clinical skill sets applicable across the life span and sensitive to cultural differences.
Questions about admissions? 
Reach out to Magdalen Kellogg  with questions mekellogg@viterbo.edu, 608-796-3028
of graduates who met the requirements for post-graduate supervised practice successfully obtained licensure
Viterbo's MSMHC program educates counselors, who will integrate the values of contemplation, integrity, hospitality, stewardship, and service into their personal and professional lives. The program is designed for working professionals, with classes meeting Thursday late afternoons and ­evenings. There are also weekend classes that meet Friday nights and Saturdays. Internships in a clinical setting are designed to move the student toward independent work with clients while under the full supervision of a site supervisor. Students complete 600 hours of internship placement, 240 hours of which includes direct client contact.
The Viterbo University Master of Science in Mental Health Counseling degree is accredited by The Council for Accreditation of Counseling and Related Educational Programs. The program is designed to meet state requirements for licensure as mental health counselors in the states of Wisconsin, Minnesota, and Iowa. The key content areas include professional identity, social and cultural diversity, human growth and development, helping relationships, career development, group work, assessment, diagnosis, research, program evaluation, and evidence-based counseling, prevention, and intervention skills.
Our Stories
Master of Science in Mental Health Counseling (MSMHC)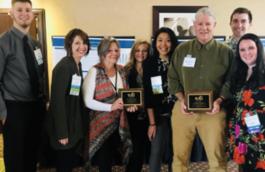 MSMHC Statewide Awards
Congratulations to faculty members Debra Murray and Bill Bakalars, and MSMHC graduate student Tara Allert on their recent awards at the Wisconsin Counseling Association. Debra Murray, Outstanding Counselor Educator Award. Bill Bakalars, Professional Counselor of the Year. Tara Allert, First Place Research Poster "Youth Mental Health First Aid: Supporting Early Intervention for Students."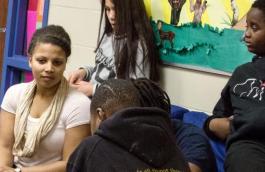 Laquita Becker-Zareck '13
The Master of Science in Mental Health Counseling program was an amazing experience that definitely prepared me well for my role at the Boys and Girls Club. I learned a tremendous amount about the development of children and adolescents. My Viterbo experience has been life changing in so many ways, not just academically and professionally with my career, but also socially. I've met so many great people here who I know will be part of my life forever. I received an outstanding education and I was completely prepared to take on my role at the Boys and Girls Club."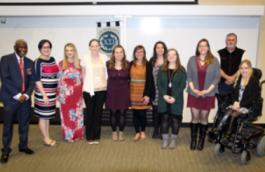 Chi Sigma Iota – Delta Lambda Chapter National Honor Society
Chi Sigma Iota (CSI) is the international honor society of professional counseling and for professional counselors. The Delta Lambda Chapter at Viterbo University was established in 2017 and has over 40 active members. The chapter focuses on promoting excellence in the profession of counseling with the hope of getting members more involved in professional development, community engagement, wellness, and more.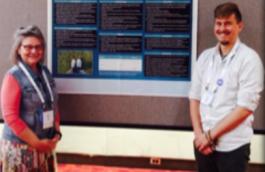 MSMHC Presents at American Counseling Association Conference
Debra Murray, Stephanie Thorson-Oleson (not pictured), and Adam Frei (MSMHC graduate) presented a poster "Examining Resilience, Emotional Intelligence, and Connectedness to Nature" at the American Counselog Association Conference, Atlanta, Ga.