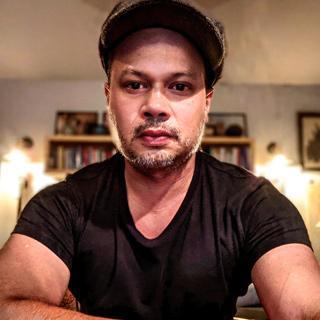 Sept. 25, 2023
Contact Rick Kyte at 608-796-3704 or rlkyte@viterbo.edu or Jill Miller at 608-796-3615 or jmmiller@viterbo.edu
WISCONSIN POET LAUREATE NICK GULIG TO HOLD READING AT VITERBO UNIVERSITY OCT. 5
LA CROSSE, Wis. – Wisconsin Poet Laureate Nick Gulig will hold a public reading followed by a question-and-answer session with audience members at 7 p.m. Thursday, Oct. 5 in the Viterbo University Fine Arts Center Nola Starling Recital Hall.
A Thai-American poet from Wisconsin, Gulig has won numerous awards for his work, including the CSU 2017 Open Book Poetry Award, the Wisconsin People & Ideas Poetry Prize, the Grist ProForma Prize, the Black Warrior Review Poetry Prize, the Ruskin Arts Club Award, and the Cutbank Prose Poetry Award. He is the author of the poetry collections North of Order, Book of Lake, and Orient.
Gulig is a faculty member at the University of Wisconsin-Whitewater. He earned an undergraduate degree from the University of Montana, a Master of Fine Arts from the University of Iowa Writer's Workshop, and a PhD from the University of Denver. He was also a Fulbright Scholar to Thailand in 2011.
Established in 2000, the Wisconsin Poet Laureate "plays a crucial role in keeping the arts accessible and vital to all age groups and acts as a statewide emissary for poetry and creativity."
This lecture is a partnership between the Viterbo D.B. Reinhart Institute for Ethics in Leadership, English department, and honors program. It is free and open to the public.
-30-