Carson Skemp has roots in La Crosse, but came to Viterbo University from Italy.
Skemp, who just graduated with a double major in sport management and leadership and Spanish, was born in the U.S. His mother is Italian, and he and his family moved there at a young age, but his father is originally from La Crosse.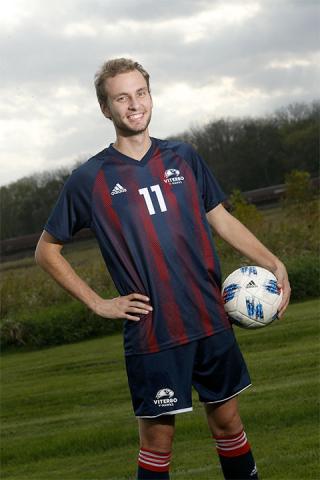 After graduating from high school in Italy, Skemp wanted to move to the U.S. to go to college. He looked at several schools as he tried to find the right match, but his first visit to Viterbo left a lasting impression.
"I had one-on-one interactions with professors at Viterbo and they were just so helpful. I'm a huge soccer fan, and they asked if I wanted to talk to the coach. I hadn't planned on it but they set up a meeting. The coach took me for lunch with the team in the cafeteria, and they let me practice with them the very next day," Skemp said. "I was like wow, this is pretty special that they take this much interest in you and they want you to feel like you'd be welcome here, that was huge."
After starting his sport management and leadership major, Skemp started taking some classes in Spanish, and was considering adding it as a minor until he thought, why not go for a double major?  
"I thought that would be really neat, if I could get a double major in four years," he said.
Skemp's Spanish professor encouraged him to go for it, and he's delighted he decided to push himself to take on the extra major.
"They gave me all the tools I needed to succeed at Viterbo," he said. "I've gotten to know my professors very well and especially in Spanish, where I got a lot one-on-one time with my professor. That was a big help."
Skemp's sport management and leadership professor helped him land an internship with Major League Soccer (MLS) team Minnesota United in their youth camps department. He traveled all over Minnesota, South Dakota, and Nebraska as part of the internship, and learned many facets of the business.
"The experience was very positive and I learned a lot," he said.  "I got called back the next year, this time not for an internship but for a part-time position, which allowed me to further develop what I was doing."
Skemp also did an internship with a company called Trusted Coaches, a nonprofit that provides coaching licenses and background checks for youth coaches. He worked on marketing, sales, and much more for the company.
"I really picked up a diverse range of skills in that role, which will help me a lot in the future," Skemp said.
Before coming to Viterbo, he considered attending state schools in both Minnesota and Wisconsin but for both academic and financial reasons decided Viterbo was the right fit for him. It's a decision he does not regret. For his four years at Viterbo, Skemp lived on campus, and he believes doing so helped him to juggle a busy schedule and keep his eyes on the prize.
"It's way more convenient, I feel like I would have lost out on a lot of friendships and opportunities if I'd lived off campus," he said. "I was able to focus 100% on my studies with living on campus and having a meal plan."
Skemp worked as the sports editor for Lumen, the student newspaper at Viterbo, which he noted was a paid position that also helped him improve his writing skills. He also had a work-study position in the university athletics department helping with concessions and office work. That helped him earn some money, while continuing to add to his knowledge of the sports business world.
"I was able to do work-study with the athletics department from day one of my freshman year," he said. "They gave me a list of options and asked where I wanted to work."
From playing on the university soccer team for three years, to interning with an MLS team, and adding Spanish as a major, Skemp took just about every opportunity that came his way at Viterbo, and now he's feeling prepared and excited for what comes next.
He dreams of working in a marketing or management position for an MLS team, or even a big European team like AC Milan, a team that's located not far from Soriso in Italy, where he went to school and where his family still lives. Since graduating, a position Skemp had secured with Minnesota United for the summer was cancelled due to COVID-19, but he's already gotten a new job in the business office of a major bank, and feels he's well on the way to fulfilling his dreams.
"Everything I did at Viterbo was building me up for success," he said. "And everything I could have done, I did."