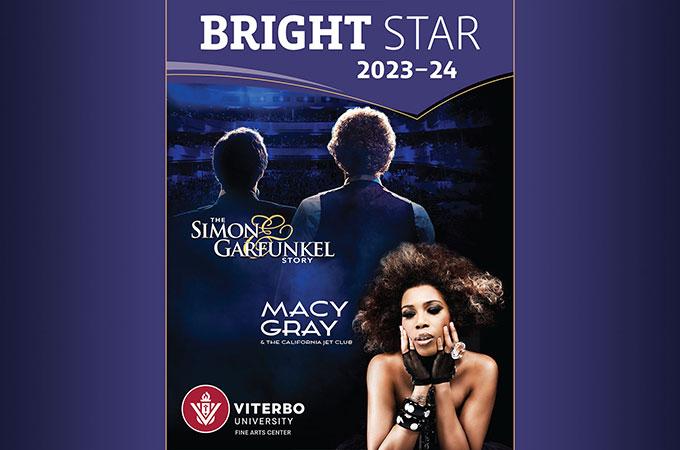 June 6, 2023
Contact Dillon McArdle at 608–796-3037
VITERBO UNIVERSITY FINE ARTS CENTER ANNOUNCES 2023–24 SEASON
LA CROSSE, Wis. – The Viterbo University Fine Arts Center welcomes audiences for its 2023-24 Bright Star season. The lineup features a diverse array of productions, including internationally renowned musicians, comedians, and a dynamic dance troupe.
"We are thrilled to offer a wide variety of performances again this season," said Dillon McArdle, director of the Fine Arts Center. "Our 2023–24 season is bringing legends of country music, internationally renowned comedians, folk, rock, Celtic superstars, and extreme Malambo style dance to Viterbo. I'm excited to hear people's reaction when they learn the iconic names of the performing artists that will entertain and inspire our community."
There are four categories this season: Bright Star, Weber Center, Viterbo's Conservatory for the Performing Arts, and Special Presentations.
Bright Star group sales begin Thursday, June 15. Ten tickets or more per show receive 20% off single ticket prices. All tickets go on sale Monday, June 19. 
The Bright Star season features five-time Grammy Award winners The Oak Ridge Boys Front Porch Singin' Tour; Grammy winner Macy Gray & The California Jet Club; Emmy and Grammy-nominated stand-up comedian Tig Notaro; international folk act The Wailin' Jennys; the musical comedy Away in the Basement: A Church Basement Ladies Christmas; a rockin' show Matt Vee and The Killer Vees Celebrate the Music of Neil Diamond; elevated electric string performance by Dallas String Quartet: A Bridgerton-Inspired Show; Celtic music world superstars Natalie MacMaster and Donnell Leahy; exciting and dynamic troupe Malevo; immersive, theatrical, and concert-style show The Simon & Garfunkel Story; and the "King of Rant" comedian Lewis Black–Live.
The Viterbo Fine Arts Center will present four concerts in the Weber Center for the Performing Arts Lyche Theatre as part of its Weber Center Season: Mallrats Presents MTV Unplugged, the ultimate '90s date night performance; Heart by Heart featuring Steve Fossen and Michael Derosier, featuring Heart hits and deep album cuts; The Everly Set: A Celebration of The Everly Brothers, unleashing sparkling vocal harmonies with hits; Portrait of Aretha Starring CeCe Teneal, honoring the legacy of the Queen of Soul.
Viterbo's Conservatory for the Performing Arts will present the ultimate show-biz musical, 42nd Street; a comedic romp into the world of fantasy role-playing games, She Kills Monsters; the annual Viterbo choir concert featuring a full orchestra and special guests, A Viterbo Christmas: The Holly and The Ivy; the dramatic play Tar Beach; a musical comedy/horror show about a half boy/half bat creature Bat Boy: The Musical; and the musical on friendship, loyalty, and love, Godspell.
Special Presentations this year feature the 55th Anniversary Star Struck Tour of Kids From Wisconsin, New York pianist and La Crosse native Dave Marck and Friends Present Over the Rainbow: A Celebration of the music of Harold Arlen; America's oldest continuously active professional musical organization, "The President's Own" United States Marine Band; and La Crosse Dance Centre's 34th Annual Nutcracker Ballet.
To order tickets, view the season brochure, and learn more information about shows and pricing, visit www.viterbo.edu/fac or contact the Viterbo box office at 608-796-3100.
-30-