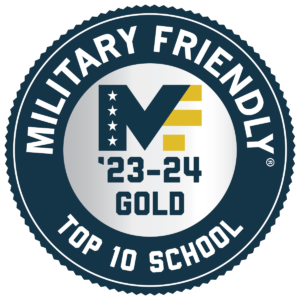 March 22, 2023
Contact Sam Morris at 608-796-3039 or sdmorris@viterbo.edu
VITERBO UNIVERSITY DESIGNATED A TOP-10 GOLD MILITARY FRIENDLY® SCHOOL
LA CROSSE, Wis. – Viterbo University has been designated a Top 10 Gold Military Friendly® School for 2023–2024.
This is the second year in a row Viterbo has earned this high distinction. It is one of only 10 schools in the "private college offering a doctorate" category in the nation to earn Top 10 Gold designation.
"It is truly humbling, and an honor for Viterbo to earn a Military Friendly Top 10 Gold ranking for a second consecutive year," said Sam Morris, director for military student success at Viterbo University. "This honor reflects the continued dedication and support that Viterbo University provides to our military students."
The Military Friendly ratings program was started in 2003 as an advocacy vehicle to encourage civilian organizations to invest in programs to recruit, retain, and advance veterans as employees, entrepreneurs, and students.
Institutions earning Military Friendly Schools Awards distinctions were evaluated using public data sources and responses from a proprietary survey on a variety of criteria, including retention, graduation, job placement, repayment, persistence, and loan default rates for all students and specifically, for student veterans. More than 1,800 schools participated in the 2023–2024 survey. The 2023–2024 Military Friendly® Schools list will be published in G.I. Jobs magazine's May issue and is available now at https://www.militaryfriendly.com.
Viterbo's commitment and gratitude to the nation's veterans is reflected in the many services offered to military and veteran students. The university offers competitive financial aid packages, an academic resource center with a wide variety of tutoring services, and a career services office to help students land internships and employment. There is an active Student Veterans Association and a center exclusively for military aligned students. Director of military student success and veteran Sam Morris is dedicated to assisting military aligned students throughout their time at the university and ensuring they have the best possible experience. Viterbo President Rick Trietley is a combat veteran who retired with the rank of Lieutenant Colonel after a 22-year career in the U.S. Army. University chaplain Fr. Conrad Targonski spent 22 years as a U.S. Navy Chaplain.
For more information about Viterbo's Top 10 Military Friendly School designation, visit https://www.militaryfriendly.com/viterbo-university/. For more information about Viterbo University, visit https://www.viterbo.edu.
-30-