Mackenzie says hands-on opportunities in Nutrition and Dietetics program make it special.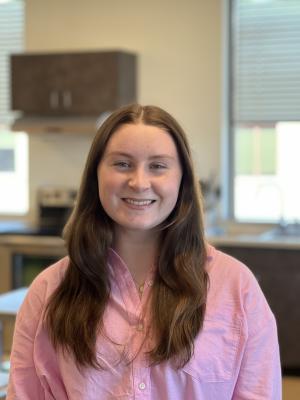 Mackenzie is thrilled with the experiences and adventures made possible through Viterbo's Nutrition and Dietetics program. "I chose Viterbo for its unique coordinated dietetics program," she explains. She appreciates that with the coordinated program she can potentially earn her bachelor's and master's degrees and get the required hours of supervised practice (clinicals) in just five years. She graduates with her bachelor's degree in 2024.
"We have some amazing opportunities, such as study abroad experiences and unique supervised practice sites that would be difficult to find on our own, like the Phoenix Suns and the Minnesota Vikings."
"From the moment you start, you are enrolled in food science courses and utilize the foods lab for activities like testing new recipes with specific ingredients or identifying the differences between conventional and organic foods," Mackenzie explains. "It's really unique to get this type of hands-on experience in a first-year course."
Other hands-on experiences that Mackenzie believes set Viterbo apart are the health assessment labs where students learn how to use different machines to check health markers like blood pressure, lipid panels, and bone density. "We have so many opportunities to practice our hands-on skills and that really makes this program special," she shares.
Mackenzie is completing her food service supervised practice hours at Performance Food Group in La Crosse, a leading national food distributor. "I have been learning all about food procurement and what it takes to be a registered dietitian in this type of setting," she says.
She looks forward to her community and clinical nutrition rotations in the 2024-25 academic year while she works toward her master's degree. "We have so many exciting locations to choose from, so I know I won't be disappointed with my placement."
Mackenzie went to Kimberly High School in Appleton, Wis., where she was active in sports. Even as a high school student, she recognized there was a gap in sports nutrition knowledge. "Learning how to excel as an athlete through nutrition was always so interesting to me, so I knew it would be the right career path," Mackenzie explains.
She hopes to concentrate her career within sports nutrition and work with athletes on professional or collegiate teams. "I have always been passionate about health and fitness, so getting to apply that with my extensive knowledge of nutrition sounds like the best of both worlds."
Mackenzie appreciates the space that the Student Dietetics Association (SDA) provides for groups of students to come together and make lasting connections, participate in various events, such as fundraisers for purchasing Registered Dietitian (RD) exam materials, and boost leadership skills. She is president of the organization. "The club has given me so many opportunities and has helped me grow tremendously as a student and a leader."
"I have loved getting to know all the faculty in the department, as each and every one is amazing," she says. "Everyone at Viterbo cares about your success and is here to help you excel in your academic, professional, and personal lives."