On May 24, 1917, the St. Francis School of Nursing celebrated a new group of graduates, 12 young women who gathered at St. Cecilia's Hall on Market Street with family, friends, and teachers to celebrate their accomplishment.
One of those young women, Amy Louise Bishop, hadn't jumped right into nursing. She taught in rural Vernon County schools for at least a couple years after graduating from Viola High School, and she was 27 years old when she graduated from nursing school. She was well-liked by her classmates, who agreed Bishop had a "bright and lovable disposition."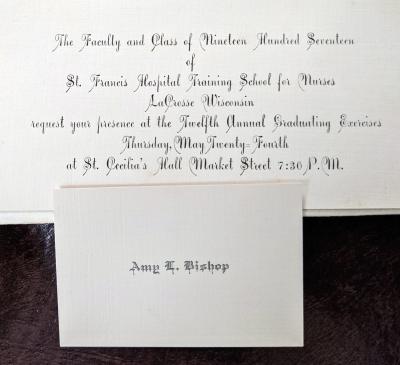 There's no verifying if Bishop's parents, Margaret and William Emerson Bishop, made the trek from Viroqua to see their daughter, the second eldest of their five children, celebrate the completion of her 15 months of nursing training. Traveling from Viroqua to La Crosse was a much bigger deal 100 years ago, and the ceremony was held on a Thursday evening. Not that being on a weeknight would have made a difference to her father—there's no such thing as a weekend for a farmer.
If they had come, they likely would have come by train. They certainly were invited. Even cousins were sent invitations. Susan Hoffmann, a retired La Crosse teacher and avid genealogist, still has among her treasured possessions an invitation to the graduation and the original envelope that was sent to Hoffmann's grandmother, Ada Ames (Miller) Allen, who was Bishop's cousin.
This new crop of nurses represented the 13th graduating class of the St. Francis School of Nursing, which would produce 1,999 nurses in 70 years before passing the baton to Viterbo University's nursing school in 1971. The school grew out of training programs developed by the Franciscan Sisters of Perpetual Adoration, who opened the 35-bed, three-story St. Francis Hospital on New Year's Eve 1883.
A World in Turmoil
When the nursing students graduated on May 24, it had only been about seven weeks since Congress declared war on Germany, pulling the United States into "the war to end all wars." It had only been a week since President Woodrow Wilson signed the Selective Service Act, requiring all men between ages 21 and 30 to register for military service. The first American troops had yet to arrive in Europe, let alone join in the fight.
While the rest of the world was engaged in a massive war when they started their training, Bishop and her classmates could not have guessed that America would have been sucked into the fray by the time their nursing training was done. Most Americans wanted no part in the war. In the 1916 presidential race, Wilson narrowly won, campaigning mainly on two popular slogans: "He kept us out of the war" and "America first."
At least they knew war was a possibility. They could not have guessed that the next year would bring an influenza pandemic that would take the lives of an estimated 675,000 Americans, killing at least 50 million worldwide.
"Our graduates are wrestling with disease and death on this side and the ravishing destruction of war on the other," noted a 1919 quarterly publication by the St. Francis Alumnae Association, which by then was five years old.
Even the St. Francis nursing students had their hands full during the pandemic, helping influenza patients in the hospital's St. Camillus Annex, built in 1908 especially to house patients with communicable diseases. In a 1983 alumnae association publication, Marie Flynn '21 recalled how the school's nursing director, Beata Walsh, FSPA, ministered to her nurses in training "when their feet swelled, blistered, and bled after grueling hours of duty in their high-laced shoes."
Skilled nurses were in short supply on the home front. Once America was in the war, the American Red Cross recruited more than 22,000 professionally trained nurses, with more than 10,000 serving near the brutal Western Front in Europe and more than 1,500 nurses serving in the U.S. Navy.
At least one member of the St. Francis School of Nursing class of 1917 enlisted in the Red Cross and the Army Nurse Corps: Amy Louise Bishop.
Reporting for Duty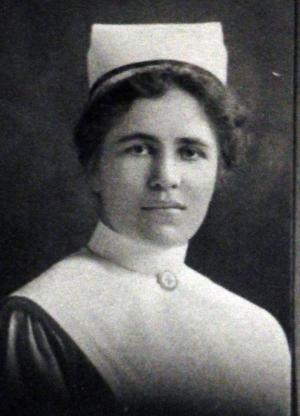 By mid-August 1917, Bishop had passed her state board examination to become a registered nurse, which was enough of an accomplishment to earn her a mention in her hometown weekly newspaper, the Vernon County Censor. She worked for a time as a nurse in Milwaukee before she was called home to care for an ailing grandmother, according to the Censor.
In the Oct. 9 edition of the Censor, it was noted that Bishop had enlisted as a Red Cross nurse and was expected to be called into service soon. "Our very best wishes are extended to this capable young lady in her work," the Censor story concluded.
By the time that issue of the Censor was published, Bishop, who left town Oct. 4, had already arrived at her first duty station: Fort Riley near Manhattan, Kansas.
When Bishop signed up for the Army Nurse Corps, she would certainly have been aware of what was being called the Spanish influenza pandemic, which started in spring 1918 and seemed to have subsided by summer. In July, a U.S. Army medical bulletin declared the epidemic to be at an end, with a British medical journal stating that influenza "has completely disappeared," according to a 2017 Smithsonian magazine story by John M. Barry, author of The Great Influenza: The Story of the Deadliest Plague in History.
Bishop would not have known that the first cases of this easily spread and virulent strain of the H1N1 virus were reported in Haskell County, Kansas, where pigs vastly outnumbered humans. According to Barry's research, first published in 2004, several Haskell County men who had been exposed to influenza traveled to Camp Funston, a way station for soldiers preparing to head overseas that was part of Fort Riley.
Camp Funston's first case was reported March 4. Within two weeks, 38 soldiers had died, 1,100 had been hospitalized and thousands more were sick in their barracks.
While the virus made its way into civilian populations in America in the spring of 1918, the first wave did not make much of a splash in the newspapers. For one thing, it was not as deadly as it would be in the second wave.
More importantly, newspapers were under pressure to keep discouraging news out of the papers. At the urging of President Wilson, Congress had passed the Sedition Act, which took effect May 16, 1918. According to Barry's Smithsonian story, "Government posters and advertisements urged people to report to the Justice Department anyone 'who spreads pessimistic stories…cries for peace, or belittles our effort to win the war.'"
Other countries involved in the war had similar policies of truth suppression. Spain was not a party to the war, so the influenza outbreak there, which infected the king, was reported freely. That's how it came to be known as the Spanish flu.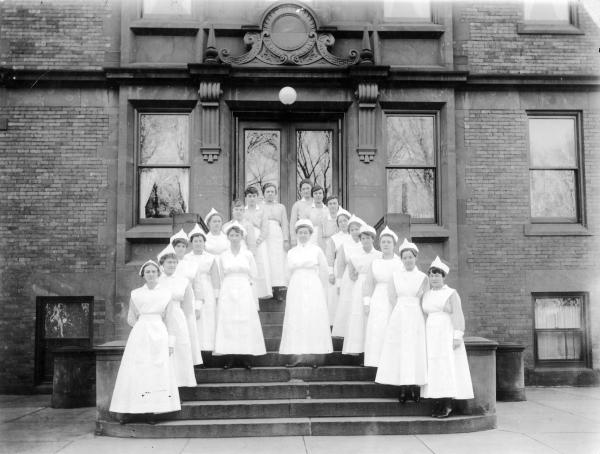 The Deadly Wave
In the United States, the second wave of influenza began in September, brought home from Europe by returning soldiers and rapidly spread across the country. In the last five days of September, Wisconsin went from 6 to 97 cases of flu. A week later 256 new cases had been reported.
The second wave of influenza reached La Crosse County in early October, with West Salem the first community to be hit hard, hard enough that the schools were closed Oct. 8. That was after Amy Bishop had left for Fort Riley, but if she read her hometown newspaper she would have been aware that flu cases were surging.
In the edition of the Vernon County Censor published Oct. 2, 1918, two days before Bishop left for Fort Riley, a front page report indicated that a woman from Viola, Mrs. Dug Harn, had died after contracting the flu, brought home by her daughter, who had visited her husband at Camp Grant near Rockford, Illinois. The story also noted that a doctor in Viola was afflicted, while still another story on the page reported that a contingent of Vernon County soldiers who were poised to leave for duty had their departure postponed because of an influenza quarantine.
Inside pages carried more ominous news. A story with a Sept. 24 dateline noted that there had been 4,500 flu cases and more than 100 deaths since Sept. 9 at the Great Lakes Naval Training Station. Another story datelined Sept. 26 reported rapid spread of the Spanish flu, especially in the East, with the governor of Massachusetts urging schools, churches, and "places of amusement" be closed. U.S. Surgeon General Rupert Blue wanted all Americans to take note of the danger of contracting the flu from "large gatherings."
Into the Great Unknown
Getting on the train to Kansas, Bishop probably knew there was a second wave of flu. Even if she didn't read the Censor, she probably would have known from word of mouth. Her family's farm was near Viola, and the death of Mrs. Harn would have been the talk of the town.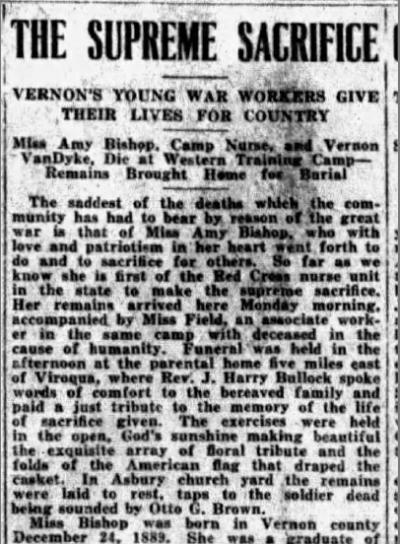 Bishop might not have known, however, how hard Fort Riley was being hammered by influenza. Between September and November 1918, Fort Riley had more than 15,000 cases. And little did she know that she would be counted as one of those cases.
It was reported that Bishop became ill a day after she started work at Fort Riley. Typically, two to three days would elapse between exposure and the first symptoms. Many flu patients died within a day of first showing symptoms. Bishop, who might have arrived in Kansas already infected, lasted eight days.
Bishop's Oct. 15 death was big news back in Viroqua. In a front page story in the Oct. 23 edition of the Censor, under a page topping headline that read "The Supreme Sacrifice," Bishop received a fitting tribute. Here's how the story started: "The saddest of the deaths which the community has had to bear by reason of the great war is that of Miss Amy Bishop, who with love and patriotism in her heart went forth to do and to sacrifice for others."
The story reported Bishop's funeral had been held outdoors at her parents' home. "While devoting all her energy to relieve the suffering of our soldiers," the story read, "she contracted the dreaded pneumonia which quickly caused her death after an eight day's illness, passing away Oct. 15, aged 29 years."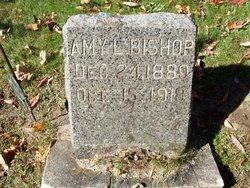 Bishop was born Dec. 24, 1889, so she was two months short of turning 29, and the story also incorrectly reported that she graduated from St. Francis School of Nursing two years before her death.
Below the story about Bishop's death were two much shorter reports. One was about a 23-year-old soldier at Fort Riley who also died of complications from influenza, and another about a 26-year-old man from Hillsboro who succumbed to flu at Columbia University in New York City.
A plaque on the lawn of the Vernon County Courthouse in Viroqua, placed there shortly after the end of World War I, lists county residents who laid down their lives serving their country during the war. It includes the name of one woman, a 1917 graduate of the St. Francis School of Nursing: "Miss Amy Bishop."