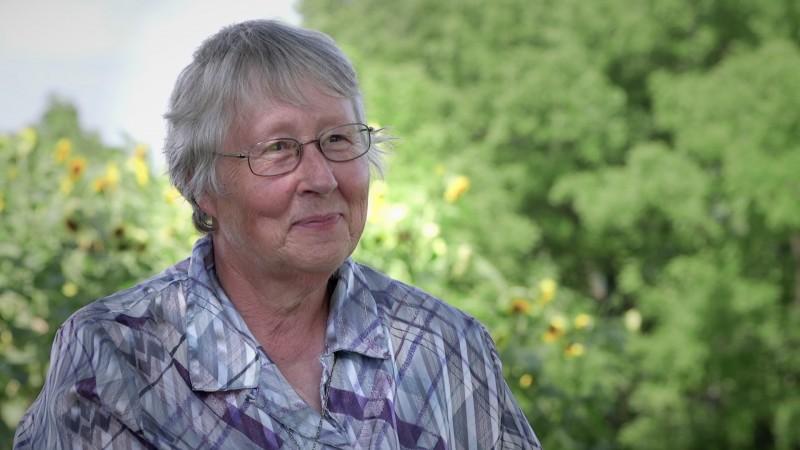 Many a Viterbo University student has gained a sense of environmental responsibility from lessons taught by Lucy Slinger, FSPA '73, '06. The roots of her own green sensibility were an accident of birth.
Growing up on a Minnesota farm in a family of 10 children, Sr. Slinger was the second in a string of six girls in a row. Her older sister was expected to help with the inside chores, but Sr. Slinger was needed in the field, outside in all the glory of God's creation.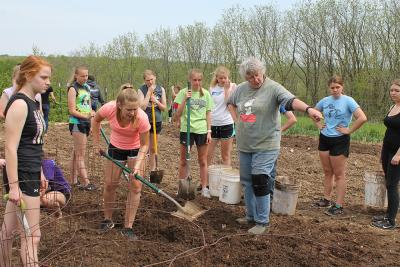 "While my sister stayed in, I had to go out and do the work normally done by boys," Sr. Slinger said. "I was outside all the time."
And she loved it. She had a natural curiosity, a drive to know how things worked, and she got a sense of spiritual awe from being immersed in nature. "To me, God was the warmth of the sun shining on me," she said.
Being the second daughter also led her to Viterbo. After her older sister got a scholarship to attend Viterbo, her path was set. "I was nicely informed that my older sister had a good thing going, and I had to keep that going," Sr. Slinger said with a laugh, noting that the Slinger family likely holds the record for most sisters to graduate from Viterbo (six).
She majored in biology—with minors in chemistry and math—and for her senior project researched Dutch elm disease. That inspired her to go to Michigan State University to study plant pathology. She wanted to be an ag researcher.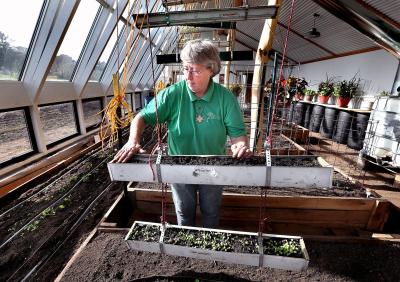 At that time, women were rare in scientific fields and were in high demand in ag research. When she  finished her master's degree, she was wined and dined by agrochemical corporations, who needed more gender diversity to win government contracts.
These companies offered big money, but they also were responsible for toxic pesticides and herbicides. She didn't want anything to do with that.
After grad school, Sr. Slinger wanted to get a job as an Extension ag agent in Michigan, but at that time it wasn't open to women. She settled on becoming an Extension youth agent.
During her five years as a youth agent, she discovered kids weren't interested in the outdoors or science because of the way they were being taught, forced to memorize facts. She knew that wasn't working.
With that understanding, Sr. Slinger decided the way she could have the biggest impact would be to teach teachers. "Since then, I have spent my life really trying to connect people with how useful science and environmental education is," she said.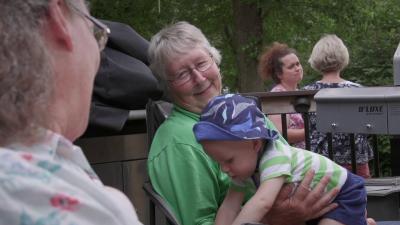 After earning a doctorate in K-12 science curriculum and instruction, with an emphasis on teacher development and in environmental education, she began her journey as an education professor, one that took her to every continent and included teaching from 1987–2000 at the University of Wisconsin-La Crosse.
"It's been so rewarding to have an impact as a formal and informal teacher in relation to people understanding their relationship with nature," she said.
At the end of her time at UW-La Crosse, Sr. Slinger decided to do something she first thought about as a Viterbo undergrad: join the Franciscan Sisters of Perpetual Adoration.
"Choosing to become an FSPA in mid-life was not an easy change, but it has brought me peace that surpasses all understanding," she said.
In addition to teaching sustainability classes at Viterbo and sparking a campus "green" movement, she also was ecological advocate for the FSPA, spearheading formation of an Ecospirituality Committee and leading the development of an FSPA organic gardening operation and a sustainable solar-powered greenhouse that gets all its water from rain.
While many fear climate change is irreversible, Sr. Slinger is optimistic the pandemic is the reset needed for people to begin to see themselves not at the top of nature but as an equal part in a greater circle of life.
"Nature's value is innate. It doesn't dwell in what I can take and make of it," she said. "If I had to say one thing to people, I would say 'Let nature be your teacher,' because nature has everything figured out."