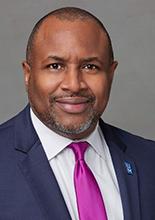 Jan. 3, 2022
Contact Rick Kyte at 608-796-3704 or rlkyte@viterbo.edu or Jill Miller at 608-796-3615 or jmmiller@viterbo.edu
RENOWNED SPEAKER, AUTHOR, AND UNIVERSITY OF MEMPHIS FACULTY MEMBER DR. ANDRE JOHNSON TO GIVE KEYNOTE ADDRESS AT THE ANNUAL LA CROSSE DR. MARTIN LUTHER KING JR. COMMUNITY CELEBRATION AT VITERBO UNIVERSITY JAN. 16
LA CROSSE, Wis. – Dr. Andre Johnson, a renowned speaker, author, and faculty member at the University of Memphis will present the keynote address at the La Crosse Community Annual Dr. Martin Luther King Jr. Celebration at 7 p.m. Monday, Jan. 16 in the Viterbo University Fine Arts Center Main Theatre. The event will also be streamed live on Facebook at www.facebook.com/viterboethics.
Doors will open at 6:15 p.m. The event is free and open to the public. Donations of non-perishable food items for the Hunger Task Force are encouraged.
Johnson is an associate professor of Rhetoric and Media Studies and the Scholar in Residence at the Benjamin L. Hooks Institute for Social Change at the University of Memphis. He teaches classes in African American public address, rhetoric race and religion, media studies, interracial communication, rhetoric of social movements, and hip hop studies. He is the award-winning author of No Future in this Country: The Prophetic Pessimism of Bishop Henry McNeal Turner, The Forgotten Prophet: Bishop Henry McNeal Turner and the African American Prophetic Tradition, and the co-author of The Struggle Over Black Lives Matter and All Lives Matter. He has also presented academic papers at national, regional, and state conferences winning awards at each level and has published essays in the New York Times, The Journal of African American History, and other prestigious academic journals.
The MLK Leadership Award, which honors extraordinary contributions to the La Crosse community that demonstrate Dr. King's legacy of positive change from generation to generation, will also be presented. This year's award recipient is Bridget Todd-Robbins, a leader in youth advocacy and has served the La Crosse Community for 25 years. She is currently the Youth System of Care Administrator, a shared position between La Crosse County Human Services and the School District of La Crosse created to address the disproportionate number of racially diverse youth being referred into the criminal justice system.
The Lynda Lowry Student Leadership Award will be presented to Na'ziah Mclaurin, a 15-year-old sophomore at La Crosse Logan High School. The award recognizes a student in ninth or 10th grade who is committed to building community, enhancing diversity and working for justice. The award is named in honor of the youngest marcher in the historic 1965 voting rights march from Selma to Montgomery, Ala.
Viterbo will also hold its second annual MLK Day of Service, Learning, and Celebration Jan. 16. The university will honor Martin Luther King Jr. with a morning of community service followed by a series of educational workshops in the afternoon.
The Dr. Martin Luther King Jr. Celebration is organized by the La Crosse Community Annual Dr. Martin Luther King Jr. Celebration Committee, co-sponsored by a wide variety of community organizations, and hosted by Viterbo University. Johnson's appearance is co-sponsored by the D.B. Reinhart Institute for Ethics in Leadership at Viterbo University. The event is held each year to honor the legacy of America's civil rights hero and icon.
For more information on this community-wide celebration, visit www.viterbo.edu/MLK.
-30-