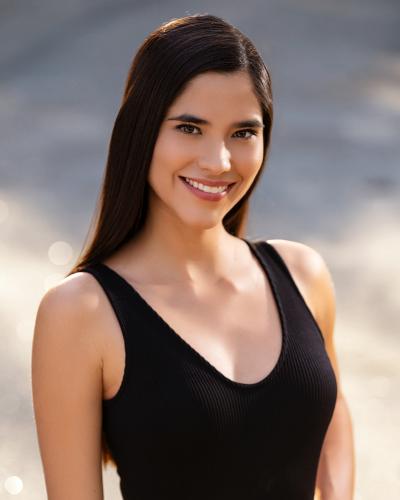 Growing up in Colombia, Nathalia Duque's parents had dreams of her joining the family business. Duque's own dreams, though, looked different.
"Music and dance and performing, all of that was always my passion, but when I was young I didn't think I'd ever have the opportunity to follow those dreams of mine," said Duque, a 2018 Viterbo graduate. She's following them now, and she credits her Viterbo education and teachers for getting her on her path as a performer and helping her weather the tough times performers have had during the pandemic.
Duque talked about her Viterbo experience and post-graduation life via Zoom in a mid-April interview from her hotel room in Hong Kong. She was in quarantine for two weeks before she could start work as a performer at Hong Kong Disneyland.
Her dream of becoming a Broadway performer seemed impossibly distant until she came to Minnesota for a year as an exchange student at Minnetonka High School. She got the chance to do high school musical and theatrical performances that year that sharpened her focus.
After six months of university in Colombia, Duque came back to the U.S., looking for a college that could put her Broadway dreams within reach. Her Minnetonka host family had heard good things about Viterbo, and Duque's early Franciscan school experiences in Colombia made it seem like a natural fit.
At Viterbo, Duque learned that there's a lot more to being a performer than what she can do on stage. So many "soft skills" go into success, even something as seemingly mundane as interacting with an accompanist at an audition. Duque found out how important that was when making a connection with the accompanist helped get her two callbacks for the role of Eliza Hamilton after an impromptu audition for a Chicago production of Hamilton.
"They really teach you about professionalism at Viterbo," Duque said. "All those tools that seem so obvious once you learn them, they really make you better. All those little things that I learned at school have been things that I really treasure."
During her time at Viterbo, an internship at Walt Disney World in Florida provided some major lessons for Duque, literally. Disney World offers college classes for interns in addition to allowing them to get valuable work experience.
Duque and her close friend and Viterbo classmate Kaitlyn Serketich did their Disney internships together. In fact, they were roommates. "It was magical," Duque said.
The first part of Duque's Disney internship was working in theatre operations instead of performing. That was a little disappointing at first not getting to perform, but Duque now is grateful she had that experience.
"It was super educational," she said. "It gave me a lot of perspective. I wouldn't change that for anything."
While she was at Disney World, Duque also got some modeling work and filmed some commercials. That modeling experience, coupled with her Viterbo business training—she majored in musical theatre and minored in business management—has been invaluable during the pandemic when work for performers dried up.
Once the pandemic was in full swing, Duque returned to Colombia and got busy launching her career as a model and social media influencer on Instagram. She landed some big Latin American accounts (ELA and Daflores, to name a couple), and what she learned at Viterbo helped her take advantage of opportunities when performing was out of the question.
"My business management degree was crucial," Duque said. "As an influencer, I was applying everything I knew. You have to deliver. You have to negotiate with them, pitch an entire campaign, and know how to make it happen."
Although she couldn't do live performances during the pandemic, Duque and Serketich found a way to perform virtually, and they got a bunch of Viterbo musical theatre alumni and faculty in on it. They created a music video of A Million Dreams from The Greatest Showman, a musical about P.T. Barnum.
The video was completed and posted on YouTube in July 2020, and Duque was excited to get a chance to reconnect with her Viterbo family. Duque was especially happy to again work with Nancy Allen, a longtime music faculty member who served as the music director for the video project.
"Nancy has a gift," Duque said. "She really believes in everybody's talents so much. She instills so much hope in her performers."