On a typical day in her life as a Viterbo University business student, you might find Taylor Wiedemann meeting corporate customers as part of her internship at Trane, or back on campus working on a market research project for an innovative local start-up.
The practical focus of her studies appeals to Wiedemann, a senior from West Salem who is double-majoring in marketing and management and leadership at Viterbo's Dahl School of Business.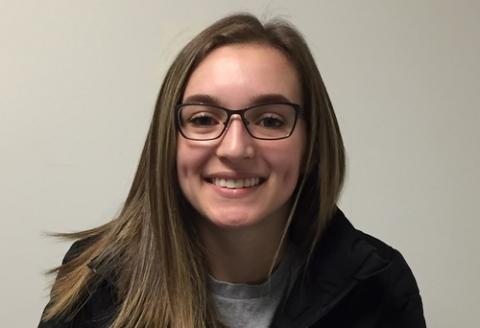 "It's been a really great experience," Wiedemann said of her internship at Trane in La Crosse. "I've had the opportunity to meet a lot of global customers visiting Trane offices and it's paid, which is great, and we have a pretty flexible schedule."
Wiedemann is a transfer student and came to Viterbo after getting an associate's degree in business management at Western Technical College. She was considering transferring to a public university, until she saw how much easier it was to transfer to Viterbo.
"Viterbo offers some really great transfer scholarships, so that was a big help," Wiedemann said.
All of her credits transferred seamlessly, thanks to the transfer agreement between Viterbo and Western, meaning she wouldn't have to retake any classes, which was an issue with some other universities Wiedemann had looked at.
The small class sizes at Viterbo appealed to Wiedemann because of the opportunity to build connections with fellow students and work directly with her professors.
"It's just a really great hands-on learning experiencing that I don't think you'd see in a big lecture hall at a state school," she said. "The smaller class sizes are really beneficial."
Wiedemann spends 20 hours a week at her internship at Trane, a large corporation that is a subsidiary of Ingersoll Rand and has a major presence in La Crosse, close to Viterbo's campus. She works in the company's marketing department and it's been an experience she's thoroughly enjoyed.
Once a week, Wiedemann meets with her adviser and other business students to discuss their internship experiences. The weekly session allows Wiedemann to share experiences from her internship and hear from others about what they're learning in their roles.
"Not only do you learn about how you can excel in your own internship or different opportunities you have, you also learn more about the different experiences other people have in similar positions," Wiedemann said.
At the end of the year, students prepare a presentation on their internship, detailing what they've accomplished, and the challenges and opportunities the experience provided.
Wiedemann said the presentation is a great opportunity to focus on what she's learned through her internship and how she can put that experience to use on her future career path, which she hopes will be in marketing. All business students at Viterbo complete paid internships.
Back in class, Wiedemann is working with other students on a market research project for a local start-up. The idea is for a subscription box for people interested in CrossFit and Wiedemann's class has been conducting focus groups and surveys to aid the project.
"It's been fun to learn that process in a way that you feel good about because you're not only learning from people who are really going through it but your helping these people," she said.
It's yet another example of the practical, hands-on focus of the business majors at Viterbo.
"I'm someone who learns through actual application, rather than just talking about it, so it's been a really great experience for me," said Wiedemann.
As a transfer student, Wiedemann was a little concerned that she might have a hard time making friends. But because of Viterbo's small class sizes, and the welcoming atmosphere she found on campus, that hasn't been a problem. She credits Viterbo for making the transfer process as smooth as possible.
"I know some schools are all in on making you attend for four years and they kind of make it difficult if you don't, whereas Viterbo is embracing the idea that some people need to go to a two-year college first," she said. "I think it's really great that Viterbo helps transfer students so much."
Wiedemann said she feels ready to graduate and take the next steps on her journey to a career in marketing and looking back, is happy she made the decision to come to Viterbo rather than one of the bigger state schools.
"Professors really get to know you and are able to adapt to your needs at Viterbo. They all have a lot of knowledge from past experience, which really helps," she said. "You just don't get the same one-on-one time with professors in a lecture hall of 200 people."