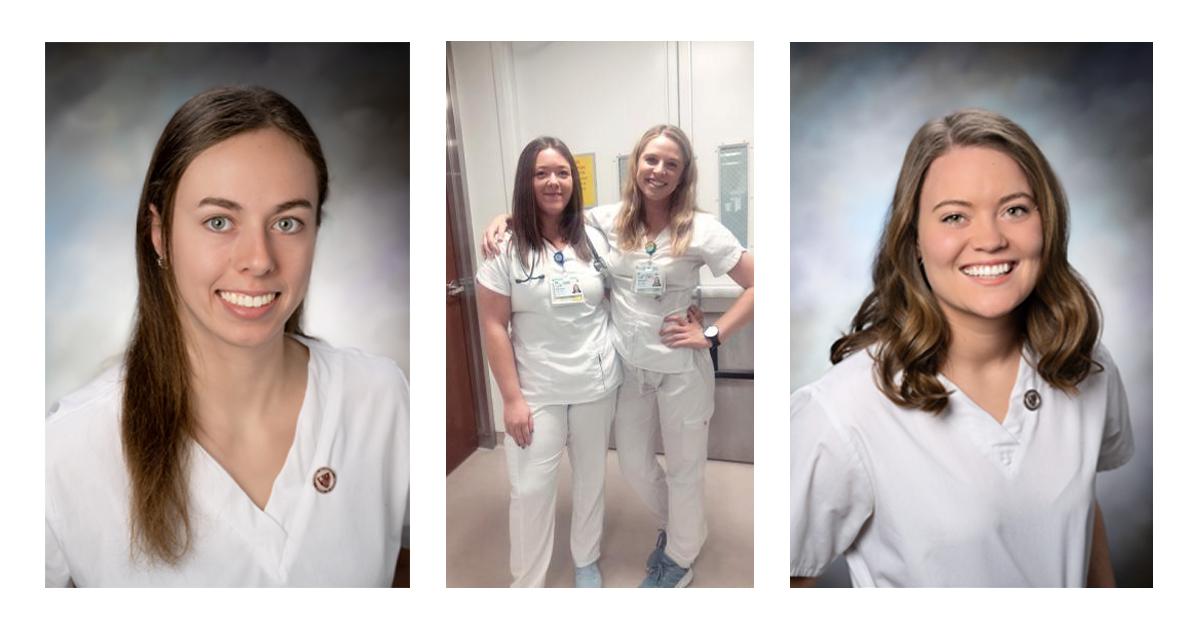 Whether working in clinics that serve the homeless, or in some of the nation's biggest hospitals, Viterbo University nursing alumni are on the frontlines of the battle against COVID-19.
The training they received at Viterbo is proving its importance, but perhaps equally important during the crisis are the values they've carried with them out into the world.
"The Viterbo nursing program has prepared me in many ways for this moment," said Shaye Evers, who graduated just last year. "Mainly, it has prepared me to always approach health care with my heart. Even more so now, with the circumstances we are in, our patients need us."
Evers (pictured above on the right) is a volunteer nurse at Stout Street Health Center, a clinic for people experiencing homelessness in Denver.  She notes that the homeless population the clinic serves faces an increased risk from the virus because of the inability to socially distance in homeless shelters.
"Our organization has stepped up and built a pop-up clinic at a local shelter for patients to be screened and also has increased our triage efforts at our main clinic," Evers said. 
Another 2019 Viterbo graduate, Haley Swanson, is working at the Cleveland Clinic in Cleveland, Ohio, one of the nation's top hospitals.
"We have a lot of COVID-19 cases right now" Swanson said. "I work in the medical ICU where we are getting COVID patients who we are intubating, paralyzing, and proning."
Proning means patients, who normally would lie on their back, are lying on their stomachs instead. When patients lie on their back, their heart applies pressure on the back of their lungs. By lying on their front, some of that pressure is relieved, which allows patients suffering from respiratory issues associated with COVID-19 to breathe a little easier.
Swanson (pictured above with a colleague in the center image) said her Viterbo education, including the values she learned that go beyond her medical training, has prepared her well for the situation she's facing.  
"Not only did I learn the knowledge and skills necessary to take care of sick patients, I learned empathy, compassion, stewardship, servant leadership, and many more values that are a central part of my nursing practice today," she said. "I'm so happy I chose Viterbo for my nursing degree."
Back in Wisconsin, 2019 graduate Courtney Wahl had just received her Registered Nurse license when talk of COVID-19 began to spread. But the full scale of the crisis that was to come was not yet known. 
"Just like everyone else, we had no idea how serious the COVID-19 was," she recalled. "I never imagined at the start of my nursing career I would be dealing with a pandemic."
Wahl works at Froedtert West Bend Hospital, just north of Milwaukee, and said she and her team are focusing on preventing the spread of the virus and burnout among hospital staff.
"Never would I have thought how much fear this would bring to patients and how I would become their primary source of comfort as their family or loved ones have to wait elsewhere for them to return home or to get an update on their condition," she said.
Wahl (pictured above on the left) said she has been heartened by how everyone at the hospital has pulled together and adapted to the unique challenges the pandemic has posed.
From Denver, Evers had a message for current nursing students at Viterbo who are preparing to graduate at a pivotal moment for health care across the country.
"Never forget why you became a nurse," she said. "Hold tight to what brought you to this exact moment and give every ounce of compassion you have to the people you are serving. These are scary and uncertain times, and our patients need us now more than ever."