Over the course of Dorothy Bader Lenard's nearly quarter century tenure at Viterbo University, she has served as an administrative program specialist in the natural sciences, engineering, and mathematics, and she has taught mission seminars and classes in servant leadership and ethics.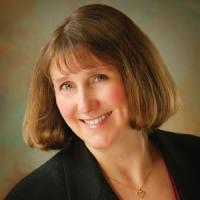 A native of Michigan, she earned a bachelor's degree in forestry from Michigan Technological University, specializing in forest hydrology. She completed her work on a Viterbo Master of Arts in Servant Leadership degree in 2007.
With her forestry background, Lenard has become known over the years as the go-to person when La Crosse area reporters want insights into fall foliage.
Beyond that, she has served the community in myriad ways, including serving two terms on the La Crosse Common Council, teaching religious education classes and for the local literacy program, and giving her time and talents to a very long list of community causes, including school groups, Relay for Life, Hixon Forest Nature Center, Habitat for Humanity, Boy and Girls Scouts, and the boards of the Community Thanksgiving Dinner, the La Crosse Youth Symphony, and the United Fund for the Arts.
Lenard also was founder, administrator and guardian for Bluffland Guardians and Conservators, an organization providing financial and decision-making services for those unable to do so on their own.
How many years have you worked at Viterbo? 
I have been working at Viterbo for about 24 years, working with three different presidents and beginning my time here back when sciences were still in Murphy Center. I was very involved in the planning and setting up of the natural sciences when we built the Reinhart Center in 2003.
Best known for teaching …
Undergrad classes in Servant Leadership for both adult learning and traditional undergraduates, all the mission seminars in adult learning, environmental ethics, and now for the past few years a class called The Ethical Life to traditional juniors and seniors. I think it is a great thing that we require ethics before students leave us as we can educate and train the best scientists, nurses, business people and other disciplines at Viterbo, but how to conduct ourselves through life is often a topic missed in other university programs.
What do you love most about teaching at Viterbo?
I am fortunate to be able to teach on topics that I am most passionate about, servant leadership and ethics. I have worked a lot on sustainability in my life so I personally enjoy learning as much as I am able to about environmental ethics.
What inspires you?
I continue to teach because every semester I am amazed at the thoughtfulness of my students as they ponder the great questions in life. It is a great privilege that they often share on very deep levels the thoughts they have on some of the toughest issues we face in the world. Whether we are talking about the ethics of food shortages, climate change, vaccinations, gun control, immigration, or relationships between all people in the world, I continue to be amazed at how Viterbo students approach life with a desire to find the right thing to do.   
 
What others say about you?
Eon Rehman '15: College is a time when you're growing in many ways, all at one time. If you were lucky, you were surrounded by people that you admired, respected, and went to for advice. Dorothy was repeatedly that person for me. Dorothy was always there to support me, like she has been for countless students throughout her long career at Viterbo. She played an enormous part in influencing my character, habits, career, and education in life. She truly embodies the core values we have learned at Viterbo of contemplation, hospitality, integrity, stewardship, and service. She helped me lay the foundations to not only succeed in college but in my career beyond Viterbo. I always enjoyed our Friday chats over coffee, whether that be "geeking out" about science or talking about current events and our deep love for the Green Bay Packers (GO PACK GO!). Thank you for all you have done and continue to do for all your students.