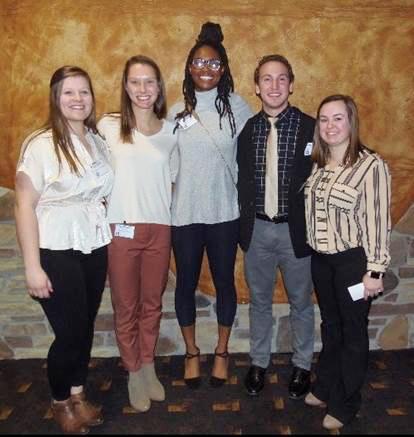 Congratulations to Samantha Boland (junior), far right, and Makenzie Vesbach (senior), far left social work majors who are Wisconsin Area Health Educator Center (AHEC) scholars that participated in a state-wide Interprofessional Health Care Case Competition. Samantha and Makenzie's team reached the state finals in January at Wisconsin Dells.
The Interprofessional Health Care Case Competition is an annual event that brings together interdisciplinary teams of health professions students across multiple professional schools and programs to solve the most challenging problems in healthcare and public health today.  At the end of this process, the top teams traveled to Wisconsin Dells to present their case in front of a panel of judges in January.
The goal of this year's case competition was to find a solution to the homeless issue in Hennepin County in Minnesota. The students analyzed a case and wrote an executive summary, plan, and budget.  The plan included partnering with Simpson Housing Services and  other organizations in Hennepin County to develop an interprofessional approach to combat homelessness. A guiding value of the team was to meeting clients where they were at and giving them choices.  The final competition included a powerpoint with a 15 minute presentation.  The presentation was so well received that the judges did not have any questions. While the team did not place, the judges had a lot of praise and said it was a very close competition. A big perk was a free one night stay at the Kalahari and access to the waterpark. 
For more information about AHEC and their programs see https://ahec.wisc.edu/