Twins Kailey and Keegan Steinlage always planned to go to college together, although they had thought they'd study different subjects.
Keegan was interested in nursing, while Kailey planned to pursue a business major, so initially they looked for a school with strong nursing and business programs. Viterbo University fit the bill and on a campus visit, the pair were immediately struck by the "welcoming hospitality" they found.
However, Keegan changed her mind about nursing, and instead decided to take on a business administration major with a minor in finance, which happened to be the same combination as Kailey picked.
Now the twins (pictured above) are seniors and preparing to graduate and start business careers, although they're looking to pursue different career paths.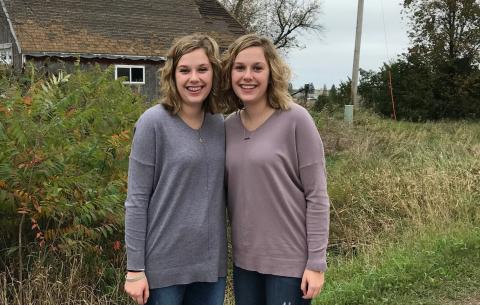 Both were attracted by the guaranteed paid internships that are a feature of the business majors at Viterbo's Dahl School of Business. The sisters are from near West Union, Iowa, which is about 30 minutes south of Decorah, and are currently completing internships in their home state.
Kailey is interning at a bank, where she does teller work and works on data management, using the bank's online filing system. She started at the bank the first summer after she began her studies at Viterbo.
"It has prepared me for the future so much," she said, adding that her responsibilities have steadily grown since she started at the bank.  "To have that experience under my belt will be so helpful for me going into the workforce."
Meanwhile, Keegan is interning for a real estate firm, learning all aspects of the business, and plans to get her realtor license from the state of Iowa. She was unsure exactly what path she wanted to take when she started her business major. Keegan's professors advised her to try out a variety of roles, leading to internships in banking and insurance, before she moved into real estate.
"Finally, I found what I love," Keegan said. "I think it's so important to have a variety of experiences if you don't know what you want to do and my professors really helped me with that."
The twins both say they enjoy the small class sizes at Viterbo, which have helped them build strong relationships with their professors, and their fellow students, both inside and outside the classroom.
"I love the classroom experience at Viterbo because it's very hands-on," Keegan said. "As soon as I have a question, I feel absolutely comfortable going and asking the professor."
Before deciding to come to Viterbo, the pair had considered going to a bigger public school in Iowa.
"Viterbo actually ended up being cheaper because of the scholarship package we received," said Keegan, adding that the paid internships available to all business students also has helped and meant she hasn't had to take on another job outside of her studies.
The twins plan to go straight into careers after college, but say they have built relationships at Viterbo that will last a lifetime.
"Viterbo feels more like a community rather than a college where you're just a number in the crowd," Kailey said.