March 23, 2023
Contact Rick Trietley at 608-796-3001 or president@viterbo.edu
AMY SCHMIDT NAMED VITERBO UNIVERSITY VICE PRESIDENT FOR FINANCE AND ADMINISTRATION AND CHIEF FINANCIAL OFFICER
LA CROSSE, Wis. – Amy Schmidt has been named vice president for finance and administration and chief financial officer (CFO) at Viterbo University effective Tuesday, May 16.
As the vice president for finance and administration and CFO, Schmidt will serve as a member of the university's senior leadership team. She was hired at the conclusion of a national search.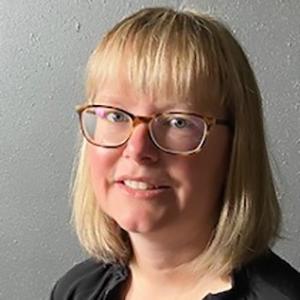 "I am very excited to join the Viterbo community and look forward to helping advance the university's mission of preparing students for faithful service and ethical leadership," Schmidt said. "Viterbo, as part of its Catholic and Franciscan identity, is committed to service, collaboration, and leadership and I look forward to working with members of both the university and the La Crosse community."
Schmidt currently serves as the vice president for finance and administration at Minnesota State College Southeast in Winona, Minn., a position she has held since 2020. Prior to that position, she served at Western Technical College in La Crosse for 14 years, including six years as controller. Schmidt has extensive experience in long range financial planning, leadership, strategic planning, and budgeting. She earned a Bachelor of Science in accounting from the University of Wisconsin-La Crosse and a Master of Business Administration from Viterbo. She is also a Certified Public Accountant.
"Amy's selection as our next vice president for finance and administration is cause for great excitement and celebration," said Viterbo University President Rick Trietley. "Her proven financial skills, leadership abilities, team focus, and calm demeanor are a perfect match for Viterbo. She also understands our mission and values, the current higher education landscape, and the region from which we draw the majority of our students. I could not be more pleased to welcome her to the Viterbo team."
"I would like to acknowledge and thank the consulting firm Hyatt-Fennell, who assisted Viterbo in the search, and the members of the university search committee for their hard work, due diligence, and dedication to the process," Trietley said.
-30-