Veteran Broadway performer Arbender Robinson '98 came to Viterbo because of an unlucky accident (an injury) that in the end turned out to be lucky. Without the life lessons he learned at Viterbo, Robinson said he would not have had the kind of successful career he's had … and is still having.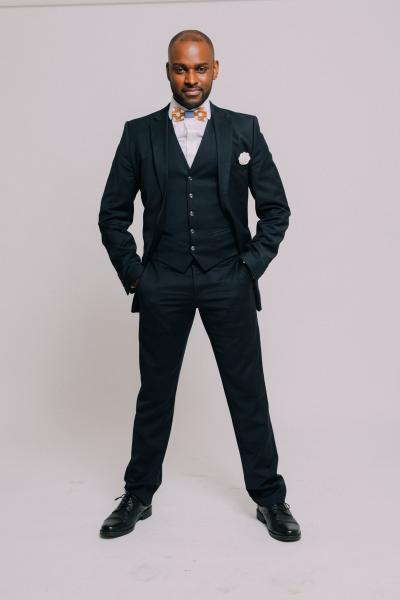 A native of Crest Hill, Ill., Robinson graduated from Lockport Township High School near Joliet, where he got plenty of stage experience, including professional gigs. When he came to Viterbo, he planned to study theatre before going on to law school, figuring the acting skills would come in handy helping people out of legal jams in the courtroom. That career trajectory changed when he realized it was possible to make a living as a performer.
One of the big life lessons gained at Viterbo came from being the only African American student in the theatre program.
"The Viterbo theatre department at the time was not as diverse as it is now. La Crosse, as a whole, was not as diverse as it is now. All of those issues that were small or could have become bigger later in life, I was forced to deal with at that age where I'm starting to become an adult," Robinson said. "That self-worth and the pride that I have in my ethnic origin became an important part in the fabric of my life. When I got out in the real world, those struggles that some people would have, I already dealt with in the safe university environment."
When Robinson graduated from Viterbo in 1998 with a degree in theatre (and a dance minor), he didn't have Broadway ambitions. Robinson was a featured vocalist with Royal Caribbean Cruises and an actor and vocalist for numerous productions at Walt Disney World. His work as a Disney studio session vocalist can be heard around the world in recordings used for parades and attractions.
Meanwhile, Robinson was getting stage experience in regional theatre productions, including Smokey Joe's Cafe, Five Guys Named Moe, Sweeney Todd, Jesus Christ Superstar, Aida, Ragtime, Secret Garden, Joseph, and the Amazing Technicolor Dreamcoat, Into the Woods, and more.
When he moved to New York City in 2004, he was ready if opportunity knocked. And it did. Soon after moving to NYC, he won a part in Hairspray, a production he stayed with for three years before winning an ensemble part in the original cast of Disney's The Little Mermaid (he was understudy for the role of Prince Eric).
His impressive list of Broadway credits also includes the revival of Les Miserables, in which he became the first African American to play the role of Marius on Broadway, Disney's The Lion King, Hair, Ragtime, and the original cast of Beautiful: The Carole King Musical.
Robinson starred in the 2016 hit musical Shuffle Along alongside many Broadway legends, including Audra McDonald, Brian Stokes Mitchell, Billy Porter, Brandon Victor Dixon, and Joshua Henry. The show was directed by Tony-winner George C. Wolfe and choreographed by Savion Glover.
He was in the cast of The Book of Mormon when the pandemic shut down Broadway. He'll be back on stage when that show resumes performances in November at the Eugene O'Neill Theatre.
In addition to his work as a performer, Robinson has shared his knowledge and expertise widely, conducting workshops and teaching master classes.
As a teaching artist, Arbender has worked with many organizations around the country and has a unique teaching style that's accessible to all ages and talent levels. He also works at bringing art awareness to programs all over the country and serving as an advocate for autism awareness and research.
He has been especially generous with his time when it comes to helping Viterbo students. The person who nominated him for the 2021 Viterbo Distinguished Alumni Award described him as "the most giving person I have ever met. He has supported Viterbo since he graduated 22 years ago, always going the extra mile for us."
Over the years, Robinson also has helped recruit students for Viterbo. And in what he considers one of the biggest honors of his life, he now serves on the Viterbo Board of Trustees.
"I am a huge advocate for education, the thirst for knowledge, and believing in the power of your dreams," Robinson said. "Dream big because sometimes these things can come true."