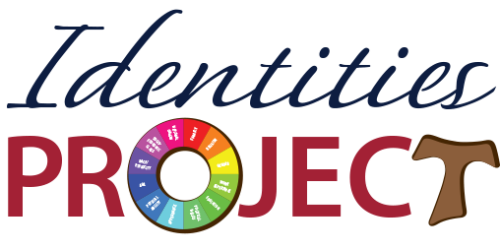 The Identities Project is a Student Life-sponsored cross-campus collaboration with the Social Justice and Equity Committee, Breaking Barriers Diversity Club, and other campus entities that provides opportunities for our community to explore and discuss gender, race, religion, sexual orientation, social class, ethnicity, and other facets of identity through intentionally-reflective civil dialogues, lectures, documentaries with discussions, and other programs.  All are welcome and encouraged to attend these free events.
Spring 2022 Identities Project Schedule
Mon, Jan 17,

Dr. MLK Day of Service Learning & Celebration

Location: TBD

Dr. Martin Luther King Jr. & Malcom X in Media

Social media is our primary source of information as it is quick and easy to access. Let's find out the most popular apps for media consumption and join an interactive discussion about how the media portrays Dr. MLK  Jr. and Malcom X. Learn about different news outlets to follow, win our "Who Said What?" quiz, and get social media recommendations to learn more.

This workshop was part of Viterbo's 2nd annual Dr. Martin Luther King Jr. Day of Service Learning and Celebration. Not able to join? Check out the slides and recording below:

 MLK & Malcolm X in the Media Recording

Tues, Feb 8, 11AM - 1PM

Murphy 2nd Floor Landing

Healthy Relationships Pop-Up Table

Do you ever wonder about the "red flags" in an unhealthy relationship? Well… there's a science behind that. Come see us at the Healthy Relationships Pop-Up to learn more about identifying unhealthy relationships and helping communicate warning signs to friends.

Thurs, March 3

7 PM - 9PM

Location: TBD

Art with Impact: Black + Mental Health + Matters

Identities Project is excited to assist with promoting an excellent partnership between Viterbo, UWL, and Western Technical College to bring Art With Impact to Viterbo's campus. Black + Mental Health + Matters workshop will provide college students "an interactive workshop that is designed to be a place of refuge for Black students."

Thurs, March 24

7PM - 9PM

Location: TBD

Art with Impact: Movies for Mental Health

Identities Project is excited to assist with promoting an excellent collaboration to bring Art With Impact back to Viterbo's campus. Movies for Mental Health workshop supports student mental health through film-based discussions. 

Tues, 
April 12

5pm-7:30p

Reinhart 134

Amplifying the Voices of Black Youth and their Caregivers

This new effort will be partnering with the Better Together program to highlight films created by youth of color in our community.  Please join us to view 2 important films and for a dialogue about how we can all do better in supporting our black community.

Please click here to register in advance!
Antiracist Resources
 The Identities Project committee members ask you to take time to  think critically about the unacceptable, but very real, racist behaviors and beliefs in our country. We'd also encourage you to learn more about actions you can take to move towards justice.
We've compiled a list of books, films and more for you to explore over the summer. Thank you to those folx who have added their suggestions! Please reach out if you have more resources you'd like us to add. 
After you engage with the material, feel free to reach out to Megan (mkpierce@viterbo.edu), Margy (mcfrazier@viterbo.edu), or anyone else on the Identities Project Team to chat. 
Want to do more than just learn? Start by joining your local SURJ chapter to connect to resources in your community (La Crosse area SURJ). 
Books - Nonfiction (consider purchasing from independent bookstores!)
"Between the World and Me" by Ta-Nahesi Coates
"Stamped from the Beginning" by Ibram X Kendi 
"How to be an Antiracist" by Ibram X. Kendi

"How We Fight For Our Lives" by Saeed Jones

"Me and White Supremacy" by Layla Saad 

"So You Want to Talk About Race" by Ijeoma Oluo

"From the War on Poverty to the War on Crime: The Making of Mass Incarceration in America" by Elizabeth Hinton

"The New Jim Crow: Mass Incarceration in the Age of Colorblindness" by Michelle Alexander

"When They Call You A Terrorist: A Black Lives Matter Memoir" by Patrisse Khan-Cullors

"Waking Up White" by Debby Irving

"Minor Feelings" by Cathy Park Hong
"Are Prisons Obsolete?" by Angela Davis

"I'm Still Here: Black Dignity in a World Made for Whiteness" by Austin Channing Brown
Books - Fiction
"The Hate U Give" by Angie Thomas 

"We Cast a Shadow" by Maurice Carlos Ruffin 

"On Earth We're Briefly Gorgeous" by Ocean Vuong 

"Copperhead" by Alexis Zentner 

"Pachinko" by Min Jin Lee

"Such a Fun Age" by Kiley Reid

"There There" by Tommy Orange
Films
13TH (free on YouTube!)

Self Made – Madame CJ Walker

When They See Us

Mudbound
Other