The goal of Viterbo career services is to effectively meet the recruiting needs of employers, whether you are seeking candidates for internships, full-time entry-level opportunities, part-time employment, or would like to promote your graduate or professional school.
Before getting started, review the Employer Recruiting Guidelines.
The following services can help you connect with the most qualified candidates:
Employers can also be a valuable resource for current Viterbo students seeking career development and/or mentorship.
FutureFest: Careers & Connections, Virtually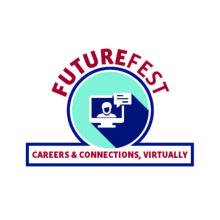 Thursday, Oct. 8, 2020 from noon–3 p.m., Hosted on Handshake
Employer Registration 

The virtual fair will give you the opportunity to share information about your organization with current Viterbo students and alumni in healthcare and human services areas, and to initiate your recruitment activities for new graduate and internship positions. The fair will highlight internship opportunities for Viterbo sophomores and juniors and full-time, grad school, and volunteer opportunities for seniors and alumni. There also will be first- and second-year students attending the fair to practice their networking skills and learn more about their selected career field.

Virtual fairs hosted through Handshake have a variety of options for engagement for up to 30 org. representatives, including five, 30-minute group sessions and unlimited 10-minute 1:1 sessions. These schedules are built ahead of time for students to register before or on the day of. To learn more about these features check out this Handshake-hosted training webinar. Because this event is open to all majors, we recommend multiple recruiters attending, especially for our larger organizations that separate recruiting efforts by area. 

The registration fee varies based on organization type. 
$75 for-profit organizations
$50 graduate schools, government, or non-profits
The deadline for registration and payment is October 7. To register, complete the information in Handshake and select your payment method (credit through Regfox or check). Confirmation emails with details about the fair will be sent in mid-September. 

If you have any questions about the fair, contact Alyssa Gostonczik at argostonczik@viterbo.edu or 608-796-3829. 

We look forward to "seeing" you at FutureFest!
NACE Career Readiness Competencies
Critical Thinking/Problem Solving
Oral/Written Communication
Teamwork/Collaboration
Digital Technology
Leadership
Professionalism/Work Ethic
Career Management
Global/Intercultural Fluency