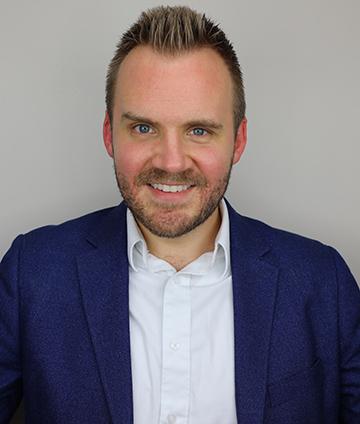 Sept. 18, 2023
Contact Rick Kyte at 608-796-3704 or rlkyte@viterbo.edu or Jill Miller at 608-796-3615 or jmmiller@viterbo.edu
VITERBO UNIVERSITY LEADERSHIP AT NOON SERIES TO FEATURE LOCAL ENTREPRENEUR MATT CURTIS OCT. 2
LA CROSSE, Wis. – La Crosse entrepreneur Matt Curtis will open the 2023-24 Leadership at Noon Series Monday, Oct. 2 in the Viterbo University Fine Arts Center FSPA Lobby.
Curtis, who graduated from Viterbo University in 2008 with degrees in music performance and music education, is the founder and owner of Choral Tracks LLC. The business has 15 employees and serves choir singers from all over the world by helping them learn music with sung mp3 tracks. Curtis also started and owns La Crosse businesses Capella Performing Arts Center, Cappella Weddings and Events, and Cargill Pettibone Mason airBnB. He recently purchased Apothik Eatery and Apothik Food Truck from fellow Viterbo graduate Maria Norberg '09.
As part of his Leadership at Noon presentation, Curtis will discuss how his Viterbo education prepared him for success, his long-range plan for his businesses, his motivations, and other topics.
All Leadership at Noon series events are held from noon–1 p.m. and are free and open to the public. Complimentary soup, bread, and dessert is served at noon and the presentation starts at 12:20 p.m. No tickets or registration is required, but seating is first come, first served.
Parking is available in any Viterbo parking lot and a parking pass is not required during Leadership at Noon events. The presentations will not be recorded or live-streamed.
The Leadership at Noon series is sponsored by the D.B. Reinhart Institute for Ethics in Leadership and the Dahl School of Business at Viterbo University. For a complete schedule of Ethics Institute events, visit www.viterbo.edu/ethics.
-30-