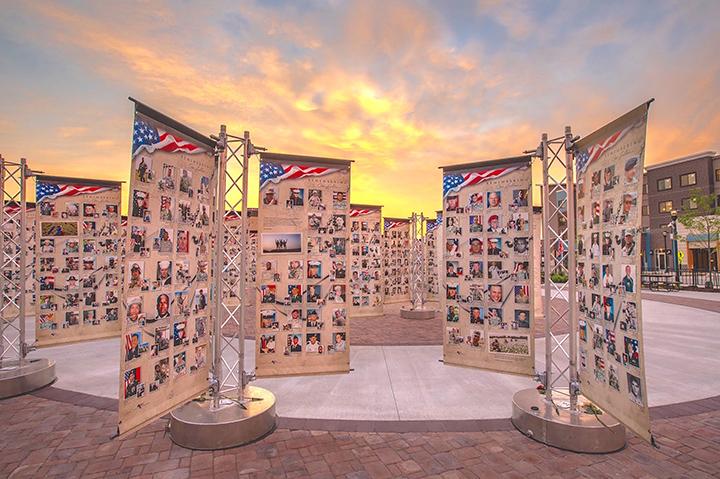 Oct. 12, 2021
Contact Anthony Slaby at 608-796-3042 or aaslaby@viterbo.edu
VITERBO UNIVERSITY TO HOST REMEMBERING OUR FALLEN TRIBUTE TOWERS MEMORIAL OCT. 20–24
LA CROSSE, Wis. – Everyone is invited to view and experience the powerful Remembering Our Fallen memorial exhibit on display during daylight hours in Viterbo University's Assisi Courtyard Wednesday, Oct. 20–Sunday, Oct. 24.
An opening ceremony will be held at noon Oct. 20. The exhibit will close with a blessing at 5 p.m. Oct. 24.
The Remembering Our Fallen memorial includes 34 Tribute Towers with the photos of more than 5,000 men and women who perished during the War on Terror since Sept. 11, 2001. Unlike traditional brick-and-mortar type memorials, Remembering Our Fallen is designed to travel and includes both military and personal photos. It is the hope of the creators that the names of the fallen heroes will be spoken in remembrance and bring comfort to their family members.
"Viterbo University is privileged to honor all U.S. service members who made the ultimate sacrifice in service to our nation during the Global War on Terror by hosting this incredible monument," said Viterbo President Rick Trietley, a veteran who served in Afghanistan. "This powerful and moving exhibition captures the pride, spirit, and the human toll of warfare as told through the loving memories of families, loved ones, and friends. There is no better time to pause, remember, and honor these amazing individuals as our community is currently engaged in offering safety, hospitality, and the hope of a better life to thousands of Afghan refugees at nearby Fort McCoy. Please join us to pay tribute to these heroes—we will never forget."
Remembering Our Fallen is a national memorial that has been displayed across the U.S. since it was unveiled at the steps of the Lincoln Memorial in Washington, D.C., in 2017. For more information, visit www.RememberingOurFallen.org.
-30-