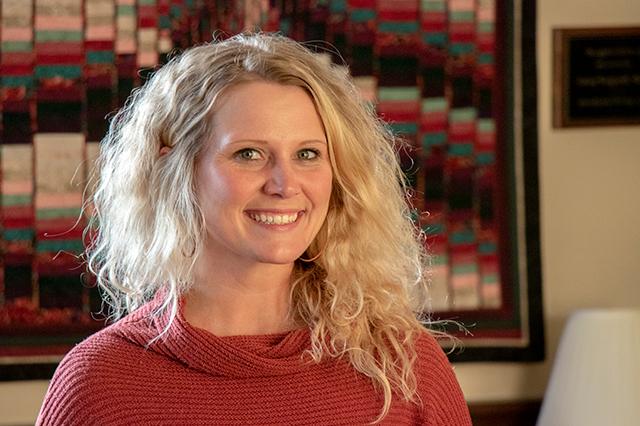 Angela Mensink knows the critical importance of dealing with trauma. She sees it every day at work.
Mensink is an outpatient mental health therapist at Hiawatha Valley Mental Health Center in Winona, Minn. She treats clients of all ages, but specializes in helping children, adolescents, and families recover from trauma and traumatic experiences.
"I have always been interested in resilience, especially in children," Mensink said. "So many adults with mental health concerns experienced some sort of trauma as children that was never addressed. If we can help kids at a young age, it is more likely they go on to live successful and functional lives."
To that end, Mensink is a student in Viterbo's new Ed.D. program in counselor education and supervision. She also earned a bachelor's degree in psychology and a master's degree in mental health counseling with a specialty in child and adolescent counseling from Viterbo.
"There is a sense of community at Viterbo that makes it feel like home to me," Mensink said. "I think the small class sizes and relationships are very beneficial. The education at Viterbo just feels different. As a student in the doctorate program, I am really enjoying the invigorating discussions. Everyone brings their own expertise and passion to the program, and we learn a great deal from each other. I love it."
Mensink had the opportunity to serve as an adjunct faculty member at Viterbo, which has shaped her career goals. She enjoyed the experience so much, she would now like to teach in some form, whether it be as a supervisor and trainer in a clinical setting, or in the academic classroom. Whatever path she takes, Mensink knows she is in the right profession.
"Though it is a difficult job, the rewards of seeing positive change occur can provide a lasting impact and supports continued energy in my role as a mental health professional," she said.