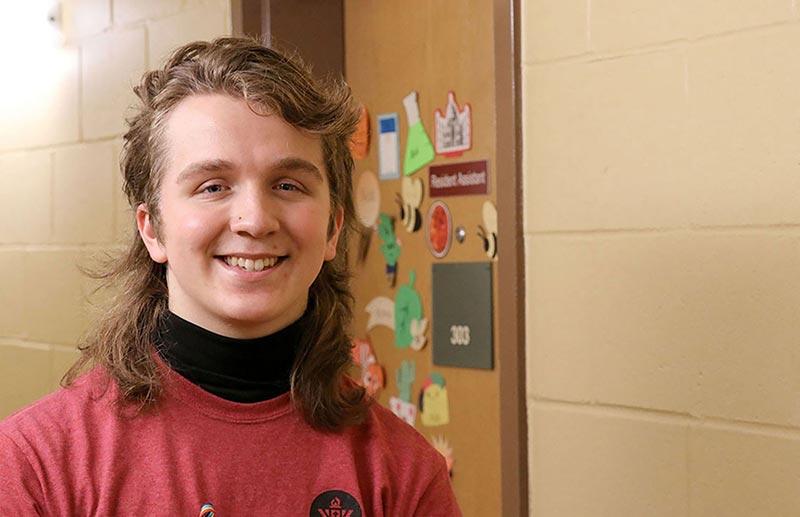 Nicholas Carlstrom appreciates what he describes as Viterbo's close community and family culture. Now as a resident assistant living and working in Rose Terrance, he strives to provide that sense of belonging to the 20 students living on the third floor.
"Recreating that Franciscan hospitality for others is what drew me to the job of RA," said Carlstrom, a junior theatre major with an emphasis on stage management and a minor in arts administration. "I try to make sure everyone feels invited and involved and that the students can come to me if they have an issue or a problem. I don't have to be involved in their lives, but I can be if they need it."
Carlstrom, who is from Blaine, Minn., said the position of RA is rewarding and he enjoys getting to know his fellow residents. He also offered some advice for freshmen making the transition to college and on campus living.
 "Keep your door open because people walk by all the time and will stop by and say hi," Carlstrom said. "Get to know people. Don't lock yourself in your room."
When Carlstrom was a high school student, a friend who attended Viterbo recommended the university to him. The school's small class sizes and the close-knit community in the theatre department were other factors in his decision to enroll. He had been interested in theatre since middle school, and his "type A personality" and organizational skills made him a better fit for operations and facilitating, rather than life on stage.
"I've had hands on work in numerous productions so far at Viterbo," Carlstrom said. "I'm really enjoying my time at Viterbo. In the theatre department, we see the faculty as friends."
After graduating from Viterbo, Carlstrom would like to find a position with a touring company before eventually settling in New York City or Chicago.
"Maybe even working on Broadway if that's where my career leads me," he said.