Alyssa Gostonczik is the intern and employer relations coordinator in the Career Services office at Viterbo University. This is higher ed speak for she helps students find, apply for, and secure the internships they need to be successful after graduation.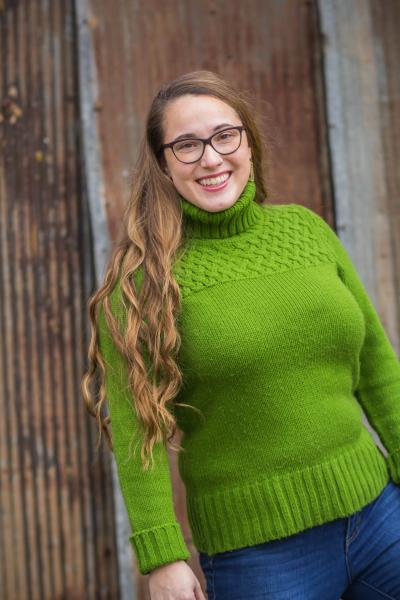 There are 12 majors at Viterbo that require at least one for-credit internship for graduation and students with any other major can do a no-credit internship. That means Alyssa is very busy semester after semester managing employer relationships, internship opportunities, and student expectations and realities. Internships did not stop during the pandemic. In fact, fall 2019 was one of the largest internship classes on record.
Alyssa is very passionate about internships as she would not be where she is now without one pivotal internship in her senior year at the University of Wisconsin-Superior. Alyssa was that senior who didn't know the Career Services office even existed until two weeks before graduation (don't let your student be like Alyssa).
What was supposed to be an appointment with the Career Services office to discuss job ideas (again, two weeks before graduation is not the time to start thinking about this), turned into an internship offer that led to grad school in La Crosse, and eventually a job a Viterbo. Her internship was life changing because it turned her on to a field and roles she didn't even know existed.  
How many years have you worked at Viterbo? 
I started at Viterbo in May 2016 in the Career Services office and have been here ever since. I was initially hired to manage a grant and the internship classes. Once the grant ended, my responsibilities still include the growing internship program and have also expanded to include management of our job and internship board, Handshake, coordinating career events like job fair, mock interviews, and career panel discussions, and assisting with federal work study jobs. I also proudly serve on numerous committees and working groups including Combating Racial Injustices, Identities Project, Strategic Planning, and Student Employment as a High-Impact Practice. 
Areas of expertise?
I joke that I am the hand honcho of Handshake, our electronic job and internship board. This system is used by over 1,000 schools nationally, including the University of Wisconsin System, Wisconsin Technical Colleges, and Wisconsin private institutions. I am kept busy each day approving new employers, posting jobs, and referring students to opportunities I think they might be interested in. 
Through my time at Viterbo, I've also come to learn how to take unique opportunities and turn them into internships. This includes working with our bachelor completion students to do internships at their current employers, helping students count international work experience for internships, and finding internships in nontraditional places, such as performing in traveling shows, working at summer camps, and with more than 15 different Viterbo areas. 
What do you love most about working at Viterbo?
I love that I can be involved in so many aspects of campus via working groups, committees, strategic planning. I get to know my colleagues even if their office isn't on my floor or even in my building.
I also really love that Viterbo is small enough I can recognize students as they pass by outdoors or sitting in classrooms. Working with people on an individual level is one of my strengths so being able to make those connections and serve students on an individual level is important to me, and definitely not something you get at a larger school. 
What inspires you?
Oddly enough, I love the challenge of reviewing a resume and getting it to the point where it looks simple, with clean lines and easy-to-scan bullet points. I know, I know, I should probably get out more.
I also love the look on a student's face when they realize the career they've been working toward and dreaming about is a reality for them. They see a clear path to get there and know they have the tools, resources, and self-confidence to make it happen.
What others say about you? 
"Alyssa is extremely passionate about her job! This has been the best internship coordinator Viterbo has had during my four years at Viterbo. Please keep her and give her a raise!" — Fall 2016 intern
"Alyssa deeply cares about getting students involved in internship opportunities and works hard for any student that comes to her for help." — Spring 2017 intern
"Alyssa is amazing and was always there to make sure I got the best experience possible." — Fall 2017 intern
 "Alyssa is a great individual that cares immensely about all the Viterbo interns. Alyssa assisted in helping me land my internship with the site. She was always helpful in answering any questions I had." Spring 2018 intern
"Alyssa is great. Always does a great job communicating and providing clear answers to any questions. She is very approachable and makes the internship process easy." Spring 2019 intern
"Alyssa was truly the most helpful person I have encountered during my time at Viterbo. She cares about her students and finding them internships within their career path or interests. She was flexible and tried to help me get the most out of my internship experience." — Spring 2020 intern
"Alyssa was always there to promptly answer my questions in a way that was easy to understand. I could also tell that she was passionate about and cared for my learning and intern experience. She gave me and my preceptor advice as to how I could better use my intern experience or at least got us thinking about it and got the ball rolling." — Summer 2020 intern