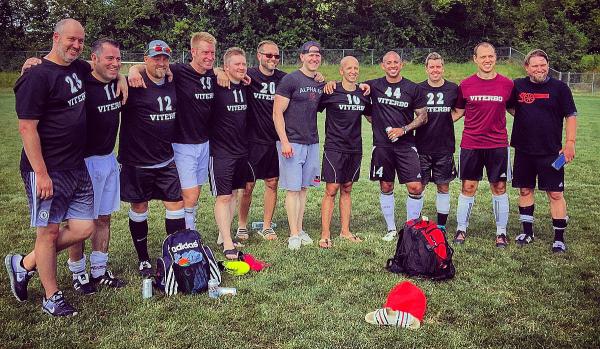 As highly as he thinks of Viterbo University's academic excellence, people and relationships are responsible for the bond Darren Orcutt has with Viterbo, a connection that has kept him coming back every year for alumni soccer games for nearly 20 years.
"Those I shared the soccer field with will forever be my brothers, and it's a fraternity like no other. I've shared some of my best moments in life with these guys and wouldn't trade these friendships for all the money in the world," Orcutt said. "These guys are the reason that I return each and every year to play in the Viterbo alumni soccer game. I'm proud to say I haven't missed a single opportunity to strap back up with my boys!"
After graduating from Viterbo in 2002 with a Bachelor of Fine Arts degree in graphic design, Orcutt worked in the design industry for a few years. He then discovered a passion for higher education, working in the field for over 13 years.
He is employed by Pearson Higher Education Services in the online learning services division, where he oversees and manages all of the recruitment service functions for multiple academic partnerships.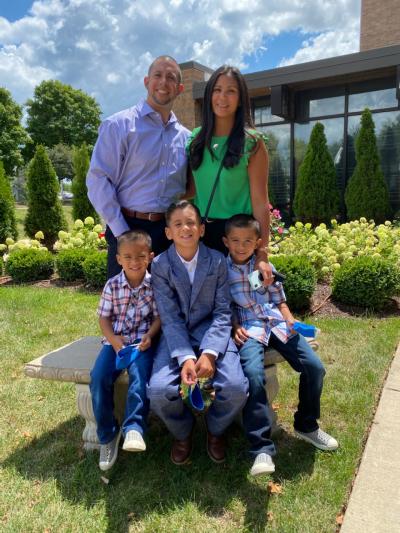 The most rewarding aspects of Orcutt's work is being able to partner with academic institutions to offer guidance and strategic insight, especially during these unprecedented times. Colleges and universities across the country have seen a significant decline in enrollment over the past year, with brick-and-mortar campuses being hit the hardest.
In addition to working in higher education, Orcutt continued his own educational journey as a student, receiving a Master of Business Administration degree in 2015 from Keller Graduate School of Management.
The foundation for Orcutt's career and accomplishments were built during his years at Viterbo. "My time at Viterbo taught me how to push myself. I learned a lot about teamwork and what it takes to be successful, both academically and athletically," he said. "In retrospect, my experience at Viterbo also taught me to be more present and to seize every opportunity as you never know if it will be your last."
As much as Orcutt enjoys his career, he points to his family as the accomplishment of which he is most proud. "I'm extremely proud to say that my beautiful wife, Dee, is a critical care nurse and on the front lines each and every shift fighting this terrible global pandemic. We have three amazing boys together, Adrian, 8, Connor, 6, and Owen, 4."
Orcutt and his family, who live in the Chicago area, are very active, and you can find him in the gym or on an athletic field with his boys. Orcutt also still plays competitive soccer several times a week.
As for future plans, Orcutt indicated he doesn't like to think that far ahead, especially in these uncertain times, and that he tries to be present and live each and every day to its fullest.